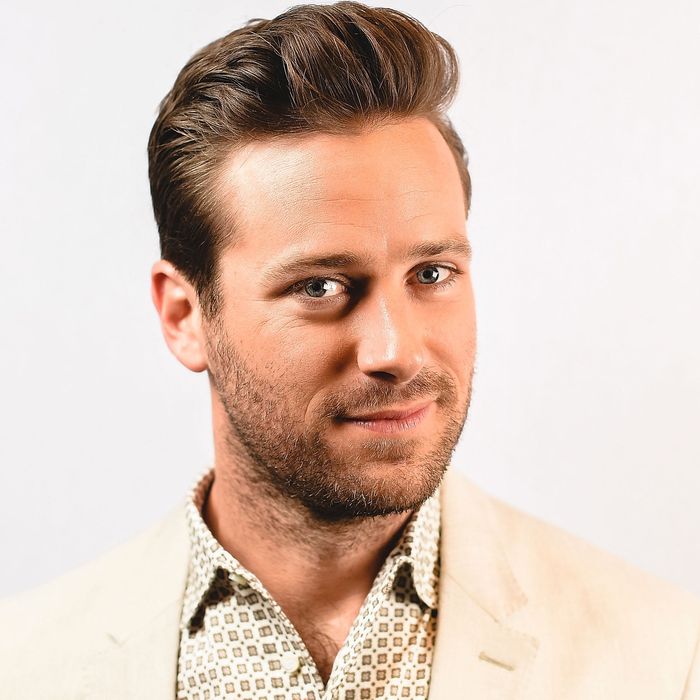 Armie Hammer.
Photo: Matt Winkelmeyer/Getty Images
You'll be in tears by the end of André Aciman's 2007 novel Call Me By Your Name. Turning that last page feels like being rudely cast out of the love story between Elio and Oliver, two men who must be together, who have to be together, because, in the words of Faith Evans, "I never knew there was a love like this before." But if you're going to be heartbroken, at least let it be via Call Me By Your Name's audiobook, read gorgeously by the upcoming film adaptation's star, Armie Hammer, whose voice is the audio equivalent of ordering a Lyft Line and having it all to yourself.
In this new excerpt from the audiobook, out October 3, teenage Elio (played in the film by Timothée Chalamet) describes having sex for the very first time with Oliver (Hammer), the 24-year-old graduate student studying under his father for the summer. Elio's had a crush on Oliver for weeks, and in this scene, we finally learn the significance of the book's title. In this excerpt (and at all times), Hammer's voice is brimming with such melody that, if you listen to it long enough, you can probably get drunk off it. Because you'll need a way to explain to your friends why you have to cancel on your plans because you have a date with Armie Hammer's voice, here are 20 descriptions of that supernatural sound:
1. Armie Hammer's voice sounds a little like Jon Hamm's voice, if Jon Hamm's voice was dunked in honey.
2. Hearing Armie Hammer say "fuck" in the Call Me By Your Name audiobook makes it totally fine that he had to say "Let's gut the friggin' nerd" in The Social Network, because, you know what, some things are just worth the wait.
3. To hear Armie Hammer say "languorous" is to feel like Obama is still president, he's just taking a vacation, but he and Michelle will be back in the White House soon.
4. Armie Hammer's voice is the physical manifestation of those wooden decorative signs at Marshall's or TJ Maxx that sell for $24.99 that say "Your Husband Called And Said It's Ok To Buy Anything You Want." Armie Hammer's voice sounds like the fantasy of luxury.
5. Sometimes, when Armie Hammer is in the heat of a particularly vivid description, Armie Hammer's voice sounds a little like the man who does the Men's Wearhouse commercials. You know, the guy who says, "You're going to like the way you look," and now you kinda want to Google the nearest Men's Wearhouse. You know, just in case.
6. I suspect that Armie Hammer's voice would smell like linguini, seasoned with Tasmanian pepper and lemon with Parmesan cheese on top. I'd need to speak with Armie Hammer in person to confirm this.
7. You know when you're a regular somewhere? And there's a long line, but, say, the barista or the clerk or the tailor motions you around the long line because they've got your order ready? That's what Armie Hammer's voice sounds like.
8. Armie Hammer's voice is so deep and viscous it sounds like when Beyoncé performs "Love on Top" live and she sings the chorus again and again and again and again, but that last time she sings "Baby it's you," she switches it up and goes to a lower key!
9. Armie Hammer's voice sounds like it's soaked in maple syrup and — surprise! — you're at Bubby's, and there's no line, and lucky for you, your James Beard pancakes with peaches have just arrived to your table.
10. Armie Hammer's voice sounds as euphonious as Oprah's voice, which is quite possibly the highest compliment you could ever pay another human.
11. The way Armie Hammer says "kiss" feels like you have literally been kissed, not by his lips, but by the sun itself. You took a picture of this sun-kissing, posted it to Instagram, and you've gotten a lot of likes.
12. The way Armie Hammer says, "Call me by your name and I'll call you by mine," feels like a shared secret too tender for this savage and cacophonous place called the internet, but here we are.
13. Armie Hammer's voice feels like when you've decided to take a nap, but to hell with setting an alarm! You'll wake up when you wake up, and everyone texting you will have to deal with it!
14. Armie Hammer's voice sounds like when the violins come in on Nelly's "Grillz," which is to say that it sounds like the ideal combination of highbrow and lowbrow.
15. Armie Hammer's voice sounds like the opposite of that swish-swish a nylon sweatsuit made in the '80s, because Armie Hammer has never worn nylon, he exclusively wears corduroy or linen.
16. The timbre of Armie Hammer's voice is identical to the timbre of the bells ringing on the last day of school, when you could dump the entire contents of your backpack into the dumpster right in front of the teacher who wouldn't round your 89 percent up to an A-.
17. Armie Hammer sounds so sumptuous and moneyed, you might think you've paid off all of your student loans.
18. Armie Hammer's voice inexplicably sounds like he's both speaking to you and listening to you and deeply interested in every fleeting thought that pops into your head, even the ones about Mother!
19. Hearing Armie Hammer's voice is like going to the salon and getting a really good shampoo, where they use a little bit of tea tree oil and massage your temples and then say it's on the house.
20. There's such melody in Armie Hammer's voice that the devil has to work overtime to get a new Nickelback song in the world, just so everything stays in balance.