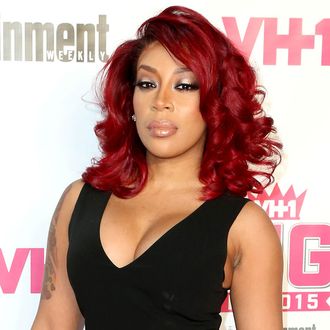 K. Michelle.
Photo: Frederick M. Brown/Getty Images
On her Anybody Wanna Buy a Heart? song "Build a Man," K. Michelle addressed her relationship with R. Kelly. Back then, she called her mentor "controlling," but what does she make of the new accusations against Kelly — the ones that allege he is holding young women hostage in an abusive cult?
"I'm not surprised by them, I'm actually going to be speaking more about it because I do feel like it's my obligation as a woman to tell the truth and to do right by other females that are in the business and all these young women who don't have a voice," K. Michelle told Billboard during a discussion about her new album Kimberly: The People I Used to Know. The singer said she was disappointed by commenters' eagerness to disparage Kelly's accusers, but that she hasn't decided how to publicly address whether she thinks the accusations are true.
"I can't speak on it. I do believe that in every piece of the story there's something that is true," she said. "I've learned so much from my mentor and it's just the right time and place to say things, to do it properly so that the people you're trying to help are actually helped instead of taunted so I'll be speaking more about it but I'll be doing it in the right way." Stay tuned.