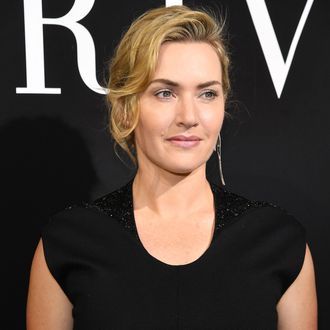 Winslet.
Photo: Pascal Le Segretain/Getty Images
One of the year's many wonders is Wonder Wheel, Woody Allen's movie starring Kate Winslet and Justin Timberlake. Details are thin on the period piece's plot, but the film marks the first time Winslet has worked with Allen. When the actress spoke with the New York Times about the pair of movies she has coming out this year (Wonder Wheel and The Mountain Between Us, co-starring Idris Elba), she was asked if the molestation allegations against Allen made Winslet uneasy about working with him. "I don't know anything, really, and whether any of it is true or false," Winslet replied, adding her to the list of actresses who have awkwardly defended the director. Here's her full quote in the Times:
Did the allegations against Woody Allen give you pause?

Of course one thinks about it. But at the same time, I didn't know Woody and I don't know anything about that family. As the actor in the film, you just have to step away and say, I don't know anything, really, and whether any of it is true or false. Having thought it all through, you put it to one side and just work with the person. Woody Allen is an incredible director. So is Roman Polanski. I had an extraordinary working experience with both of those men, and that's the truth.
Wonder Wheel will premiere at this year's New York Film Festival.