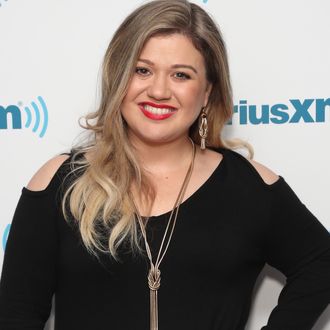 Not a Dr. Luke fan.
Photo: Cindy Ord/Getty Images for SiriusXM
Kelly Clarkson is "not a fan" of Dr. Luke, and she was willing to avoid a bigger pay day just to prove that point back in 2009. In an interview with z100, the pop star explained that she could have received a writing credit on her hit "My Life Would Suck With You," but she turned down "hundreds of thousands of dollars — or millions" in royalties to avoid sharing the credit with Dr. Luke.
According to Clarkson, at the time, her record label, RCA, which is owned by Sony, forced her to work with the controversial record producer. "Basically, they were gonna sit on my record unless I did what they wanted," Clarkson said. "I was so frustrated because I literally said, 'Anyone in the world but this one person. I will work with anyone you want to put in my path.'" She added, "It was just this one thing, and I asked not to work with Dr. Luke just because I had not a good experience with him."
The American Idol winner revealed that because she changed the song from how it was originally written by Dr. Luke (real name Lukasz Gottwald), Max Martin, and Claude Kelly, she could have received a fourth credit and a share of the royalties, but she refused as an act of defiance. "I was like, 'I don't want my name near his. I want to pretend this didn't happen in my life and I want to forget it.'"
Clarkson clarified that her bad experience with the producer was not similar to the one described by Kesha in her legal battle against Dr. Luke. Though Clarkson avoided going further into details about her relationship with Dr. Luke, she said, "I generally love everyone. You have to really be a special kind of … for me not to like you." That sounds pretty damning.
Watch the interview below.