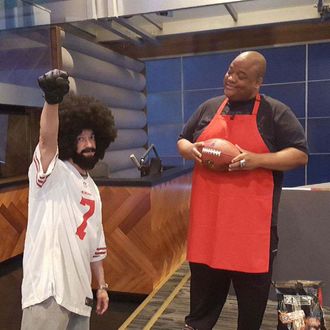 Kid n' Idiot.
Photo: Jason Whitlock/@WhitlockJason/Twitter
Jason Whitlock, a TV host at Fox Sports 1, is known in the sports journalism world for having — to put it mildly — some interesting takes. (He recently said that fighting back against racism is "stupid," for example.) So it should surprise no one, then, that Whitlock caused outrage when he tweeted a picture of himself on set with a Colin Kaepernick impersonator who appeared to be white in an apparent attempt to deride the former San Francisco quarterback. While it's not surprising that Whitlock would have it out for Kaepernick — he's gone on tirade after tirade criticizing him for his political protests — the identity of the Kaepernick impersonator is a genuine surprise to us: It's actually Kid (real name Christopher Reid) from the '90s hip-hop group Kid 'n Play, per TMZ. This means that at the very least, accusations that the not-yet-aired sketch features questionable casting are not accurate (Reid, like Kaepernick, is half black). So much for that recognizable hi-top fade.
Update, September 7: Per Deadspin, Fox Sports 1 has reportedly decided to cancel airing the segment in question, saying it didn't meet their standards.