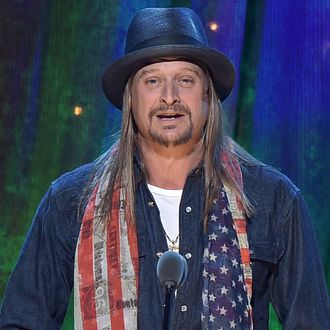 Kid Rock.
Photo: Theo Wargo/Getty Images
Kid Rock has yet to make a formal bid for the U.S. Senate, but he might have already broken some campaign-finance laws. Democracy watchdog Common Cause has filed a complaint with the Federal Election Commission and Department of Justice accusing Kid Rock of violating election law and requesting a federal investigation into the legitimacy of Kid Rock's campaign and its finances. According to their statement, despite not having officially filed his candidacy, Rock's continued sale of campaign merchandise, as well as other promotional tactics (like the creation of a website, KidRockforSenate.com, breaks the commission's regulations. Common Cause has also included Rock's label Warner Bros. in their complaint, saying the company is "facilitating and acting as a conduit for contributions to the Kid Rock campaign."
The organization, which considers itself nonpartisan, adds that Rock should be legally obligated to file his candidacy and disclose contribution amounts if he's going to seek profits off a campaign: "Given the activities we've documented in the complaint, he can't reasonably claim to be merely testing the waters of candidacy and thus exempt from candidate filing requirements."
While a potential candidate is allowed to explore the possibility of running for office, election-campaign-finance lawyer Jerry H. Goldfeder told Vulture that Kid Rock might run into trouble if he does anything that qualifies as real campaigning, such as asking people to vote for him, conducting polls, or yes, creating a website that appears to endorse his 2018 Senate run. If the FEC does respond to Common Cause's complaint, he says, it would probably come in the form of advising Rock to register as a candidate with the FEC.
Rock had previously defended his merch, saying, "Yes, I absolutely will use this media circus to sell/promote whatever I damn well please." Perhaps we'll find out soon how far he's willing to go.
Update: Entertainment Weekly reports that Kid Rock has responded to the speculation that he might have already violated campaign finance laws in his possible Senate run. "I am starting to see reports from the misinformed press and the fake news on how I am in violation of breaking campaign law," said the Nu metal pioneer turned roots rocker. "No. 1: I have still not officially announced my candidacy. No. 2: See No. 1 and go fuck yourselves."
Samantha Rollins contributed to reporting.