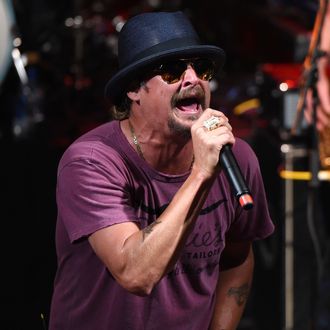 Photo: Jamie McCarthy/Getty Images for Live Nation
Kid Rock, Detroit native and potential future Michigan elected official, is furious at the idea of civil-rights groups protesting his concerts tied to the the opening of the city's new Little Caesars Arena. Per the Detroit Free Press, several groups have criticized the choice to have Kid Rock, a white performer, open the arena in a predominantly black city, especially since Rock has been an outspoken supporter of Donald Trump, has displayed the Confederate flag in performances, and has criticized Colin Kaepernick's decision not to stand during the National Anthem in protest of racism in America. The National Action Network's Detroit chapter has called for the city to cancel the concerts and planned protests against them.
In response to that, Kid Rock wrote a long, swear-filled post on his website, which begins this way: "People! Pay NO attention to the garbage the extreme left is trying to create! (and by the way, fuck the extreme left and the extreme right!)" Kid Rock continues by arguing that he is the "KING OF DETROIT LOVE" and points to his investments in many organizations and charities throughout the city. "My track record in Detroit and Michigan speaks for itself, and I would dare anyone talking trash to put theirs up against mine," he says, before noting that he is disappointed that the business and charities he has supported in the city have not spoken up in his defense. "So for the unforeseen future I will focus my philanthropy efforts on other organizations besides the ones I have supported in the past."
In one postscript on his note, Kid Rock writes, "P.P.S. To be clear – Fuck ANYONE who takes a knee or sits during our national anthem!" In another late postscript, he adds, "P.P.P.P.P.S. I LOVE BLACK PEOPLE!!"
Kid Rock's first performance at the Little Caesars Arena is currently scheduled for Tuesday night.