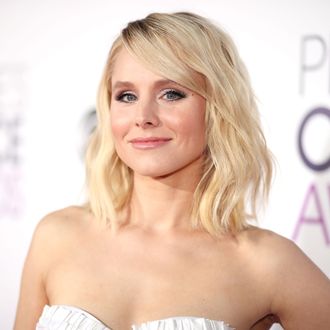 Bell.
Photo: Christopher Polk/Getty Images for People's Choice
Kristen Bell found herself in Florida on a movie set when Hurricane Irma struck. Instead of reading funny tweets in her best Gossip Girl voice (which, just saying, we would've loved), Bell did us one better: As the storm ravaged the coast, the Good Place star got to work being the Official Cool Person available to cheer you up on a bad day, whether it be through a game of bingo or a Frozen serenade during a hurricane. It all started Saturday, when she issued a call to arms: "Anyone in orlando near epcot play piano?" she tweeted. "And have a keyboard and mic and amp?" First, Bell got onstage for students at Meadow Woods Middle School to sing "For the First Time in Forever," from Frozen. "I hope maybe some of these songs are running through your head the rest of the day," she told the audience, "and will take your mind off [Irma]."
Later, she palled around with the senior citizens who were evacuated to her hotel. Bell played bingo, raced wheelchairs, and even caught herself a lover.
And now, Kristen Bell would like you to meet her new bae, John. (Apologies to Dax Shepard.)
Bell told CBS Sacramento that the entire crew of a movie she's shooting was at the hotel, ready to help hotel staff accommodate the influx of evacuees. "We're all sleeping together and it's going to be a 48-hour slumber party," Bell said. The evidence: Here's Bell and co-star Paul W. Downs racing wheelchairs.