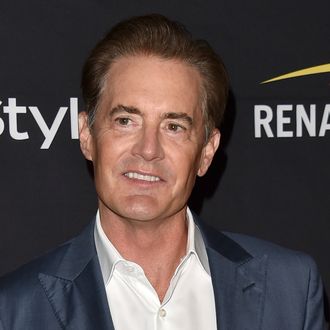 Photo: Alberto E. Rodriguez/Getty Images
After leaving you deeply unnerved every Sunday this summer, Kyle MacLachlan has landed a post–Twin Peaks gig in the upcoming film adaptation of John Bellairs's book The House With a Clock in Its Walls. MacLachlan will be portraying the extremely normal former owner of a very average Michigan house inhabited by the book's 10-year-old protagonist. Just kidding, he's playing Isaac Izard, one half of an evil warlock couple who dedicated their lives to black magic before hiding a clock in the walls of their home.
What's so scary about a clock, you might ask? Well, you probably won't be surprised to find out that it is, of course, a clock designed to bring about the end of the world. MacLachlan joins Jack Black, Cate Blanchett, and the film's newly announced lead, Daddy's Home star Owen Vaccaro, in the upcoming Universal/Amblin adaptation. The original 1973 John Bellairs Gothic horror novel was illustrated with drawings from the infamously perturbing artist Edward Gorey, which really takes things to the next, spookier level. If they've got Kyle MacLachlan and they keep any of Gorey's influence, David Lynch is going to wish he thought to throw in a warlock Doomsday clock.