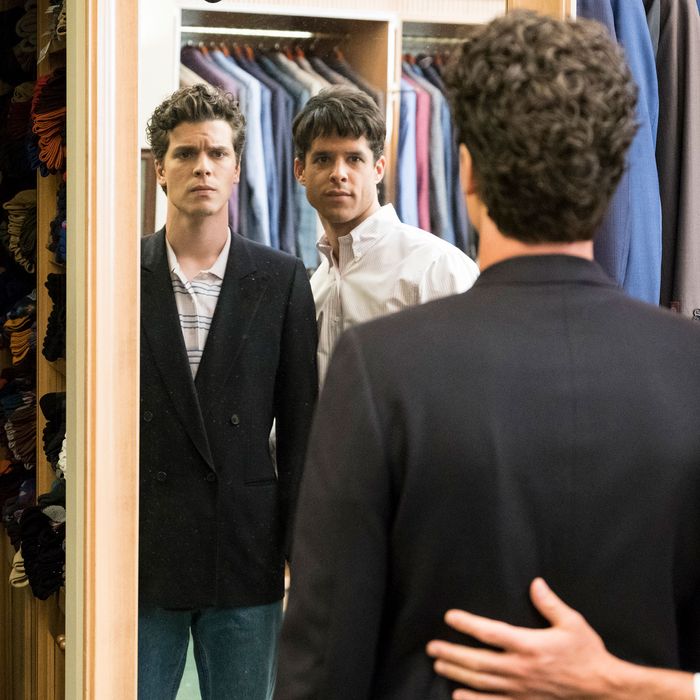 From left: Gus Halper as Erik Menendez and Miles Gaston Villanueva as Lyle Menendez.
Photo: Justin Lubin/NBC
Let's not kid ourselves: the new anthology series Law & Order True Crime: Menendez Murders exists because FX's The People v. O.J. Simpson: American Crime Story was a hit and swept the Emmys. All over the grid, programmers who craved a piece of that action green-lit true-crime docudramas (never a genre lacking TV representation anyway). The latest is this extended retelling of the murder of Beverly Hills residents Jose and Kitty Menendez by their sons Lyle and Erik, executive produced by L&O creator Dick Wolf and done in the aggressively tawdry yet disapproving manner of Law & Order: Special Victims Unit. The story has been told many times before, of course, in true-crime series and a couple of pretty good TV movies: Menendez: A Killing in Beverly Hills, starring Edward James Olmos and Beverly D'Angelo, and Honor Thy Father and Mother: The True Story of the Menendez Murders, starring James Farentino and Jill Clayburgh. The eight-hour length and mostly funereal tone of this NBC version suggest that we're in for something like a definitive take. The production opens with a lovingly nasty reenactment of the killings: close-quarters shotgun blasts, flopping bodies, buckets of blood.
Gus Halper stars as Erik Menendez, the sensitive and self-flagellating half of the duo. In 1989, he and his brother were accused of killing their rich parents to gain control of their fortune, but were nearly set free after attorney Leslie Abramson argued that the killings were a delayed response to years of abuse. Halper's pained expressions, cathartic tears, and panic attacks are moving, but also sometimes at odds with the script, which affects a more hard-boiled, seen-it-all attitude. Miles Gaston Villanueva and a very unfortunate wig play Erik's icy, controlling older brother Lyle. Edie Falco is Abramson, who is memorably introduced from the back, her frizzy blond perm becoming synonymous with the character. She's the best thing in this mini-series, but she doesn't get to have any scenes with the brothers until the end of episode two, when she sits opposite Erik in a jail cell and sweetly announces, "I skipped lunch, but I brought trail mix!" Until then, she's mostly consigned to watching TV coverage of the investigation with her husband, Los Angeles Times writer Tim Rutten (Chris Bauer).
There's a subplot involving the Menendez brothers' therapist, Dr. Jerome Oziel (Josh Charles), who testified that Erik and Lyle confessed to the murders but was undermined on the stand by revelations that he had sex with female patients, including his mistress Judalon Smyth (Heather Graham), whom he enlisted to secretly audiotape his sessions with the brothers. All of the scenes revolving around Oziel and Smyth, who dominate the second episode, suggest a more fruitful storytelling path than the one this mini-series chose. Between Charles's hilariously hapless reactions whenever the horny doctor is manipulated by his mistress and Graham's slinky baby-doll exhortations as Smyth ("Make me better, Dr. Daddy!"), the mini-series keeps threatening to turn into a semi-satirical black comedy about moral turpitude in the shadow of Hollywood — a story that frankly acknowledges death and pain while also raising an eyebrow at the excesses of people like the mercurial former record executive Jose Menendez (Carlos Gomez) and his pill-addicted wife Kitty (Lolita Davidovich), who keep guns all over their house and lease a BMW when their Rolls Royce is in the shop.
Unfortunately, the result plays like the longest, soggiest Law & Order episode ever. The writer is René Balcer, a Law & Order veteran who toyed with Menendez-inspired plot elements way back during the inaugural year of the flagship show, in an episode titled "The Serpent's Tooth." The series' co–executive producer and director of the first two episodes is Lesli Linka Glatter, who has helmed some of the finest single installments of TV drama in the medium's history, including Mad Men's "Guy Walks Into an Advertising Agency," The West Wing's "Election Night," and several episodes of the original Twin Peaks. But there's nothing stylish or even particularly inventive about the direction, or for that matter the dialogue, the photography, or the editing. In fact, nothing feels entirely right here: not the structure, which shoehorns brief expository flashbacks into the timeline for no clear reason; not the look, a desaturated, blue-gray palette characteristic of clichéd, East Coast–based TV crime thrillers; not the script or its presentation, which fail to exploit elements of black comedy and social satire that are so innate to the tale that they seem to lunge at the camera, crying, "Notice me! Do something with me!" Every now and then, there are hints of the sharp-witted, audacious production that might've been, as when one of the investigative detectives learns about all the high-end luxury goods the brothers have been buying since their parents were killed, and quips, "Maybe this is how the rich grieve," a line worthy of Jerry Orbach's Lennie Briscoe. But it's not enough to elevate this production beyond the level of confused competence. Maybe things pick up as the mini-series moves along, but the first two hours won't make you inclined to find out, unless you're a die-hard true-crime buff or an Edie Falco completist.