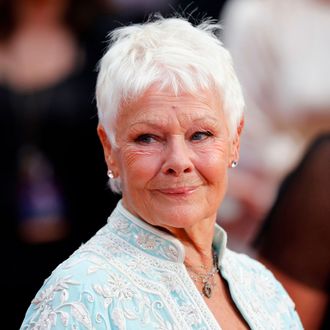 Fidget spinner owner.
Photo: Tolga Akmen/AFP/Getty Images
When Judi Dench isn't vying for her next Oscar trophy or snagging a record-breaking number of Olivier Awards, the octogenarian has an itty-bitty fidget spinner to preoccupy her. While promoting Victoria and Abdul at Toronto International Film Festival, Dench was asked by USA Today's Andrea Mandell about her hobbies. Though she tried to steer the conversation toward her interest in expanding her vocabulary, Dench's co-star Ali Fazal needed the world to know about the dame's crumpet-sized toy. "She owns a fidget spinner. Judi Dench owns a fidget spinner! It's the coolest damn thing," Fazal said.
Because Dench is a benevolent living icon (don't call her a National Treasure), she deigned to present her mini version of the 2017 craze to the camera. Where she kept it on set while playing Queen Victoria is a mystery— in a secret fold in her giant hoop skirt? Under her crown? In a hidden compartment of her scepter? Wherever it was, it can be assumed she took it out every time the director called cut — Dench doesn't need scene notes, thank you very much.