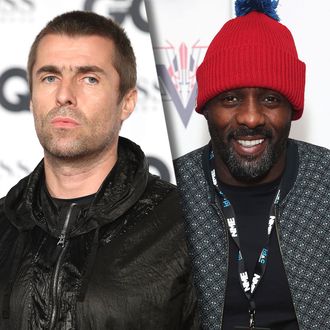 RIP to the greatest hat feud of our time.
Photo: Getty Images
Never has a beanie been so divisive. Back in 2013, Idris Elba and Liam Gallagher both attended the NME Awards, at which Elba's choice of hats got caught in the crossfire. As the story goes, Elba wore a red beanie with a blue pompom that apparently offended the younger Gallagher so much that he snatched it from Idris in jest. Elba responded accordingly and ruffled Liam's hair, which then sparked a "little exchange of words." "It got blown out of proportion, but we kept our hats on, so to speak," Elba later said. "It was a good hat, man. I guess he just took against it. He must have thought it looked silly, because he tried to grab it."
Orrrr, if you believe Liam, it was Elba who messed with Liam's hair first: "You don't touch a man's haircut, man," Liam reasonably explained that June. Liam then said he "booted" Idris's hat across the room; later, he pulled the old "I don't know him" card. Elba recounted the incident again to GQ that fall, with more vitriol: "Didn't like that. Don't touch his hair, apparently. Fuck off. Next time walk with a fucking hairdresser, then … Well, 'I'm a popular rock singer, so I'm going to be mean and fucking horrible to people just because they messed up my look.' Fuck off."
Whomever the culprit, it remained the Great Hat Feud of our time … until now. With both Idris and Liam set to share couch time on Graham Norton's show in October, Liam has tweeted a crucial update in the Hat Feud: It's sadly come to an end.
If you'd care to take Liam's version of the apology at face value, it was Idris who squashed the beef and admitted he was in the wrong, despite everything about this fight being so right. Wrong about the hat? Wrong about the hair? Tell us more, Liam! Perhaps it's all a fake-out and Idris plans on bringing back the hat for the appearance. Long live this feud! Long live that hat!