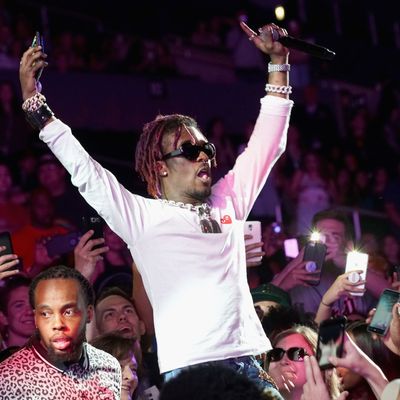 Photo: Bennett Raglin/Getty Images for BET
"Love," the new single from rap crazies iLoveMakonnen and Rae Sremmurd, is a delightful mess of contradictions. It's a song called "Love" about a relationship falling apart, a summit between southern rap stars that doesn't contain an ounce of rapping, and a collaboration with pop and stripper-rap impresario Mike WiLL Made-It that leans closer to pop-punk than anything else in his body of work. It's airtight. If there's any justice left in the world, this'll go sailing up the charts and restore Makonnen to prominence after a rocky stretch where his deal with Drake's OVO Sound label fizzled, and he came out as queer to criticism from fans and friends like the Migos.
"Love" isn't either party's first step outside the confines of rap — check the frosty Depeche Mode affectations in the lead vocal of "Too Much," off Makonnen's self-titled debut EP, or the Sremmlets's No. 1 smash "Black Beatles" — but it is a sterling return on a wave of rap luminaries presently stripping rock and roll for parts and bringing back melodic approaches that feel daring and new. It's not just that they've located a seamless mix of rock instrumentation and hip-hop-soul swagger. André 3000 and CeeLo nailed the revitalization of old Prince moves on "Hey Ya!" and the Gnarls Barkley records. It isn't just that they're singing over rap beats, either. Drake's been doing that for years, and he got it from Missy, and she got it from the Jodeci guys, who, alongside Diddy and Mary J. Blige, ushered that wave in 25 years ago.
The Makonnen oeuvre accesses rock not as the descendant of soul and the blues born out of the American South, but as the province of dour white men of the '80s, '90s, and aughts. (Makonnen's rock pedigree often gets overlooked in favor of his absurdist hip-hop streak, but the touchstones for iLoveMakonnen and subsequent gems like "Other Guys" include the cold sonics of Britain's New Romantic synthpop movement and the self-loathing of bookish, eloquent sad sacks like Morrissey.) His approach seems to be sticking. Lil Uzi Vert, the Philadelphia dandy whose dejected "XO Tour Llif3" helped rocket his new album Luv Is Rage 2 to the top of the charts last week, keeps Marilyn Manson on speed dial. Cali crooner Lil Peep's mix of crude angst, trap beats, and healthy samples of '90s indie and emo rock has led critics to revive the dreaded "emo rap" tag to describe his debut mini-album Come Over When You're Sober. The rap kids' version of emo trumps any tawdry Punk Goes … record that tried the same in reverse.
Peep isn't innovative, though; he's brazen. His 2016 mixtape cut "Nineteen," which lifted a glut of moody guitars from "Love Letter Typewriter" off Texas emo luminaries Mineral's EndSerenading, incurred the wrath of the band for neglecting to ask permission to sample it. Peep's team rebuffed that it was simply a "cute cover" of the original, which, quite frankly, is true of the whole of his approach to emo. "Benz Truck," the Come Over cut garnering the most shine on Peep's SoundCloud page, drapes itself in somber moods and melodies, but never goes anywhere. "Awful Things" is the highlight, soaring on a hook that sounds like Peep's best Bert McCracken karaoke indulgence, but the shrill, deathly gasp of his voice is a hindrance to the emotions he's trying to get across with his words. Emo, even in the Hot Topic incarnation diehards call inessential, is about feeling things too hard for your own good, and Lil Peep needs to scrub some anesthetic aloofness off his music before it's primed for takeover.
Lil Uzi Vert's Luv Is Rage 2 lays waste to the distinctions between genres that Lil Peep seems content to simply straddle. Its genre is ostensibly trap, but the beat selection resists easy categorization. "444 + 222" rolls in video-game synths, while Uzi employs the staccato flow from the Big Tymers's "Get Your Roll On" for what sound like hyped-up gym-exercise instructions. "No Sleep Leak" and "Malfunction" approximate reggae, while "Feelings Mutual" squeezes carnival-ride music out of what sounds like a dying pump organ.
In spite of its adventurous production, Luv Is Rage 2 is something of a downcast breakup record. The loping organ melody of "Feelings Mutual" is met by Uzi crooning, "My body's numb / It's because I am so hurt / I feel my pain in the rain." He's lamenting the loss of his girlfriend Brittany, who had been set up on earlier projects as something of a muse, but he's too upbeat to get caught up in his own bad vibes, as you can tell by the sweetly uplifting "The Way Life Goes," a pep talk for anyone nearing the end of their rope, whose soaring melody betrays its glum subject matter. This is probably par for the course for a guy who can turn a song whose chorus goes "Push me to the edge, all my friends are dead" into a joyous singalong.
Uzi's delivery snaps between traditional raps, cruder chants and shouts, and straight-up rock vocals on a whim. "For Real" rhymes in breakneck spurts. Deep cut "Early 20 Rager" coats a choppy, one-note vocal about crushing up pills in reverb and auto-tune and comes out sounding like a blast. The building blocks of his sound aren't far removed from those of Atlanta stars like Future and Young Thug — atmospheric trap beats, gooey melodies welded to the raps, the occasional vocal effect — but where each identified traditional R&B as the wellspring of their approaches to melody this year, Future on HNDRXX and Thug on Beautiful Thugger Girls, it's Uzi's pop-punk rasp that sells the sadness. He's not interested in the bluesy melisma Young Thug sells on "Family Don't Matter" or the impassioned '90s R&B grandstanding Future revives for "Use Me," in the same way that Brand New's "Sic Transit Gloria … Gloria Fades" doesn't cloud the desperation in its lyrics with clean, pretty singing. (Depression is a drippy, sinking sensation. How could any music seeking to express the vibe help but follow suit?)
A cynic might argue that it's a lack of stellar vocal talent pushing Makonnen, Uzi, Rae Sremmurd, and others toward rock affectations, since we don't require the same pipes for rock guys that we demand of singers working in soul and its adjacent forms. But this doesn't square away the mammoth success of Drake and the wave of chilly demi-R&B aesthetes following his playbook. They don't come across as natural singers, either, but they borrowed samples and creative cues from Missy, Timbaland, Aaliyah, and Ginuwine after growing up with those artists serving as the rap and R&B vanguard. Uzi heralds a generation where there aren't any rules for what you can mix into your rap music, and his chart traction prevents easy dismissal of the movement as a fluke, like puzzled mainstream rap fans did with Makonnen post-"Tuesday." Is hip-hop's borderless, genre-averse future finally here?