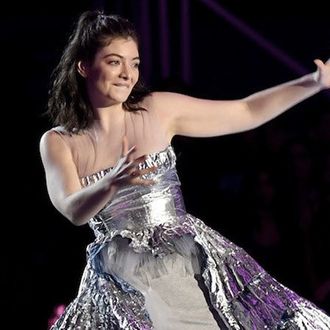 Dance, then, wherever you may be. Lorde is the lord of the dance, said she. At MTV's annual Video Music Awards last month, Lorde, ever the adept and versatile performer, decided to swap out her intended one-song set in order to dance around the stage like a madwoman. She was suffering from the flu that day, and since she couldn't flex her vocal chops, did the next best thing: interpretive dance in a shiny dress for three-and-a-half minutes straight to her hit song "Homemade Dynamite." Some people thought it was cool. Others, not so much. See for yourself.
Lorde, of course, isn't new to performing some odd dance moves and then defending them a few days later. So, surprise! That's exactly what she's doing now. Stopping by the WTF With Marc Maron podcast, the songstress elaborated on how she's genuinely confused why people would hate on her unconventional performance. "It's sort of embarrassing to watch someone experience intense joy. Way more than pain … and I think that's why people find what I do quite disconcerting," she explained. "People got, like, so angry about me performing at the VMAs. I just danced. I just danced! And I danced with full fucking joy. Some people were like, 'We get it, we love it.' And some people were like, 'This is offensive that I have to watch this.'"
As for Lorde, she believes she's finally figured out the reason why people generally don't respond well to her dancing: "It's because it's so private seeing someone experience such joy publicly." Really makes you think.