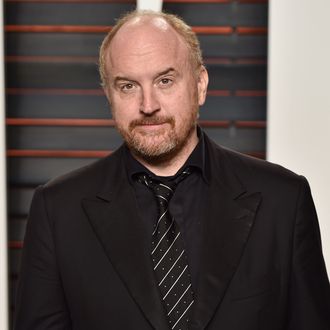 Photo: Pascal Le Segretain/Getty Images
The oblique and contentious back-and-forth between Tig Notaro and Louis C.K. continues. While the Louie star has so far mostly avoided directly addressing controversies surrounding his working relationship with One Mississippi creator Tig Notaro (C.K. is listed as an executive producer on Notaro's show, and is credited with helping launch her career with the sale of her famous Hello, I Have Cancer stand-up set), the comedian did resurface in the New York Times to briefly reiterate his position on the unsubstantiated rumors that he has repeatedly sexually assaulted women by masturbating in front of them.
"I'm not going to answer to that stuff, because they're rumors," C.K. said while promoting his new movie, I Love You, Daddy, at the Toronto International Film Festival. "If you actually participate in a rumor, you make it bigger and you make it real." The Times pressed, asking for clarification about whether or not the assault allegations were real. "No," he said. "They're rumors, that's all that is."
C.K. was then asked directly about Notaro's comments about how he needs to "handle" the accusations. "I don't know why she said the things she's said, I really don't," he responded, before reinforcing his no-private-life-in-the-media approach. "I don't think talking about that stuff in the press and having conversations over press lanes is a good idea."
Notaro, meanwhile, also curtly discussed the C.K. controversy today with The Hollywood Reporter as part of a breakdown of a pivotal scene in the new season of One Mississippi in which a female character discovers her boss is masturbating as she's trying to talk to him in a pitch meeting. "We wanted to show that you can be assaulted without even being touched," Notaro said. "Nothing can be said and you are still horrifically violated and scared." Once THR asked directly about her relationship with C.K., Notaro was bleakly opaque:
I have not spoken to Louis in probably going on two years now. I will never hear from Louis C.K. again.

Not even after you called him out for the similarities of his SNL sketch?

No. I never heard from him. I will never hear from him.

Why is his name still attached? Is the intention that after this season, he will remove it?

I don't know. There are so many things I don't know.
Us too.