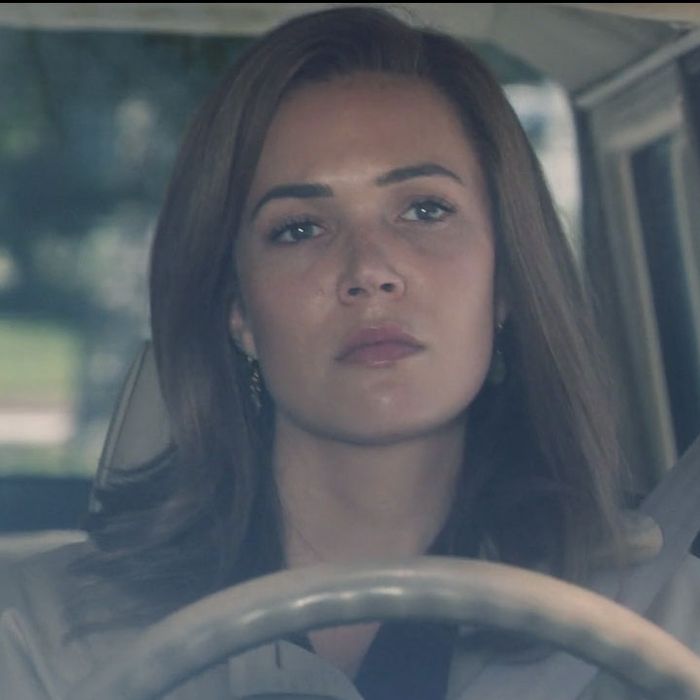 Mandy Moore in the season-two premiere of
This Is Us.
Photo: NBC
This Is Us returned for its second season Tuesday night and, among other big developments, close watchers would also notice a new, post-separation look for Rebecca. Mandy Moore's character is the one whose appearance is changed the most throughout the series, aging from her 20s to her mid-60s, sometimes within the same episode. Moore, who has shared parts of the transformation process on Instagram, said at an August press conference that she'll sit "for as long as I have to" to get Rebecca's look right.
Vulture spoke to three-time Emmy nominee Zoë Hay, the show's head of makeup, and five-time Emmy nominee Michael Reitz, the department's head hairstylist, who meet with each episode's director and producers before production begins to discuss all of the time periods and looks needed for all of the characters. They discussed their vision for Rebecca Pearson's sense of style, and how it evolves from the '70s to present day.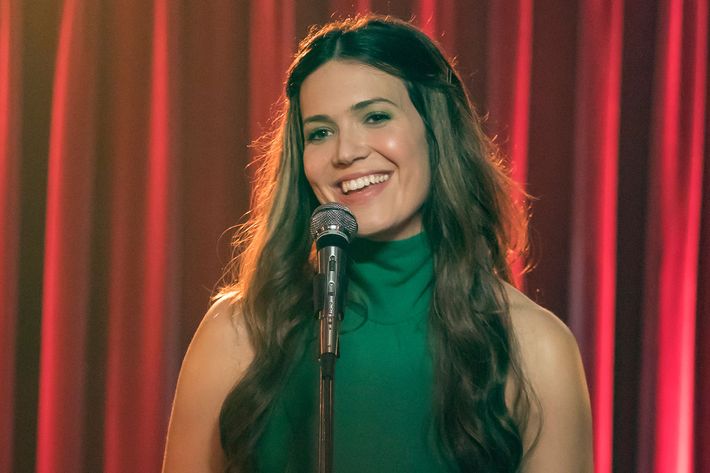 Costume designer Hala Bahmet had selected earth tone colors for Rebecca's wardrobe, so Hay started working from there. "She had these great greens and just great colors that really let me create a palette for her," she said. "I felt like, she's young, she's an artist, she's playful, so her makeup is fun and young to express herself through it. We wanted her skin to be glowing and luscious."
Reitz says he just had to think about his childhood to figure out Rebecca's hair choices. "She's absolutely all the girls I grew up with," he said. "I was in high school in the '80s and some of those hairstyles are directly from my high-school yearbooks. When we have extras for the background artists, we actually show our yearbooks to sell it as well. So we get the whole vibe." Reitz's favorite hairdo of Rebecca's is her feathery '70s layers from her wedding day. "She's absolutely the most stunning bride."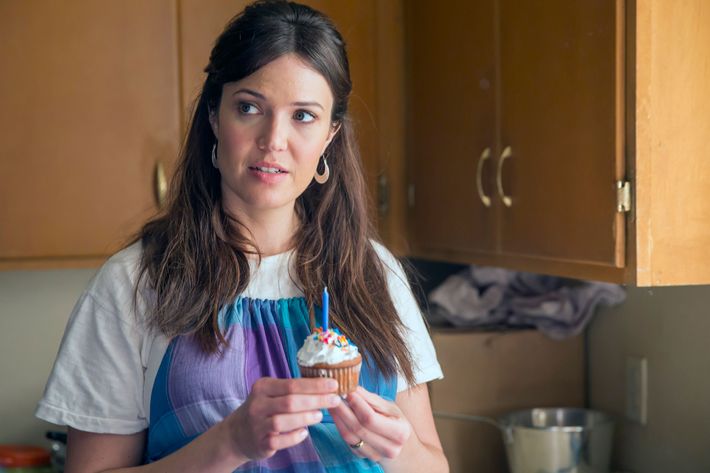 Achieving the right look for 1980 without giving the time period away in the pilot was the trickiest challenge for both Hay and Ritz. "We wanted the audience to believe it could be present day and she was pregnant with triplets, so I wanted to create something very beautiful and simple for her," she said. "This is Rebecca's most natural look. She's still glowing, and I still wanted to have a great look of youth about her, but now she's a mother of triplets — she's not going to be doing her makeup and hair every day. It has to be very subtle."
For her hair, Reitz just went long and straight. "We didn't want to give away the period at all so we just went with very long hair," he said. "Later, once the audience knew, I layered it more and lent it more to the period."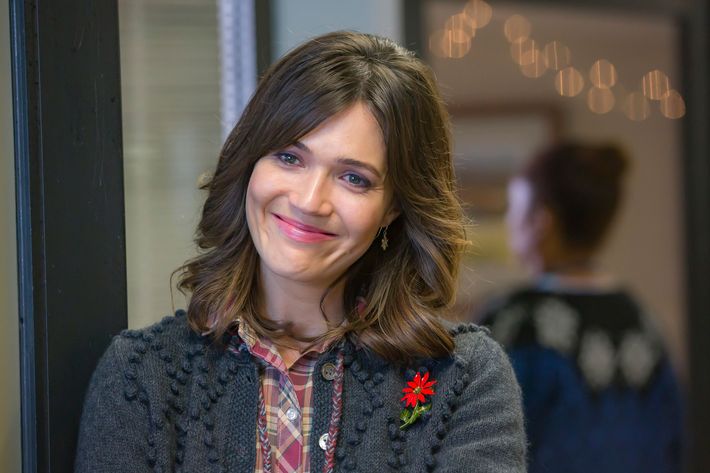 With the Pearson children in elementary school, Hay thought Rebecca would return to caring more about the way she looks. "I am a mom myself," she said. "I have teenagers, so I've been there. I understand what it's like to need to do the things quickly and keep things simple, but your kids are older, so you want to get new clothes to wear and feel pretty again. So we went back to more color with her. She still wants to be herself and look pretty, but not in an overdone or garish way. We took late-'80s pinks and purples from her wardrobe and used that for her palette. A slightly more mature look, but still very pretty."
At this stage, Rebecca starts sporting shoulder-length hair. "She's a very pretty, statuesque woman, so we still wanted her to feel like she took care of herself and it's still something practical that she can do on her own, and give it an '80s feel as well," Reitz said.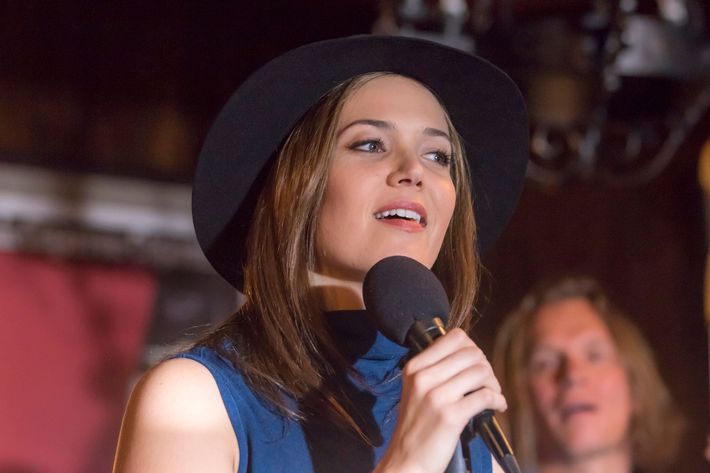 With the children now in adolescence, the aging process begins. But Rebecca is also returning to her dream of being a singer. "I took advantage of the fact that everything was very matte and very brown in the early '90s to mid-'90s," Hay explained. "It helped me shade and contour her face in a very natural way and keep the skin looking very matte which helps with the aging. As we transition into the '90s, we start using aging productions on her to stretch and stipple skin to create some fine wrinkling that's starting to happen around her eyes so that when she smiles or has expressions, you see that creeping into the texture of her face."
Her hair also gets shorter. "That's her first wig," Reitz said. "We changed the color a little bit, just to make it a little more mature, but still someone who is pretty and takes care of herself. We're just changing her up from that young, vibrant gloss that she had when she had the longer hair."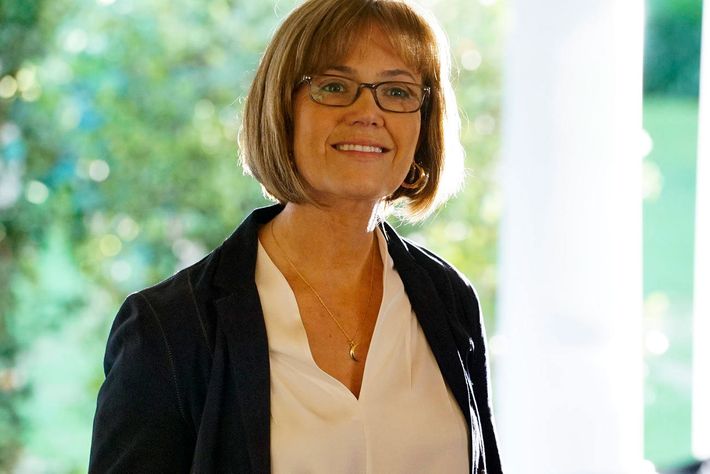 Transforming Moore, a 33-year-old woman, into a 66-year-old, takes three-and-a-half hours. It used to take five. "It was very important to me that as we see her when she's older that she looks graceful and beautiful," Hay said. "I think I thought of my own mother a lot and how she looks and how she carries herself. I wanted to have some of that very simple, elegant beauty for Rebecca as we see her through the ages. When you're creating an alien or a fantasy character, there's room for interpretation, but when you're creating someone in aging makeup, everybody has an opinion about that. Everybody has a grandma, everybody has a mom who's older, so for me as a makeup artist, it's also very important that the actor can act through that, and it's a fine line with putting too many prosthetics on the face that doesn't allow for that emotion of the actor to come through and having enough to transform them and make them look older."
The process begins with complete textural painting: adding sun damage, broken capillaries, and freckles onto the face and enhancing veins. "And then from there, we start doing the stretch and stipple process, which we do all the way from the forehead down to her chest because we quite often have her in a V-neck, or open pieces, so we have to give texture and wrinkles to her chest also," Hay said. "And then when all of that is done, and her hands, and her arms if we see them, then we go ahead and start applying the prosthetics."
That involves 12 prosthetic pieces made by Out of Kit, which essentially go on like Band-Aids, and the edges melt into the skin. "She has small prosthetics under her chin, creating a slight waddle under the neck area that changes the look of her profile," Hay said." She has very small jowl pieces, small pieces that go along smile line on the face. Then she has small pieces under her eyes for her eyebags, little tiny crow's feet that go onto the corner of her eyes, and a little frown line between her brows. The frown is the smallest. It's about the size of a penny."
Removing Rebecca's grandmotherly look takes 45 minutes to an hour. "We remove it very, very gently, not just to remove the prosthetic pieces, but also the ager that we have on her skin," Hay said. "Mandy has beautiful skin, and we like to keep it that way. So we remove the pieces very, very gently with the mildest products that we can. We want to make sure her skin is well taken care of. Lots of hot towels and massaging oils and gentle removers into the skin."
Granny Rebecca also sports a bob. "We tested and tested and tested that look," Reitz said. "I would say seven or eight full tests — four or five hours long. Between the makeup and the hair, there's so many opinions and people looking at it, and it has to be believable. So what we do is we try on many, many different wigs and styles and we narrow it down. Actually, strangely, it's Zoë's mother's haircut. That's a fun little fact."