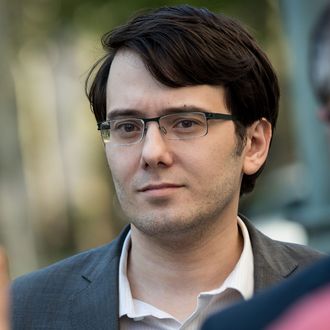 Revenge: priceless.
Photo: Drew Angerer/Getty Images
As pharma villain Martin Shkreli sits in jail awaiting sentencing for his fraud conviction — his bail was revoked this week after he baited people on Facebook with $5,000 for a lock of Hillary Clinton's hair — it appears he's due for further comeuppance. As fate would have it, the notorious scammer might've fallen for the ultimate scam: Wu-Tang Clan affiliates and representatives for the crew's longtime members tell Bloomberg that it's likely Shkreli paid $2 million for a fake Wu-Tang album. In 2015, Shkreli famously shelled out big bucks in an online auction for what was then billed as the only copy in existence of the rare, storied Wu-Tang album Once Upon a Time in Shaolin, making it the most expensive album ever sold. Since then, he's been the album's sole owner — terms of the sale were supposed to have barred him from ever selling it — bragging rights he's made sure to rub in Wu-Tang fans' faces. However, Method Man's manager, rappers Killa Sin and Shyheim Franklin, U-God's manger, and two unnamed Wu-Tang affiliates now corroborate the widely held theory that the album is virtually worthless because it was never made as a sanctioned Wu-Tang album.
They all point to RZA protégé and producer Cilvaringz (Tarik Azzougarh) as the mastermind behind the alleged scheme; he brought in various affiliates to record verses under the impression that they would be used on his own album. They later found out that Cilvaringz and RZA then pieced together these verses, along with others from official members like Raekwon, to make Shaolin. "It's not an authorized Wu-Tang Clan album. It never was," U-God's manager Domingo Neris tells Bloomberg. "We would never have authorized anyone to put together a project and call it a Wu-Tang Clan record without us ever looking at it, hearing it, or being in the same room together." (U-God has since sued over unpaid royalties on the album.) Method Man's manager James Ellis adds that the confusion extends to the top of the crew: "When we did the verses, it was for a Cilvaringz album. How it became a Wu-Tang album from there? We have no knowledge of that."
In a statement to Bloomberg, Cilvaringz says the album's creation was "too complex to explain in a soundbite" but that "all participating Wu-Tang artists were paid in advance while RZA and I bore the financial risk of the project." RZA did not respond to Bloomberg, while Shkreli replied over email, "hahahahahahahahahahahaha." All affiliates questioning the album's validity note they haven't heard it — no one has in full except for Cilvaringz and RZA. Shkreli has only played snippets of it after Trump's election and, last week, opened an auction for the album on eBay that ends Friday noting even he never bothered to listen to it all. It's currently going for over $1 million, putting the cost of Wu-Tang's potential scam at over $3 million. Revenge: priceless.