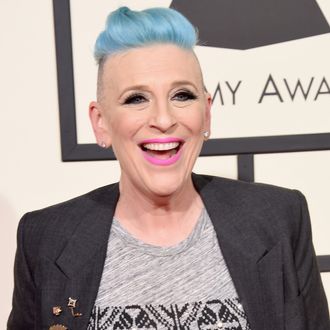 Lisa Lampanelli.
Photo: Jason Merritt/Getty Images for NARAS
Tonight, the stars are out again for the latest episode of Dancing With the Stars, though they may fear the arrival of a new critic. To properly judge the dancing (and the stars) in the show's 25th season, Vulture has brought on a star of our own: Lisa Lampanelli, who promises to pull no punches. You know Lampanelli from her stand-up comedy, but what expertise does she offer about sequins and tango choreography? In order to prove her recapping bona fides, we called up Lampanelli and gave her a short but completely and totally thorough questionnaire.
What makes you an authority on Dancing With the Stars?
Well, I'm not just a comedian, I'm what you call in this business a "triple threat." I can't dance, I can't sing, and I'm a huge cunt. So I really think this prepares me to be snarky about other people's abilities and non-abilities on the dance floor.
Have you ever judged or competed in a reality competition?
Listen, I was on Celebrity Apprentice. I was lucky enough to get to the final four and I raised $130,000 for my charity, the Gay Men's Health Crisis, and I must tell you, after I took my 75 percent cut, I helped at least one person.
Do you have any opinions about the so-called stars competing in this season of the show?
I hear you say "so-called stars" and I fear you are correct. Honestly, my girl Debbie Gibson is on and I was on Celebrity Apprentice with her, and this broad can move. I have very high hopes for her, because she has stamina and guts and she is a very good performer. But who knows, I might have to always vote for the hot guy. That's how LL rolls.
If you were in charge of the music on the show, which songs would you make the competitors dance to?
I think everyone should have to do a hip-hop number based on Hamilton, because I feel white people need to be shown that black dancing is way harder and that black people have it more difficult than these white devils. Hamilton, because I'm a theater girl myself, as evidenced by my foray into the theater with my new play, Stuffed. Hamilton and Stuffed: a winning combination.
In an ideal world, which "star" would you like to see dance with the stars?
Are you kidding? Lisa Lampanelli, you dumb ass! It's my favorite show on the planet. It's the one show I can actually recap without feeling ashamed. If loving Dancing With the Stars is wrong, I don't wanna be right.
What are your hopes and dreams for this season of the show?
I want at least one fainting, I want at least one injury as far as a knee or an ankle, and I want at least one death. I think a death makes this thing renewed forever.
You mentioned your play Stuffed. If people enjoy your recaps and they happen to live in New York, should they check it out?
Yes, they should, because my play Stuffed, while it's funny, it's about an issue that every person I know has dealt with some time in their life: food, weight, and body image. I said my years of struggle needed to amount to something other than cellulite and stretch marks, so I've written a play that makes people know that we can conquer these eating problems together.
Look for Lampanelli's recaps on Vulture starting Monday night.