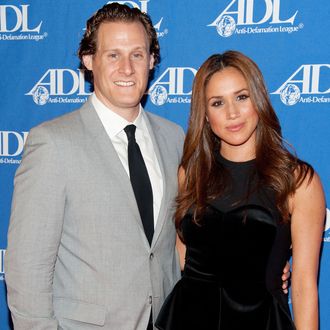 Markle and a commoner.
Photo: Amanda Edwards/Getty Images
Gentlemen, may we have your attention. If ever your relationship dissolves and you find yourself with enough access to make a TV show about it, don't do it. Do the opposite. Literally anything else. Deadline reports that Meghan Markle's ex-husband, Snowfall producer Trevor Engelson, is making a Fox comedy about being left for a British prince. It's "fiction," but the news is terribly true. This is its premise, which we wouldn't dare paraphrase: "Divorce is hard. Sharing custody is harder when an ex-wife marries a British prince. Sharing custody with the British Royal family in the unforgiving spotlight of London's tabloid media is next level." (The show is also being produced by Modern Family's Danny Zuker, New Girl's Jake Kasdan, and The Shannara Chronicles' Dan Farah.)
Now, Markle and Engelson were married for two years and have zero children, but when has that ever stopped a man from inventing his own truth? Per Deadline: "The comedy originated with Engelson who, in a conversation with fellow producer Farah, mused about what would've been if he and Markle had kids and he had to share custody with the British Royal family one day." And now we must all muse about what would've been had Farah just said "nah, dude, chill." Markle, of course, is presently "in love" with Prince Harry and must now experience the royal rite of passage of being put through hell.