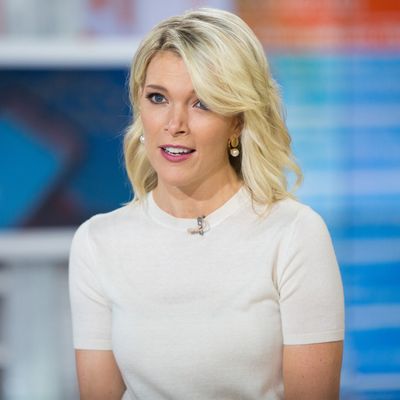 Megyn Kelly.
Photo: NBC/NBCU Photo Bank via Getty Images
NBC's first attempt to condition viewers to their new high-cost host Megyn Kelly didn't go very well. After poor ratings and even worse publicity for Sunday Night With Megyn Kelly, the limited series was scrapped two episodes before it was supposed to end, thanks in part to widespread criticism of Kelly's softball interviews of Vladimir Putin and Alex Jones.
But that's all behind Megyn now — sort of? In her first week hosting the third hour of Today (the one that used to be hosted by Tamron Hall but is now called Megyn Kelly Today), the ratings have been decent but the execution has been … questionable. The new daytime-TV Kelly started off by making Debra Messing regret going on the show, before mildly offending Jane Fonda, and then relapsed into Sunday Night mode with a fluff interview of convicted murderer Lyle Menendez. She couldn't even catch a break from the camera guy. So let's tally up the most uncomfortable things that happened as Megyn Kelly continues to work on being relatable.
Monday
Having the cast of Will & Grace seems like a morning TV layup, but Kelly managed to make things weird when she flippantly referred to homosexuality as "the gay thing" while sharing a stage with a group of queer people and their allies. Coming from someone without Kelly's Fox News pedigree, the phrase could have landed as a joke; from her it just sounded dismissive and weird.
Tuesday
The strange "gay thing" interaction lead to Debra Messing saying in a comment on one of her Instagram posts that didn't even know "MK" was the host until she arrived, that she regretted appearing on the show, and that she was "dismayed" by Kelly's comments. Tough postmortem from the first big guests!
Wednesday
Things got uncomfortable again during Kelly's interview with Jane Fonda and Robert Redford, who were promoting their new movie, Our Souls at Night. What started as a discussion about ageism in Hollywood turned into Kelly pouring praise on Fonda for aging so beautifully, and attempting to get her to open about having plastic surgery, since she should be proud of the choices she's made. The line of questioning prompted Fonda's perfect side-eye.
In another interview shortly after, Fonda told ET Canada that she was taken aback by the question. "Given the fact that we don't have a lot of time and Bob is right here, it's a weird thing to bring up — whether I've had plastic surgery or not," said Fonda. "I have and I've talked about it. Seemed like the wrong time and place to ask that question." Yep! It was weird!
One astute Twitter user observed the common ground Fonda and Messing occupied when chatting with Kelly.
Thursday
A recurring segment on Kelly's Today hour is a little newsmagazine at the start of the show in which she presents cultural topics her audience needs to know about. On Thursday, one of those topics was the new NBC show Law & Order True Crime: The Menendez Murders, and Kelly nabbed an exclusive interview with Lyle Menendez, who, along with his brother Erik, was convicted of killing his parents in 1996. In a sterile gray office setting, the camera trained on Kelly as she spoke on the phone with Lyle and asked him about his testimony, his regrets, and his brother. Like Kelly's conversations with Jones and Putin, the segment did not produce the intended thought-provoking effect. The moment in which Kelly asked Menendez if there was any "joy" in his life attracted particular criticism, with former Beverly Hills detective Les Zoeller telling the Daily Beast he "rolled [his] eyes" at the segment.
Not for nothing, Kelly also seems to have brought her doodle pad for the interview.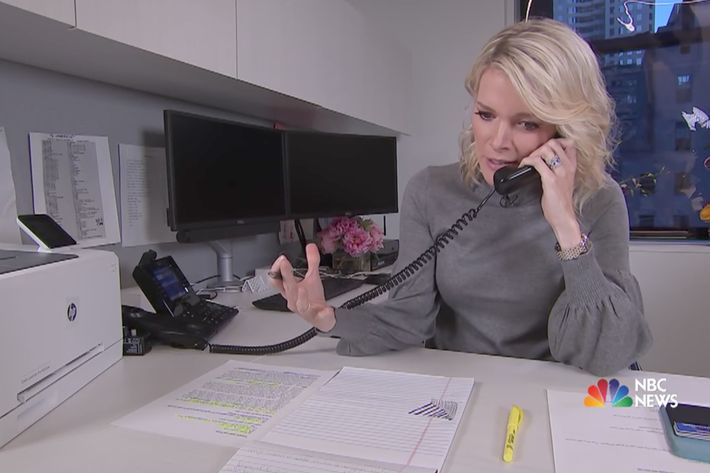 "Interviews with convicted killers" seems like a heavy dish to serve at 9 a.m., but Kelly's Menendez "get" wasn't her first foray into the topic this week. The host's penchant for revisiting decades-old murders with all the verve of a sunrise TV personality did not go unnoticed.
And because it seems to always start pouring after it rains in situations like this, one of the Megyn Kelly Today camera guys even lost track of himself, wandered into the frame during a shot, and then blurted out an audible profanity.
Friday
Kelly wrapped up her first tour on morning TV like any good Fox News alum would, by blaming #FakeNews.
Jane Fonda had and still has the most comprehensive response to the host so far.