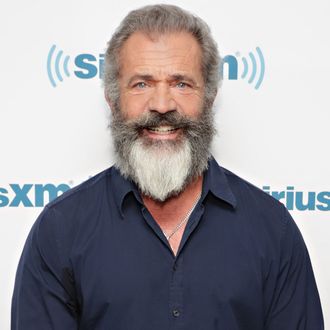 Photo: Cindy Ord/Getty Images for SiriusXM
Before going on Jimmy Kimmel Live in January and letting Guillermo and some guy shave his beard, Mel Gibson had been walking around with a beard that made him look fully out of his mind. As a guy with a checkered past that includes anti-Semitic, racist, and sexist comments, it was a bold choice to greet the world with a salt and peppery look that screams "ornery ass Confederate soldier" to some, and evil Santa who "looks like he fired all the ethnic elves because they didn't fit in with the 'work culture'" to others.
In reality, Gibson was maintaining that beard for his role in The Professor and the Madman, in which he plays an academic named James Murray who compiles the first edition of The Oxford English Dictionary. If you were looking forward to seeing that beard in action, though, you might have to wait a while, since it's been mired in legal trouble. Gibson and his director, Farhad Safinia, are in a fight with the production studio, Voltage Pictures, over which cut should be released; the movie has gone considerably over budget and Voltage has made a cut of its own, but Safinia is trying to have it destroyed as he sues for copyright infringement and defamation. It's all very messy. Which is all to say, Gibson's "guest star on Duck Dynasty" facial-hair choices might amount to nothing professionally, but at least the internet can continue to enjoy them for good.