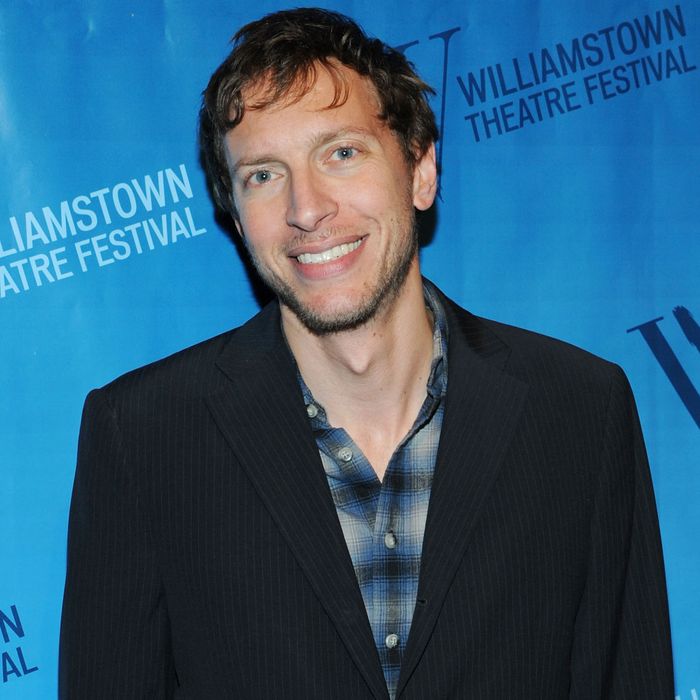 Michael Friedman at the 2012 Williamstown Theatre Festival.
Photo: Ilya S. Savenok/Getty Images
The composer and lyricist Michael Friedman, known for his work on Bloody Bloody Andrew Jackson, The Fortress of Solitude, and much more, died on September 9 at age 41 from complications of HIV/AIDS. 
For us, the loss is profound, and it is personal. The impact he made on both of our lives was vast, but conducted entirely offstage. We are not equal to the task of assessing the way he helped to shape the creative, artistic life of this city, so we've asked some of his collaborators to reflect on what it was to know and work with Michael. Facing the gaping absence of a life cut absurdly short, we are lucky that Michael's words and music, as well as the relationships with those who worked alongside him, will leave a permanent trace of his ecstatic presence.
Zoe Kazan:
I can't remember the first time I met Michael, but I do remember this: When I first moved to New York, every single person I met in the theater seemed to already know and love him.
I had the deep pleasure of working with Michael on the Signature Theatre's production of Angels in America. His music became woven into that text for me — a perfect emotional counterpoint to the action of the play. I can still hear it in my mind, and feel it lifting me up at the end of Harper's last speech on the plane.
(I also remember being so sad that he was having to split his time between our show and Bloody Bloody Andrew Jackson, which was opening on Broadway at the same time as us. He was such a good collaborator, so smart. And his beautiful smile. I selfishly wanted him in the room.)
I am heartbroken for Michael that he did not get more life. His death is a true loss for our theater community — and for theatergoers everywhere.
Bill Heck:
I first met Michael and his music while working together on Angels in America at the Signature Theatre in 2010. He was composing, of course. Michael carried himself with an ease from which flowed complex strains that crashed through the ceiling with the heavenly host, bounced back up from the cellars of hell, and finally settled like quiet snow on the earthlings lucky enough to listen. Perhaps nostalgia and sorrow accentuate those sounds in my memory. Regardless, what I'll remember most was that ease, accompanied by his bright smile and the graceful gesturing of his endless hands. But I'm glad we'll always have his music.
Tony Kushner:
The first time I worked with Michael, he'd been hired to write an incidental score for a play of mine that didn't yet exist. We were a few months from a full production, and there wasn't a page of dialogue; the first scene arrived on the second day of rehearsal. Long before I delivered the last act of the play — during tech (I'm not proud of this) — Michael had written his score. I remember listening to it for the first time, feeling thrilled, astounded, and utterly mystified. There was nothing generic, no sense that he'd had to guess at what the play might be aiming to accomplish. In fact, the score seemed to be the result of a particularly sympathetic, intimate engagement with the text, the characters, and the world the play was attempting to simulate. What Michael wrote came to sound to me like the music my play's main character was haunted by, tormented and torn by, and maybe mocked by. I learned important things about my play from his music. And I've never figured out how he intuited that from the anxiety-fueled conversation we had about the play I was writing.
Michael and I bonded, among other things, over our shared addiction to anxiety as a fuel for … well, pretty much everything. But wherever he found the musical truths for that score, and for all the music and lyrics he wrote; however much his songs were indebted to his astonishing intellect, his enormous erudition, his boldness, his playfulness, his exuberant recklessness, the deepest source of Michael's art is, finally, a mystery, as is true of all great artists. I believe Michael was a great artist. He was always hard at work, toiling and suffering and despairing and returning to the work, to the ongoing project of discovering and assembling a highly original form of musical theater. The Michael Friedman songbook had its debts and its antecedents, but his songs have, and I suspect will retain, a quality of fresh (in both senses of the word, radiantly new and not especially polite) invention, grounded in a deep seriousness of purpose. He was working to describe and explain our times, in song and onstage, and he had the talent to do that. Michael was a critical thinker. He was politically aware, he knew history, he read theory and knew why it mattered, and he knew why it mattered to be skeptical. He was undogmatic, large-minded and large-spirited, he was very funny — as his magnificent, syllable- and idea-clustered lyrics show — and as far as I could tell he liked doing favors for people.
I took shameless advantage of that. Michael took his responsibilities very seriously, at least where other people were concerned. For all of his obsessive and prickly parts, and what seemed to me his hummingbird energy and erratic flight patterns, and in truth probably because of what was baffling and exasperating in him, I never met anyone more easy to like, to adore, than Michael. The man you met was, without self-advertisement, warm, generous, engaged, an enthusiast, a sweetheart, a mensch. Michael managed to create an aura of instant and meaningful accessibility. He seemed always happy, really happy, to see you, no matter how burdened he might be or how crummy the world was. His sadness seemed accessible too, and openhearted, communal, which sadness often isn't. I don't think that Michael was as readable as he appeared to be. But he wanted to be connected to others; he clearly set great store in community, and expended a lot of time and effort and love building a community of people who loved him. Bertolt Brecht wrote that "death is no good for anything at all." Michael shouldn't have died. His loss is, without exaggeration, imponderable. But, as we say, and it's rarely been as true of anyone as it is of Michael, his life was a great blessing, as was his work.
Trip Cullman:
So much has been said (and rightly so) about Michael's artistic genius, his boundless creativity, his profound intellect. I just want to say a few words about him as a friend. For all his flakiness, he was also the first one to call or text or show up for you in a crisis. He was someone who effortlessly and persistently maintained a friendship by insisting on weekly drinks or dinners even when you were too busy to do so. You wouldn't think so on the page, but he was the best travel companion. My happiest memory of Michael is taking a road trip — just the two of us — from Oregon to San Francisco down the PCH for a week. It was a magical time, spent deep in conversation and also in contented silence. Curating where we would stop to eat and sleep with great diligence, getting lost, running out of gas, having adventures. We passed gorgeous town after gorgeous town. One in particular: Mendocino with a beautiful lighthouse overlooking the Pacific. We'd say either in our dotage or when our careers were over in NYC we'd move there together and be two crotchety old gay guys living by the sea together. I'll see you in Mendocino, my dear sweet friend.
Liz Meriwether:
In a musical, there's a moment right before a new song starts, when the character is bursting to do more than just talk. What's happening in the character's mind and heart is just too big to fit inside a normal conversation — singing is his only option.
To me, it felt like Michael always lived in that moment between speech and song. The thoughts in his head were so big and passionate, that a normal conversation couldn't hold them. Michael talked at a dizzying, joyful pace — one minute you were arguing over the merits of an overhyped musical, and the next minute you were discussing the fate of American democracy until, suddenly, you were shaking with laughter and knocking into the table of annoyed people sitting behind you in a crowded restaurant. (When Michael and I went out to drink, people changed tables to get away from us.) Even when he hated something he'd seen, he seemed to hate it out of a larger, all-consuming love of the theater. He would probably roll his eyes at the phrase: "Love of the theater." It makes me think of Cassie in Chorus Line spinning around in legwarmers and belting "What I Did for Love."
But I'm talking about something, believe it or not, less dramatic. There are artists in this world who seem to move through life with love like a tailwind at their back, pushing them forward, pushing them to create, pushing them to share and give and try and keep trying and keep giving even when other people can't anymore. Michael ran on love the way an athlete runs on power bars — or so I've heard. Let's be honest, no one who makes theater really knows any athletes. I just miss him. I wish I knew what he thought of me writing this, because I know it would make me laugh so hard I'd knock my chair over and cause a scene.
Jonathan Lethem:
Life chooses you, love chooses you, if you're lucky. That I knew Michael Friedman at all was improbable luck for me. I've been asked to speak of our "collaboration," but it felt more like I got to row out to an island I didn't know existed and camp out near the fire of his genius for a while. Compared to the friends Michael enchanted and galvanized to him, my personal claim is peripheral; I was probably with him 20 or 25 times in total. Yet I do have the strange privilege of having had him peer into my soul. What he saw in my novel was more than humbling, it sort of unmade me — it was as if he'd handed my childhood back to me bathed in a love I couldn't have conjured myself. I already couldn't listen to the Fortress score without weeping — what the fuck am I going to do now?
Jeremy McCarter:
Michael Friedman wrote so many songs for so many musicals in his 41 years that his output would be a credit to someone who lived to be old and gray. He once told me, with smiling disbelief, that to meet all the deadlines pressing on him, he needed to write a new song every day for the next month. I didn't doubt him. A few years earlier, we had taken part in a workshop of a new play by Jenny Schwartz. During a rehearsal, I was vaguely aware that he had pulled out a yellow legal pad and begun to scribble. When the actors finished for the afternoon, he carried that pad to the piano, sat down, and began to play what he'd written. The song he dashed off that day is a rueful little marvel, especially its chorus: "There are no second acts in American lives / Just second mortgages, second wives." (Thanks to a lucky bootleg recording made a few years later, you can watch him sing it here.)
Michael being Michael, he was developing a couple of musicals at the time of his death, so his catalogue hasn't yet reached its final form. But his passing still compels us to take stock, to assess the legacy of one of the most prodigious theater artists of the era. We were close friends, Michael and I. That means I didn't write about him when I was New York's drama critic, though it also means I got to watch him toss off those gleaming songs, and talk with him about why and how he did it, and hear about his hopes and desires. Like everybody who loves his work, I mourn the songs we won't get to hear. But after what I saw, I'm also sure that his death robs American culture of something more profound than that.
For all his exceptional qualities, Michael was a product of his time and place — a member of the generation of musical-theater artists that he helped to define. You could describe that generation roughly as the kids who grew up revering the formal brilliance and restless narrative experimentation of Stephen Sondheim's 1970s masterworks while also watching a lot of MTV. The task of this generation has been, more or less, to notice that the art form they loved had lost its connection to the world around it — abandoning the energy of pop music, ceasing to innovate, turning inward — and to jam the plug back into the outlet. Rent, Jonathan Larson's 1996 rock musical featuring actual rock music, prefigured its arrival; twenty years later, the worldwide embrace of Lin-Manuel Miranda's Hamilton appears to have finished the job. A popular refrain in the bombastic, backward-glancing, irony-repellent era that preceded ours doesn't make much sense today. What would it mean, in 2017, to say "I hate musicals?" You mean the one where the Founding Fathers rap at each other? Or the electropop take on War and Peace? Or the debut of the Grammy-nominated singer-songwriter Sara Bareilles?
No theater artist in this generation worked more restlessly — maybe compulsively — than Michael to breathe a crazy variety of styles into the old forms of musical drama. The emo tunes of Bloody Bloody Andrew Jackson, his only show to reach Broadway, are just the beginning. He also turned his hand to Spanish folk songs (sung in Spanish), German lieder (sung in German), power-pop anthems, achingly beautiful ballads, a witty riff on Noel Coward — and that's just one show: his breakthrough project with the Off Broadway company the Civilians, Gone Missing. Because he ranged so widely, the word "pastiche" trailed him from review to review, a faintly dismissive shadow. I confess I never understood the charge. Ours is the era of the remix, of "Discover Fridays," of the randomized playlist. Pastiche, a term which once meant a hodgepodge of styles, has become a style, the native sound of our time.
Michael would say that this is especially true here in the United States. American music, he believed, "is really just the fusion of different styles … putting one song on top of another song and seeing what happens." On opening night of Fortress of Solitude, his adaptation of Jonathan Lethem's novel about the collision of races and musical styles in pre-gentrification Brooklyn, a woman in the Public Theater lobby was heard to say that she was glad to encounter these great old soul songs again — not realizing that the songs were brand new, or that their creator was the skinny fellow by the bar, the one working 36 hours a day to make the contemporary American musical sound like contemporary America again.
Michael's lyrics, skimming atop that kaleidoscopic music, bear traces of the film, art, fiction, news, and everything else he vacuumed up in his inexhaustible life. (That achingly beautiful ballad from Gone Missing expounds the Platonic theory of forms.) This is not a mere dilettante's flourish, a brainier version of Cole Porter dusting his lyrics with gossip-column names. Michael had an insatiable interest in the world, and he indulged it in the most direct way possible — that is, journalistically. The Civilians create "documentary cabaret," shows based on interviews they conduct with their fellow Americans. Michael became adept at turning those transcripts into funny, heartfelt musical portraits. They create a paradox in his work: In song after song, he delved into the actual, often humdrum lives of everyday Americans, but the overall influence of his career has been to leave the musical theater a more cosmopolitan, conspicuously intelligent place.
If I had written about Michael's influence in 2015, the account might have ended here, with his immense and lively output as a composer, and the way that his sharp dramaturgical sense burnished the work of so many contemporaries. But the last two years complicate that story. They lead me to think that even after he composed all those shows and all those songs — after kicking out against convention in a dozen different ways — Michael was still only beginning to spread his wide wings.
First, his impulse to engage with real lives of real people took a surprising and somewhat radical turn. During the 2016 election cycle, he roved the country, interviewing voters and writing songs based on what they told him for The New Yorker Radio Hour. Since the election, we've heard the laments of Trump voters, who feel that they are overlooked, dismissed, not heard by coastal elites. Yet this Boston-born, Brooklyn-dwelling Harvard grad heard them very clearly indeed. (And Bernie voters, and undocumented immigrants, and plenty of others, too.) Michael's songs compel you to listen to people you'd shun if you heard them talking about their political views on the street. Then, having arrested your attention, the songs help you understand where those views are coming from. The election showed once again that politics is emotional, not rational — it runs on love, hate, pride, fear, resentment, nostalgia. A composer, excavating people's feelings, can teach us things that a pollster can't. In short: Having used journalism to revivify musical theater, Michael was beginning to use musical theater to revivify journalism.
Amid this traveling and composing for The New Yorker, he assumed a pair of weighty responsibilities back home: two leadership roles that had nothing to do with his piano and his yellow legal pad. As the artistic director of the Encores! Off-Center series, he selected and produced a trio of shows that had played years earlier Off Broadway. They reveal a superb sense of timing, especially Anne Kauffman's harrowing revival of Sondheim and John Weidman's Assassins. And they reflect his commitment to inclusion: Two of the three composers were women, as were two of the three directors. One of the composers and one of the directors were people of color. In our last conversation — a few weeks before his death, when we thought he was improving — we talked about his hopes and ambitions for the program. As with his foray into melodic journalism, Michael was only getting started.
Beyond everything else, in his last year of his life he also found time — lord only knows how — to become the director of Public Forum, the series of performances and conversations I'd created at the Public Theater. Not many composers would want to devote their time and energy to run a series on public affairs, but then not many composers have Michael's preternatural interest in politics and culture. He covered all the thematic bases I covered, and widened the focus to match his strengths, bolstering the programming about music. Expounding on craft this way — demystifying his work — was important to Michael. (He told me once, when we went to a lecture and recital by Charles Rosen, how much he admired Rosen's dual life in music and scholarship.) He did some writing on music; he taught at Princeton; he also gave a TED talk, a charming and enlightening look into his composing process. He would have done a lot more along these lines if he'd had time. It's suggestive of the future — and totally in character for Michael — that when he got the chance to include music in Public Forum, he crammed five conversations featuring 11 different composers into four consecutive nights. Needless to say, he hosted all five.
When you think of how rapidly his work expanded in his last two years, when you tote up how many things Michael managed to do so well, it seems shortsighted to think of him as just a composer, or even a composer with side gigs. He was preparing to play a much broader role in our culture: continuing to write songs, certainly, but extending his sensibility far beyond that. It's impossible to predict just what the result might have been — nothing about Michael was very predictable — but history furnishes some clues. Because haven't we heard a version of this story before?
Consider: A musical-theater artist who was born in Massachusetts but spent his adult life in New York; who was trained at Harvard but harbored a democratic soul; who composed frenetically for theater when young but began to curate other people's work at 40; who was a dazzling conversationalist — the delight of all his friends — even as he remained a little enigmatic, held a little something in reserve; a craftsman who reveled in demystifying his craft; a dynamo whose fiercest and most constant enemy was his refusal to focus on a single task, regardless of the effect on his work and even on his health. In the last years of his life, probably without intending it, Michael had begun to work a new variation on a mighty theme: Leonard Bernstein.
To be clear: I wouldn't ask anybody to stack their achievements next to the composer of West Side Story, the musical director of the New York Philharmonic, the host of the epochal Young People's Concerts, the man hailed in his New York Times obituary as "the monarch of music." Nobody reached such a summit before Bernstein, and nobody is touching it now. What I do propose is that Michael was beginning to make the same kinds of contributions that Bernstein did, using outsize brains and talent and energy and charm to change way we think about music and theater and politics, keeping the current flowing between them, revealing vital connections: a champion of American music and American possibilities.
There will only be one Bernstein, and we should all be grateful he was with us for so long; there will only be one Michael, and we should all be stricken that his time with us was so short. No single person can fill the void that his death leaves in our culture. However, it's possible that 20 or 30 people could make a start.
For if Michael's legacy is as broad as I imagine it, then it can't be advanced by tribute concerts alone. It requires scholarships, grants, commissions. It means helping young composers and producers and thinkers to pick up where he left off: bringing the world into musical theater and taking musical theater to the world, writing and curating with intelligence and heart, upholding the best American tradition — the one that Michael inherited from Leonard Bernstein, and found so many ways to advance in his incandescent life: the spirit of democratic sophistication.
Daniel Goldstein:
These are ten things I learned from Michael:
1) There are never too many rewrites. You can always make it better.
2) Don't be fancy, especially when you start being fancy.
3) Tape your note sessions — especially if your partner talks so fast you miss most of it the first time around even though every thought is genius. (Especially helpful when he's gone. You get to hear him talk to you.)
4) Secrets are key to pretty much all good stories.
5) If you're stuck, ice cream and walking helps (that applies to writing and life).
6) Sometimes storming out of the room is necessary, and even to some, a gift.
7) It's okay to find a thing you admire and emulate, well, I mean, okay … steal it.
8) You have to care about it so much that it makes you cry or it's not worth doing.
9) Not only is it okay to have Britney Spears next to Jacqueline Du Pre playing Elgar on a mixtape, it is advisable.
10) All dramaturgical problems can be solved by taking a close look at Titanic.
Actually, 11 things: The only way to create art is to show up and say you can do it and then do it, make it, write it, when you don't know what the fuck you're doing, pretend you do and fearlessly plunge into the work and it will be yours, messily, beautifully, awfully yours.
John Guare:
I met Michael 18 years ago at that hub of hubs, the Williamstown Theater Festival. We worked there and at the Signature in eerie tandem. He intuitively knew how to magnify his collaborators' intentions before they did.  The work poured out of him. His joy overshadowed a palpable loneliness. Where will all that light go? Where will all that encyclopedic knowledge of music and everything else go? We are all diminished.
Kathryn Hahn:
I met Michael at the WIlliamstown Theater Festival a million years ago: I can't remember the exact year but I know we were babies. Jenny Gersten, Lewis Black, Michael Ritchie, Kate Burton, and Nicky Martin. These were, for many of us, the first people to say yes to us as artists. That group of scrappy kids in our non-equity companies became my first artistic family and he was a creative brother.
So many summers, so many rehearsals at midnight and iced coffees and pizza on credit. And a lot of dancing and jumping into quarries and cigarettes and weed and laughing. So much laughing. We were funny fucking people who were serious about making. We just wanted to make. Those humans are still some of my closest friends (including my hubby). My tribe. My people: I hold on to that chapter with all my heart.
Michael valiantly tried to get me to do a musical. He really believed I could sing, bless his heart. Or at least fake it. He asked me to do Assassins at Encore! last summer and I said no because I needed to be a mama. Now I wish I had schlepped my family to NYC for a few hot weeks so I could've spent time with him. Even though we hadn't seen each other in a while it feels like family has died.
Nell Freudenberger:
I didn't know what a cronut was until Michael told me. Anyone who knew Michael is familiar with the experience of not knowing what he was talking about. You can only stop someone to ask them to repeat something, or confess that you haven't read something — George Simenon's Maigret novels, Sartre's Saint Genet — so many times before it gets awkward. In the case of the cronut, I kept mute. Something Michael had said made me connect this delicacy with the Greek Titan Cronus, giving way to my misunderstanding that a mythological reference was involved. When I confessed this later, Michael gave one of his barking laughs, head thrown back, extravagantly beautiful mouth open, and said, "You are like a magical unicorn. Never change."
The weird thing is that Michael knew a lot of us were pretending to keep up with him. He was suspicious of the kind of education that produces good talkers, rather than good thinkers and feelers:
So I would never write a love song
I would never speak in rhyme
I would never sing my feelings for a girl in three-quarter time
And I would never hit a high note followed by a pregnant pause …
After the high note, and the pause, the song goes on to skewer irony, and the kind of emotional compromises we make to avoid looking like fools. Whenever I listen to "Change of Heart" — even before this miserable week — I feel the most unbelievable yearning and the most blissful exposure all at once; like every great songwriter, Michael was capable of making his listeners feel that someone understood exactly what it was like to be them in the world.
Last year, Michael traveled all over the country, interviewing people about the election and turning their words into songs. I was inspired, and frankly envious, as I watched him create and complete that project. I don't know anyone who conforms more closely to my ideal of what it is to be an artist: to perform magical feats of empathy; to listen, really listen (he did this way before it became fashionable) to people whose opinions differ from your own; to make a fool of yourself again and again.
We were in the habit of trading book recommendations, and last month it was Bluets by Maggie Nelson. I put it off (it seemed like we had time) and as a result, I never got to talk to him about it. I read it now in the same way I've been listening to his songs and rereading his emails: in hopes of going back to when he was here, thinking and writing, and thereby — magically — bringing him back to life.
Instead, in Bluets, I got a treatise on blue things, including the male satin bowerbird: "Not only does the bowerbird collect and arrange blue objects — bus tickets, cicada wings, blue flowers, bottle caps, blue feathers plucked off smaller blue birds that he kills, if he must, to get the plumage — but he also paints his bower with juices from blue fruits, using the frayed end of a twig as a paintbrush." Count on Michael, though, to recommend exactly what you need because, in the end, it's a book about loneliness, and what happens when you lose someone you love.
Like Nelson, Michael wrote about birds. There was the first Civilians show, Canard, Canard, Goose, and then there was "Martha," a song in which Michael imagines himself into the head of the last surviving passenger pigeon, who lived in the Cincinnati Zoo:
Singing, Oh my love, my love, where have you gone?
Oh my love, my love—is there no one left to love me?
I never meant to die (oh-why-oh) in Ohio.
Oh my love, my love—am I the last living pigeon in the world?
In Bluets, Nelson writes: "For to wish to forget how much you loved someone — and then, to actually forget — can feel, at times, like the slaughter of a beautiful bird who chose, by nothing short of grace, to make a habitat of your heart." Therapists and friends insist that she'll forget, and Nelson is angry: She rejects forgetting.
"So, how much do you know?" Michael asked me when I visited him in August. Michael was a master storyteller; often when you wanted him just to answer a question, he would tell you a story instead. He meant, how much did I know about how sick he was, and then he told me a story about getting his diagnosis. The story hung on another pregnant pause — the one when he asked the nurse whether he was going to die. It was supposed to be a funny story.
We hung out until Michael told me he was tired. I hugged him, and then asked if I could use his bathroom. Then I came out of the bathroom and hugged him again. He was kind enough to indulge this behavior. As I was letting myself out, Michael went into his bedroom, possibly to forestall more hugging. I watched his narrow back disappearing into the room and he raised one hand without turning — okay, bye. I thought: What if this is the last time? And then I chastised myself for being melodramatic.
Oh, Michael. Come back for just an instant, and you'll see — we're as plentiful as pigeons, and you've made a habitat in all our hearts.
Michael Greif:
Michael was the quintessential collaborator. He wrote or found the perfect piece of music for any dramatic situation. He quietly and determinedly helped make every aspect of every production we worked on smarter, funnier, wilder, deeper, better. He was that kind of helpful, devoted friend too.
Kate Burton:
There was a time in my life when, wherever I went, Michael seemed to be there: crafting and creating and composing and enhancing all of our theatrical lives. He was often accompanied by his magnificent pal, Will Frears. One of my warmest memories is of an evening spent with these two glorious young gents at the opening night party of Spamalot. I cannot remember an opening night party that I enjoyed as much; we talked and laughed until we were hoarse. Shortly after that we worked together one winter on Nicky Martin's production of The Cherry Orchard at the Huntington in Boston. Just as we were about to go into tech we happened to meet outside the theater. The weather had turned unusually warm and we were both wearing T-shirts in early January. I did not notice that around my neck was an eye mask and we laughed because we had both just taken red-eyes as we were working other jobs on the day off. He teased me and said how absurd our lives were, always trying to be in two places at the same time. We laughed at our wild and overachieving existences and knew that we would not have it any other way.
Little did I know, when I met Michael as a Williamstown cabaret intern in 1999, that this ray of sunshine would become emblematic of the utter magic that was the Williamstown Theater Festival in those halcyon years. Little did we know that he would become a profound musical voice of his or any generation. He always felt like he belonged to us.
A while ago, Michael contacted me to set up a meeting with Will to discuss some projects. At the last minute, he could not join us. Michael always had a million projects going on and not a moment was ever wasted. Will and I had a wonderful meeting and I contacted Michael to let him know. We promised to see each other soon. Even when he was not there, he was there. A blinding light.
Jonathan Marc Sherman:
Michael Friedman's gone from this part of life. While the music in the great beyond just got markedly better, the conversation smarter and faster, and the laughter much louder, back here on this planet, a stunned heartbroken silence reigns. We texted last Saturday, and now this Saturday, I sit here and he's gone. We also texted on Sunday — "De-intubated!!!" is the last text I'll get, it turns out, from that brilliant kid I met back in the 1990s when I was visiting my pals Nell Freudenberger and Nikki Columbus and Vanessa Reisen up at Harvard.
Who was this guy who still looked very much like a teenager and who seemed to know everything about theater and literature and music and life already? Soon after he graduated and ended up in New York City, it seemed everybody knew him, and everybody loved him. He was a magnificent artist, and a magnificent friend — I always admired how he'd make that coffee or meal or hang we mentioned in passing actually happen. His work ethic was just as nonstop as his friendship ethic — whether it was a show for the Civilians, a show for the Public, or a show for one of the many other theaters lucky enough to house his creativity, his art was always staggering. My beloved director/teacher/friend/family member, the late Nicky Martin, knew Michael was astonishing right away, and Michael's score for Nicky's gorgeous production of Knickerbocker up at Williamstown in the summer of 2009 was (no surprise) pitch-perfect. I just can't believe that will have to be our only collaboration.
I always marveled at how somebody could say so many intelligent things so quickly. Perhaps that blazingly fast pace was for this very reason, I suppose. He didn't have nearly enough time — he got so much done, and left us with so much beauty, yet we've still been robbed of at least a half-century more of his work and his life, and it really hurts. Like so many of us, I loved Michael Friedman. My deepest condolences to all his family, and all his friends. Rest in peace, pal. We were lucky to orbit you for a while.
Oskar Eustis:
The range of Michael's interests was astonishing and unparalleled. Just look at what he was working on when he died: a musical of All the President's Men, a young person's musical about ice hockey in Minnesota, a sequel to A Chorus Line that would follow the New York dance community through the AIDS epidemic, an adaptation of The Magic Flute to play in Central Park. His mind and heart were both equally capacious; he believed the theater could contain any subject which aroused his passion.
And boy, a lot aroused his passion. Talking with Michael was sometimes bewildering: Idea would follow idea, like stones skipping across a lake, Michael's hands moving as fast as his tongue, excitement incarnate. When I would try to join in his usual response was a loud "no no no no no" as he held out his arms to stop me; he always had one more thing to add before it would make sense to him to relinquish the floor. Described like this, it sounds obnoxious; how can I convey to you how delightful and loving those conversations were? The moment would always come when Michael would pause, inviting me to contribute, and then his quality of attention was so striking, so focused, that I would feel much smarter than I actually was.
His ability to listen was as profound as his ability to generate intellectual heat. Witness all the songs he created from interviews, from verbatim text, for the Civilians and more recently for The New Yorker. They are marvels of delicate dramatic construction, but the interviews themselves are a revelation: Michael could get people of all walks of life to talk about themselves. The incongruity of this motormouth, volatile, huge personality who was able to see and hear others so precisely and deeply is a perfect snapshot of Michael's unique contradictions.
When he came on the staff of the Public Theater a few years ago, we were simply formalizing what had been true for a long time: Michael was one of my most important theatrical advisers. His theatrical insights were by no means limited to music; his commentary on everything from what subjects we should be covering as a theater, what artists we should be bringing into the fold, what writers we should be reading, had a profound influence on the programming of the theater. One of my most cherished memories of Michael is of him sitting me down and forcing me to listen to Verdi's Falstaff through his ears, proving, certainly beyond my ability to resist, that it was the greatest of all operas made from Shakespeare's plays.
He was the most dramaturgical of composers: He understood how the theater worked, and how music worked in the theater, with both a large vision and an ability to granularly execute. When he first talked to me about his masterpiece, The Fortress of Solitude, he outlined his theory about how the musical could be about the development of popular music in America, from '60s soul to late-'70s rap and hip-hop. He was not just excited about the music he would compose; he was excited about using it the way popular music actually operates in our lives, as soundtrack that both accompanies our lives and in some deep way creates our lives. He was as concerned with how the music appeared in his shows as what the notes were. His artistry was fresh, but deeply rooted in history and culture; visceral, but informed by a profound theoretical intelligence; personal, but profoundly political as well.
This past June, Michael composed a song about me, compiled from interviews he and Steve Cosson did with my nearest and dearest. A group of actors was then gathered to play my friends and family, and I was serenaded at the Civilian's annual benefit. It was mortifying, gorgeous, unbelievable flattering, and deeply embarrassing. Yesterday my dear friend Jennifer Mudge, who played my daughter Kyle, sent me a recording of the rehearsal for that night. In it, Jennifer, playing Kyle, sings that the only thing she and I completely share is that we love Michael Friedman, I listened to the rehearsal room burst out into laughter; of course, Michael cut the line because he thought it was too self-aggrandizing.
But it wasn't. It was true. I loved Michael, Kyle loved Michael, my wife Laurie loved Michael. We were among the hundreds of people who cherished him, trusted him, leaned on him, and cheered in amazement at his achievements. His loss feels unbearable. I will miss him more than words can express. How on earth will we make do without him?