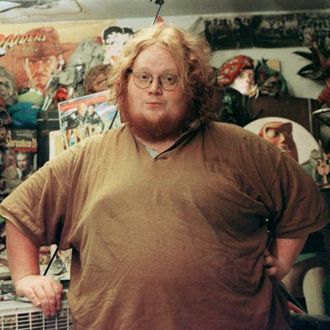 Photo: CABLUCK/AP/REX/Shutterstock/CABLUCK/AP/REX/Shutterstock
Allegations of sexual assault against Ain't It Cool News founder Harry Knowles continue to come in, with IndieWire publishing the accounts of four additional women who said that Knowles harassed them on multiple occasions. Three of them were named while one chose to remain anonymous, going only by her Twitter handle, sick_66, and each shared violating encounters with Knowles that are very similar to the allegations made by a woman named Jasmine Baker in a story reported by IndieWire last week. Gloria Walker, described as "a member of Austin's close-knit film community," said Knowles made suggestive comments to her and that once at a party he "touched my ass, my thighs … a little grab, as I was walking by." Walker was also apparently "warned" about Knowles's reputation with women and got the sense his behavior had been normalized within their community. "What I got is, 'That's Harry! That's just what he does! Adjust your proximity to him and deal with it.'"
Britt Hayes, who is an editor with ScreenCrush, retweeted a post from Knowles in which he said the allegations against him were "100% untrue." She added her own experience with him as a comment, saying, "Harry sexually harassed me. he has sexually harassed other women in this community for years. this wasn't an anomaly. he is a predator." Hayes also became aware of the open secret about Knowles being an alleged serial assaulter, but said she was afraid to speak out because of how it could hurt her career as a film writer just starting out in Austin. "There's just something really, deeply unsettling about him and the way that he enjoys the attention that he gets, and the way that he leverages his power for attention," Hayes told IndieWire.
Jill Lewis is a former employee of Alamo Drafthouse, an organization at the center of the Austin film community that has hosted many events in partnership with Knowles over the years. She did not provide additional comment to IndieWire, but said in a public Facebook post that in her first exchange with Knowles he "grabbed my arm, asked me to come closer, and then told me he was on mushrooms, and that he and his wife had been talking about wanting to see me naked, and asked me to do just that with them that night." When the alleged incident took place, Lewis was at an event for Fantastic Fest, which is the festival co-founded by Knowles and Alamo Drafthouse co-founder Tim League. League has recently come under fire for re-hiring film journalist Devin Faraci, despite the fact that he resigned his post as editor-in-chief of the Alamo-affiliated magazine Birth.Movies.Death last year because of sexual-assault allegations that were made public against him.
The fourth set of new allegations came from sick_66, who shared screenshots of direct messages sent to her by Knowles, in which he told her she looked "good enough to eat," and that she could "have my vienna sausage anytime." The two had DM'd previously about movies before sick_66 says Knowles sent her the unsolicited messages propositioning her, and she, too, said she was worried about coming forward due to professional retaliation.
Multiple Ain't It Cool contributors have announced their departure from the site this week, with writer Eric Vespe saying, "I feel to stay would be showing disrespect to survivors of harassment and abuse." AICN was dropped as a sponsor leading up to this year's Fantastic Fest, which is currently happening in Austin, Texas, and Knowles announced he would not be attending shortly before the first accusations by Baker were published. League remains in place as the head of Drafthouse, but he also skipped Fantastic Fest to travel around to regional Alamo theaters and talk with employees about how the company will proceed amid allegations that it has passively permitted a culture of harassment to grow within the community it sits at the heart of. It's an especially distressing situation, considering Alamo and Fantastic Fest built their reputation as havens for "film nerds" and safe spaces for all.
In a statement, League said he has severed all ties with Knowles, and that, "On the festival front, in light of recent events and feedback we have gotten over the last few days, we have taken some first steps on the path to listening and ensuring that we create a safe, inclusive environment for our staff at both the theater and the festival as well as the community at large. I'll be sharing more about this in the days and weeks to come."