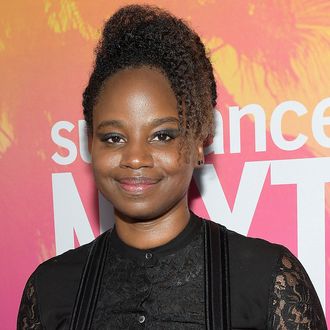 Dee Rees.
Photo: Matt Winkelmeyer/Getty Images for Sundance
One year after Nate Parker's not-yet-beleaguered Birth of a Nation took Sundance by storm, Dee Rees's Mudbound arrived at Sundance in January. It was unfortunate timing for what could be an awards-season hopeful, as studios were hesitant to shell out big bucks for another period film about race after Nation's early praise was overshadowed by an old sexual-assault accusation against writer-director-star Nate Parker. In Variety's cover story about the Rees-directed Mary J. Blige–Carey Mulligan movie, Rees doesn't mention Parker's Nat Turner biopic, but you can connect the dots. "I feel like we were in the shadow of other films," Rees told Variety. "This film is certainly on the level of — if not better than — that. To burden our film with that was unfair. That's the hard thing about Hollywood; you realize it's not fair. It's not a meritocracy. It's like, 'Come on.'"
After her critically acclaimed Pariah, Rees said funding her follow-up was more difficult than it should've been, perhaps because black directors' work is discussed differently. "If I were a white guy who had done Pariah, my next film would have been huge," she said. "I do think there's a different trajectory. Films are talked about differently. It's like a film by an independent black director gets talked about for who made it, not for what the film is." Thankfully, Netflix came in to scoop up Mudbound at the last minute, meaning not only could the streamer have its first real shot at an Academy Award, but Rees could make history as the first black woman ever nominated for Best Director.