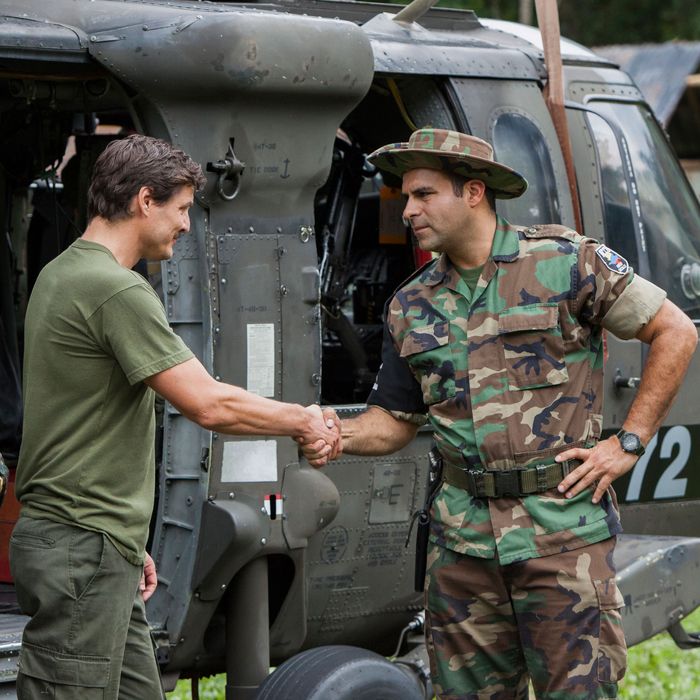 Photo: Juan Pablo Gutierrez/Netflix
Guess who just got back today? That wild-eyed DEA agent who had been away. The boys are back in morally corrosive alliances!
This fast-improving Narcos season had been missing only one thing: Don Berna, the sizable, sardonic Medellín cartel boss who wrested the city's drug trade from Pablo Escobar last season with help from Cali and Peña. With most of this season's action taking place in Cali, an appearance from Berna seemed less likely with each episode. But thanks to Cali's curious decision to stash Jurado's wife with FARC guerrillas in the jungle, Peña has a reason to make another deal with Berna, who understands Peña better than even CIA Bill.
Back in the divey restaurant where Berna once pushed Peña's buttons during the hunt for Escobar, Berna cuts a deal. In exchange for helping Peña find Jurado's wife, Peña has to tell Berna when the DEA eventually puts him in its sights. Narcos takes full advantage of Berna's screen time here, with the drug lord dropping quips faster than a Castano brother can spray bullets. "I'm imagining the headline: 'American Woman Held Hostage in Colombian Jungle.' Fuck."
Don't think Bernie's impressive matching camo outfit means he's actually going to fight in the jungle, though: "Do you think an important man like me is going to risk his life for some gringo piece of ass?" He does take Peña to the jungle, where Peña finds that the Castano brothers are still bloodthirsty loons. As usual, they're delighted by the prospect of American gear — this time, even including a helicopter. Berna raises his hands to bless the deal: "Feliz Navidad."
Jurado's wife is the only way to keep the DEA in the investigation, since Jurado is the key to understanding Miguel's ledger. But while Peña is going commando to rescue her, he's losing track of Jurado himself. Even as he walks Jurado's wife to a flight to Miami, Jurado is stabbed to death in prison by a Cali assassin. Peña's options are now even more limited, and he's added yet another name to the list of witnesses he's inexplicably allowed to get murdered.
In the cartel, meanwhile, the bloodletting continues. Miguel's time hiding out in the wall has given him Escobarian levels of paranoia, only this time, he's right to suspect someone is betraying him.
Jorge's position has grown even more tenuous. David has recovered from his father's near capture and gone back into full maniac mode, planning to murder both Jorge and his wife. Even more ominous for the snitching security chief, David know that his DEA alias is "Natalia" — meaning that the cartel has a source high up in the Colombian government or the DEA.
All in all, this episode is about characters deciding that they can't afford half-measures anymore. Peña drop the idea that he won't turn to his old Medellín tactics, getting back in bed with Berna and the Castanos and looking the other way as they massacre prisoners. Gilberto decides to throw away the last vestige of hope that his son will live outside of cartel business, using him to order the Jurado hit.
And Jorge, faced with his former friend Enrique telling Miguel the truth about Jorge's involvement with the DEA, takes action by planting his DEA pager on Enrique. That secures Jorge's safety for the moment, even as it guarantees that Enrique will be killed. David sums it up as he pulls the bag off Enrique's face: "Look, Jorge — your friend."
Cartel Club
• Some strong looks this episode. Van Ness seems to have gotten more professional as his interest in the case grows, and now he's wearing suits with Tony Soprano–size lapels.
• Who is the cartel's mole in the investigation? The Colombian defense minister feels like an obvious, if dramatically bland, choice.
• Peña's conversation with Berna features a nice callback to the end of last season, when Berna stopped Judy Moncada — another Peña witness disaster — from flipping to the DEA. No, Berna, Peña hasn't heard from Judy since you kidnapped her and tried to use her to destroy Peña's career.
• Poor David. While he's off torturing Enrique, Gilberto's son is making the real plays.
• A lot of plot points in Narcos seem hard to believe, until you find out they really did happen. Navegante's interlude about killing an ex-girlfriend who had betrayed him, for example, is based on a story another Cali hit man told the real Jorge Salcedo.
• If you're skeptical that the cartel could shank a high-level DEA witness in an American prison, though, you're right to be. The real Jurado was not filleted with a shank in a lock-up, and instead survived long enough to be sentenced to a prison term.
• Maria's story line is going nowhere, even as everything else heats up. Her main job in this episode is bringing her son into the room as Miguel rages so he can ask the drug lord if he'd been shot. (In a nice bit of comedy, Miguel doesn't explain that he was actually drilled.)