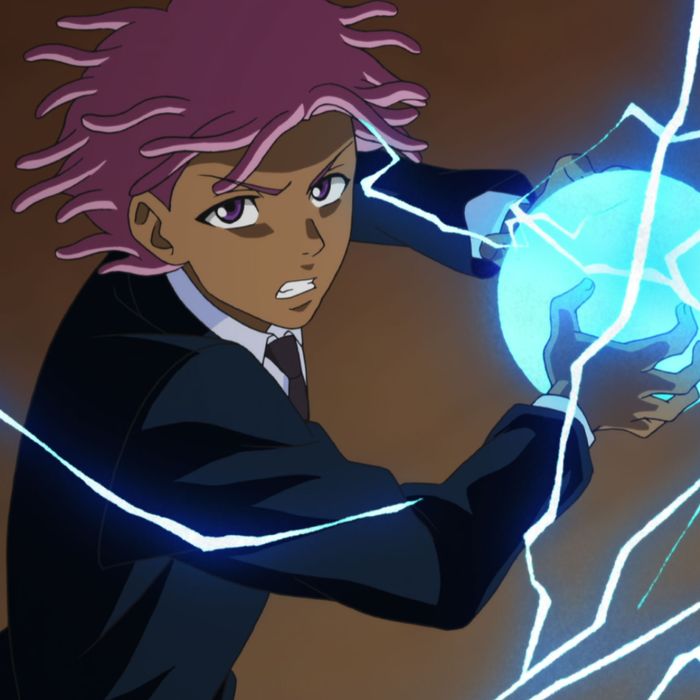 Netflix releases plenty of shows that couldn't exist anywhere else — the wacky and meta Lady Dynamite; American Vandal, a true-crime series about dicks; The OA, just in general — but Neo Yokio might be its oddest project yet. The animated series is created by Vampire Weekend's Ezra Koenig, produced by Adult Swim veteran Nick Weidenfeld, and it stars Jaden Smith. Neo Yokio is a riff on upper-class New York, full of references to literature and high-end fashion. There is also magic, demons, and most of lower Manhattan is covered by "The Sea Beneath 14th Street."
After premiering last Friday with little more than a trailer released earlier this month to promote it, we've decided to lay out the basic facts of Neo Yokio. If nothing else, it'll help you understand why people keep sharing photos of Jaden Smith's character with a big Toblerone.
So, what is Neo Yokio about?
To adopt the voice of a Jaden Smith tweet, is anything really ever about anything?
Okay, okay: The series takes place in the city of Neo Yokio, a futuristic version of New York which is half underwater and occasionally under attack from demons, but otherwise contains many recognizable uptown locations: Bergdorf's, the Met, the Oyster Bar, and so on.
Jaden Smith plays Kaz Kaan, a so-called "magistocrat" who works as demon exterminator with his aunt Agatha (Susan Sarandon), hangs out with his friends Lexy (The Kid Mero) and Gottlieb (Desus Nice), and competes with his rival Arcangelo Corelli (Jason Schwartzman) for the title of Neo Yokio's most eligible bachelor.
Wait, Neo Yokio has a ranking of the town's most eligible bachelors? And the characters actually care about this?
Yeah, it's one of the drivers of the show's (very) limited plot. Think of the list like that annual Town and Country one, but updated with the rapidity of alerts from Gossip Girl. The characters care about it a lot, especially Kaz, who has a chip on his shoulder about the fact that he is "Neo Riche" (a.k.a nouveau riche) and "works" (a.k.a. fights demons) for his money.
Who does the ranking?
I have no idea.
This doesn't sound like any anime I've ever watched.
Neo Yokio does make a lot of references to Ezra Koenig's favorite '80s and '90s anime, especially in the style of its animation (which feels deliberately retro) and its world-building. There are a multitude of winks at shows like Sailor Moon, Akira, Dragonball Z, and other well-known hits. But plot-wise, inasmuch as Neo Yokio has a plot, it hews much closer to something like a comedy of manners in the style of Frasier, an Edith Wharton novel, or a Whit Stillman movie. If you're looking for elaborate, well-drafted fight scenes or complex storytelling, this isn't the show for you. If you're in the mood for jokes about Vivaldi, Damien Hirst, the dangers of wearing a midnight-blue tux to a black-and-white ball, or Toblerone, welcome!
Toblerone?
We'll let this tweet speak for itself.
Who's the rest of the cast?
With Neo Yokio, you'll spend a lot of the time trying figure out how Ezra Koenig knows and convinced the various actors who appear on the show to do voice work. Tavi Gevinson (friend, rumored ex) voices a fashion blogger. Jude Law (the Young Pope himself!) is a robot butler. Steve Buscemi (up for anything) plays a vaping and wig-wearing government inspector. Annet Mahendru (The Americans) is a Russian race car driver. Cool teens Kiernan Shipka, Willow Smith, and Amandla Stenberg play a trio of cool teens. Oh, and Katy Mixon plays a Taylor Swift stand-in named Sailor Pellegrino.
There's a Taylor Swift character?
Pretty much. Sailor Pellegrino is a mish-mash of various pop stars (she's got Katy Perry blue hair, for instance), but the Taylor Swift comparisons are most obvious. Sailor loves to spend time with her cat, she shows up to a Knicks games, and she is even Neo Yokio's welcome ambassador. To be fair to Sailor Pellegrino, though, the character is also intent on bringing down the bourgeois.
Wait, is Neo Yokio about class warfare?
I wouldn't go that far, but it's definitely aware of class. Tavi Gevinson's character, Helena St. Tessero, experiences a spiritual crisis and delivers lines like, "I'm not searching for meaning in the aesthetic cycles of commodities." The characters occupy the tiniest sliver of the top one percent of society, but whenever they leave that space — like when Kaz goes to Queens for the first time in one episode — we see that Neo Yokio is ravaged by income inequality. (Koenig was a Bernie Sanders supporter, after all.) Mostly, Neo Yokio is about the existential challenge of being alive, of finding one's place while growing up in a place like New York, and of writing a Netflix show instead of the next Vampire Weekend album.
If Queens exists in Neo Yokio, what about Brooklyn?
Unclear. You can see bits of Brooklyn Heights and Greenpoint in the show's opening credits, but the characters never visit or mention it. It seems the non-Manhattan boroughs are still gauche in the land of Neo Yokio, though there's always space for a neo-gentrification story line in season two.