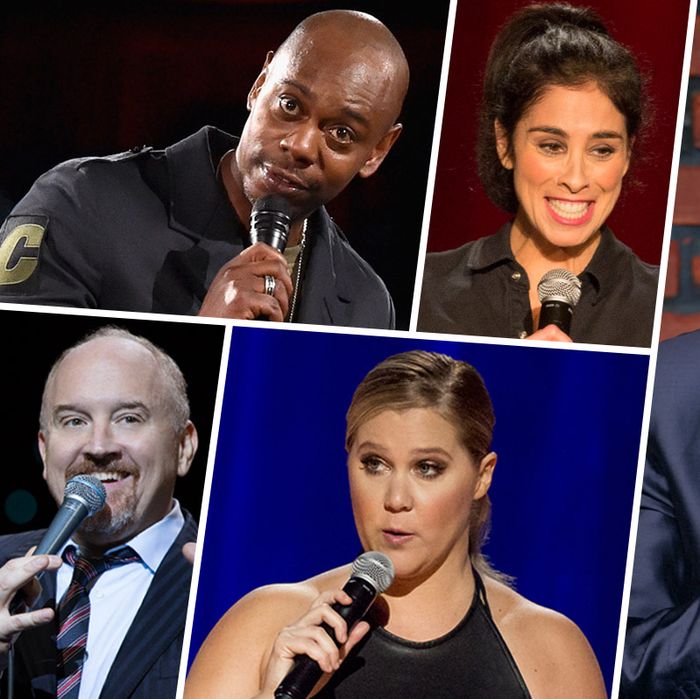 "NETFLIX IS A JOKE" reads a billboard by our offices in lower Manhattan. It is one of a few in New York and Los Angeles planted by Netflix themselves, part of an admittedly clever campaign to highlight the streaming site's year of high-profile stand-up specials, both the ones already aired, like Dave Chappelle and Amy Schumer, and those to come: Jerry Seinfeld, Chris Rock, Ellen DeGeneres. Last night, during the Emmys broadcast, Netflix debuted a pretty clever commercial to go along with the slogan. The campaign isn't really a promotion as much as a brag. Netflix's year of stand-up domination has been more of a win for Netflix than it has been for stand-up. If Netflix were a joke, it would be the one told by veteran comedian Andy Kindler at his annual State of the Industry Address at the Montreal Just for Laughs Festival: "Netflix is releasing a new comedy special every week. It's exciting because now you can binge-watch America getting tired of stand-up comedy again."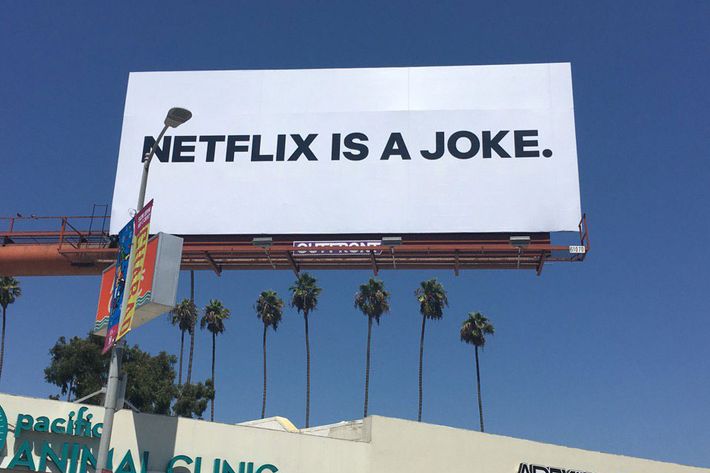 Fifty-two weeks in a standard, non-leaped year; 52 stand-up specials for a streaming behemoth looking to take over a market that was barely a market in 2006, when they partnered with Zach Galifianakis to release the DVD of his Live From the Purple Onion. To give you a sense of where the stand-up special was at the time, HBO released a whopping four specials in 2006 – Cedric the Entertainer, Dennis Miller, Lewis Black, Dane Cook — an uptick from 2005's four — George Carlin, Robert Klein, Richard Jeni, Tracey Ullman. Comedy Central released 11 specials. (I'm sure Showtime and places like Epix released others, but I couldn't find exact numbers.) It wasn't much different in 2012, the year Netflix dipped its toe into original programming before diving in headfirst in 2013, when they released Bill Burr's You People Are All the Same. HBO had a George Lopez special and one from John Leguizamo, both continuations of existing relationships. Around this time, the Second Comedy Boom was starting to bubble up, and Comedy Central, then TV's primary home for comedy, had 15 specials. The industry was only just starting to think about the viability of self-releasing stand-up specials — Louis C.K. did it in late 2011, and Aziz Ansari and Joe Rogan followed in 2012. If you listened to podcasts around then, you could hear a lot of other comedians considering it. There were more comedians than ever with some semblance of an audience, and many who were specifically trying to mimic C.K.'s special-a-year pace — they just needed outlets. And the outlets were there, but slowly, the Netflix special easily became most desirable option.
What does a "Netflix special" mean? Obviously, it means a one-off live-comedy event released on Netflix, but is there anything that defines it among its competitors? Is it quality? Sure, some of the best specials of the year — Maria Bamford, Sarah Silverman, Jen Kirkman — were released on Netflix, but the best, Jerrod Carmichael's, came out on HBO. Actually, only four of my top ten from last year came out on Netflix. Last year's best special (Vulture ranked Kyle Kinane's Comedy Central hour No. 1) didn't come out on Netflix, and neither did 2015's (Tig Notaro's HBO hour took the top spot). Sure, they're releasing Jerry Seinfeld's special this week, but, last week, they released Jeff Dunham's. Maybe the defining feature of Netflix specials are big, if not legendary, names? Hiring away Robbie Praw, the former longtime booker for Montreal Just for Laughs, the most reputable comedy festival in North America, helped Netflix earn the trust of some undoubtedly huge names — specifically, comedians many people thought would never release specials again — to do just that. It's hard to argue with Dave Chappelle, Louis C.K., Jerry Seinfeld, Chris Rock, Amy Schumer, Bill Burr, Jim Gaffigan, Sarah Silverman — all in one year. However, what about Joe Mande, Ryan Hamilton, Lynne Koplitz, and the Lucas Brothers? All fine comics, but none are at a point where you can say Netflix specials are only for the biggest names in comedy. And after Jon Stewart's announcement that he'll release his specials on HBO, you can't say the biggest names in comedy are only taking Netflix specials. This, obviously, was a setup, I had the answer all along: The thing that defines a Netflix special is money.
Money used to define how Netflix specials looked: like they had a production budget previously only offered to the biggest comedians. Netflix likes for their programming to have premium signifiers, but when every special has it, it's not even something you notice anymore. Now, the thing that gets talked about with Netflix comedy is how much people are allegedly making. Forty-million dollars for Chris Rock; $60 million for Dave Chappelle; $100 million for Jerry Seinfeld. Amy Schumer renegotiates her deal after learning how much everyone else got paid. I am well aware that these people are the top of the top's top, but for comparison sake, I remember hearing of mid-level comedians getting paid like $10,000 for a Comedy Central hour. In my conversations with people in the industry, money is always brought up first: Nobody can believe the money they're offering everybody. People familiar with the deal said HBO had to pay unprecedented amounts for Michelle Wolf's first special, debuting later this year, just to compete. And when I've asked comedians recently why they are releasing their specials on Netflix, the answer is always a version of, "I want the money while they're still offering it."
This is different from years past, when comedians wanted the exposure. Conventional wisdom was, unless you're Chris Rock (and to a lesser extent Jim Gaffigan), specials were mostly just a notch on a belt that would lead to other things, like more club bookings. Netflix, in a relatively short time, has had some undeniable breakouts though, like Bill Burr and John Mulaney. The example everyone talks about is Ali Wong. No one has ever seen anything like it. Rock already had CB4, SNL, and In Living Color; Wong had a writing gig on Fresh Off the Boat and supporting roles in a couple failed sitcoms. After her Netflix special, she went from having a hard time selling out a string of club dates to likely being able to sell out arenas. It's hard to imagine some of the up-and-comers didn't secretly hope for the same thing.
The irony is that what happened with Wong actually reveals the problem with Netflix's 2017 special strategy for comedians. Netflix released 26 specials last year. They were released with no discernable schedule, but generally you never went more than two weeks without a new special. Except in one case: Ali Wong's Baby Cobra came out on Netflix on May 5, only five days after the platform's last special. It would be four full weeks before they put out another. I remember that month and how the buzz continued to build and build. A lot of that had to do with the quality of the hour and the word of mouth it generated, but I've heard that Netflix also A/B tested the hell of it. Essentially, if you had shown an interest in stand-up at all in the past, Wong and her baby bump would be suggested to you every time you signed on. That isn't happening when there is a new special every week. Still: A lot more people watch Netflix than any of the alternatives, and a study conducted by Netflix's internal data team found that 63 percent of U.S. subscribers watched a stand-up special in the last year. But considering the names you'll see when you go to the stand-up tab in the Netflix browser, it's hard to believe that a majority of them are watching up-and-comers, and not the few huge names that Netflix actually spends money to promote.
Dating back to Lilyhammer, Netflix chief content officer Ted Sarandos, has said they are somewhat agnostic about when people watch their programming. (Though that seems to be tightening a little, with Netflix finally canceling shows.) They are in the business of amassing a catalogue of consistently new offerings. And in comparison to the production budgets required to renew a series, stand-up specials are a relatively cheap way to have famous names associated with the brand. However, it does matter to stand-up comedians how many people watch their shows, and where. With other outlets, like Comedy Central or HBO, an agent can ask for demographic numbers of who, and where, people watched a special to help their talent get more money on the road. Netflix does offer cachet, but it's not going to help you draw in Des Moines on your future stand-up tour if no one watched your special there. It's these smaller markets that are concerning some people in the industry I've spoken to. Take this scenario: It's a Friday. You live a little outside of Des Moines. Would you rather drive into the city, find parking, pay two $30 covers, $60 in two two-drink minimums, and $45 in babysitter fees to see a really solid headliner with two Conan credits and a low-profile Netflix hour? Or pay zero dollars and watch one of the ten greatest stand-ups ever in lush HD? Maybe you wouldn't pick column B every time, but if enough people pick it enough, the stand-up industry's bottom will drop out. (I should note Netflix is not solely to blame. There other factors, like the boom in comedy festivals and small music venues booking comedians, that are depleting the inventory of good comedians available to play clubs.)
Which brings me back to Kindler's perfect joke: "Netflix is releasing a new comedy special every week. It's exciting because now you can binge-watch America getting tired of stand-up comedy again." Again. It happened before. The conventional wisdom goes that the last comedy boom ended because more and more comedy clubs opened up, giving less and less qualified stand-ups more and more stage time. Eventually, the product got so watered down, people didn't really want to see comedy anymore. I am for all for comedians getting paid lots of money, and Netflix has a done an especially good job helping young comics break through to the next level and spreading the wealth to a diverse range of comedians. But as a person who loves comedy, and specifically has loved this era of comedy, I am worried. All I can think about is the advice/words of warning I've heard Chris Rock gives up-and-coming comedians. "When you're doing a special, make sure it's a special and not a normal," he told Hannibal Buress. "A lot of people put out normals." Or, as is paraphrased in the intro to Michael Che's first special: Specials aren't special anymore. While such a significant watering down isn't occurring (at least not yet — who knows with the rate they're burning through these), I do feel like Netflix is commodifying stand-up. This boom, at least as defined by me, is about treating comics as individual artists with distinct points of view, not people providing a service. Stockpiling stand-up as content and telling people it'll be there whenever you need a laugh is completely antithetical to that.
Has the boom already given way to a bloat? Will the bubble soon burst? That I can't say for sure without a crystal ball, but I am not optimistic, based on the entire history of tech-company growth. Either way, it seems like the obvious way to slow down the inevitable is to do just that: Slow down.  Maybe I'm wrong, but I fear we've heard this one before.