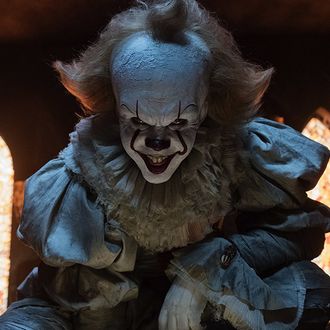 If you go see the movie It this weekend, you could help make history. Director Andy Muschietti's new adaptation of the Stephen King classic has already broken a handful of records for preview-night box-office returns.
Although the official opening is today, its Thursday night take alone is the largest gross for a horror movie, for a movie based on a King book, for an R-rated movie, and for a movie released in September. At $13.5 million, It has the third-largest preview total of the year behind Guardians of the Galaxy Vol. 2 ($17 million) and Beauty and the Beast ($16.3 million). Those movies went on to make almost a billion and more than a billion, respectively, which is a line It likely won't cross, but it is tracking to make upwards of $75 million for its opening weekend. And at present, the movie is also sporting a Rotten Tomatoes rating near 90 percent.
It was a real bad summer at the movies, and overall box-office revenue is down year over year from 2016, but horror has been a rare consistent player in theaters. Studio features like Get Out, Split, Annabelle: Creation, and now It are all bringing in hearty returns on small budgets, which stands in stark contrast to megabudget flops like The Mummy, The Dark Tower, King Arthur: Legend of the Sword, and Valerian and the City of a Thousand Planets; and underperformers like Pirates of the Caribbean: Dead Men Tell No Tales and Transformers: The Last Knight. The legacy property quickly burning up the box office has some on Film Twitter speculating about what plans Warner Bros. might be hatching to capitalize on the massive appeal of Pennywise the dancing clown.
The second part of It has already been green-lit by the studio, so don't go ruling out a different sort of DCEU — the Derry Cinematic Extended Universe — because it's 2017 and everyone loves a franchise. Make sure to keep that clown suit close by, Bill Skarsgård!