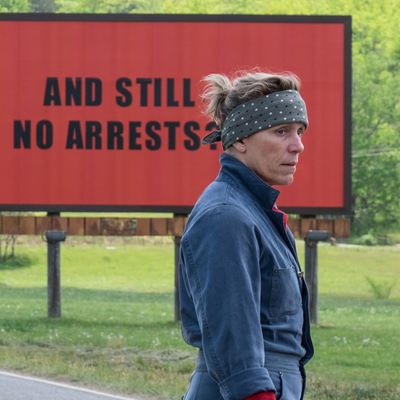 Frances McDormand.
Photo: Fox Searchlight Pictures
Three Billboards Outside Ebbing, Missouri has been making a lot of noise ahead of its release on November 10. First, there was that incredible, indelible first trailer, where Frances McDormand unleashed an expletive-fueled tirade on just about any character actor unwise enough to cross her. Then there were the rave reviews out of the Venice Film Festival last week, where many pundits predicted Oscar attention for McDormand, co-star Sam Rockwell, and writer-director Martin McDonagh.
Today, Vulture will add to the din with an online exclusive trailer for Three Billboards, but this one favors the film's more contemplative side. McDormand's performance does have its fair share of virtuosic profanities, but as you'll see in this trailer for the film, where she plays a grieving mother who puts up controversial billboards meant to prod the police into catching her daughter's killer, there's a somewhat softer side to the character, too … and she'll let it out, as long as she thinks no one is watching.