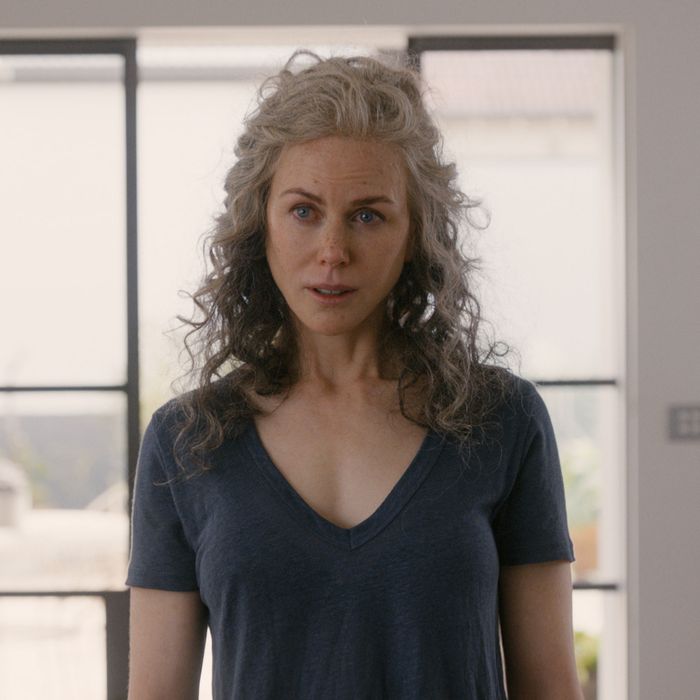 Kidman in
Top of the Lake.
Photo: SundanceTV/See-Saw Films
During the course of Nicole Kidman's very, very good year, the actress with the trademark porcelain skin and strawberry-blonde tresses has looked more or less like, well, Nicole Kidman. Which makes her Top of the Lake: China Girl role as Julia Edwards — the estranged mother of Mary, the daughter Robin Griffin (Elisabeth Moss) gave up for adoption 17 years earlier — all the more notable. Hair and makeup artist Noriko Watanabe, who's collaborated with both show creator Jane Campion and Kidman before, was charged with interpreting Campion's vision for Julia. She says her aim was to convey "a beautiful, strong, feminist mother who is also vulnerable." As she designed the look, she sent sketches to Kidman, who joined the shoot toward the end of production, for approval. The result is a cosmetic transformation in which the actress has a wrinkled, freckled face with an imperfect nose, a David Letterman-like gap between her teeth, and a mop of gray corkscrew curls. Unlike some arduous makeup jobs, Watanabe's application time was a mere 25 minutes. Here's what else went into Kidman's altered appearance.
It all started with the hair.
Kidman's coiffeur is meant to mimic American artist Kiki Smith's gray mane. Watanabe says her work addresses "themes of sex, birth, and regeneration." Perfect for a show whose story is awash in issues related to motherhood, child surrogacy, and sex work. To create the weave, Watanabe turned to U.K. wigmaker Peter Owen, with whom she's worked before, and whose wigs can be seen in many films, including The Lord of the Rings trilogy. Because the steel color she wanted is tricky to produce, Watanabe had Owen make four or five hairpieces in different shades of grey. He was also responsible for the wig topping actor David Dencik's — creepy pimp Alexander "Puss" Braun — less-than-hirsute head.
Her freckled face came next.
After Kidman's hair was set, Watanabe got the actress's okay for visibly speckled skin. "I thought, if this character has freckles, she won't hide them," she says. For spot-on placement from scene to scene, Watanabe made a pigmentation map that she referred to during application for consistency.
The tooth gap was instinctive. 
In her initial sketch of Kidman's face, Watanabe drew a gap between her front teeth because "it just felt right." Film veteran Art Sakamoto, who's fashioned dentures for a who's who of Hollywood actors, made Kidman's prosthetic. Watanabe says Kidman liked that the false teeth made the shape of her mouth a little different. Generally, it takes actors a few hours of practice to learn to speak normally with fake bridgework.
This isn't the actress's first nose job.
The last time Kidman's nose was out of joint, she won an Oscar. She has a "very sweet-shaped nose," Watanabe says, so she added prosthetic bulge.
"It's very subtle, but it changes her face to make it look stronger." Kidman's wrinkled brow is also artificial, the result of another prosthetic piece. Despite the fact that there was a lot for the actress to wear, Watanabe says she was "kind and happy to go along" with all of it.