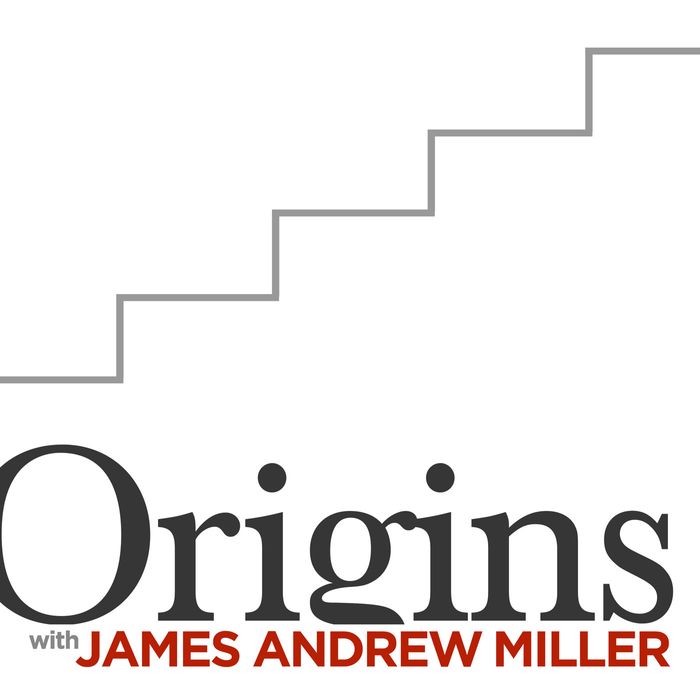 Photo: Origins With James Andrew Miller
James Andrew Miller is best known as the author of big oral histories about big media institutions. With Tom Shales, he's written about Saturday Night Live (2002's Live From New York) and ESPN (2011's Those Guys Have All the Fun), and he most recently published his first solo oral history with Powerhouse, which covers the illustrious Creative Artists Agency. Miller's books are breezy, propulsive, and packed with a sprawling range of characters, but beyond their focus on entertainment institutions, they're also connected by a sense of awe over the tremendous growth these entities experienced from miraculous beginnings. The origin myth is a strong cultural fixation, and it is ever-present in these books.
Now, Miller is taking his work to podcasting, and he's bringing that fascination with the beginning of things with him. His podcast, aptly titled Origins With James Andrew Miller, will explore how prominent things came to be and how they've impacted the culture. It aspires to range beyond Miller's traditional focus on media institutions — when The Hollywood Reporter first announced the show, music and "a famous romantic relationship" were mentioned as topics — but to start out, it's keeping within its boundaries. Origins will kick off on September 6 with an inquiry into the legendary Larry David creation Curb Your Enthusiasm, which returns to HBO in October.
The podcast's format draws from Miller's background with written oral histories. Each subject — whether it's a TV show, a company, or a historical event — will be presented as a "chapter," which is spread out across five episodes. The rollout will follow a unique structure: On the first Wednesday of every month, the show will drop all five episodes of that month's inquiry at the same time, but it will also periodically release the various conversations that make up the composite oral history. As consequence, you'll get both the classic construction of oral histories, which weave together multiple interviews and conversations to advance a central narrative, and the full version of the individual interviews that'll provide additional depth, insight, and findings. If you're a fan of whatever's covered on Origins, let's just say you're going to be inundated with material.
"In the books, I love giving people different angles on what happened from different kinds of types of participants," Miller explained when we spoke over the phone last week. "So with something like Curb, obviously you have Larry and a lot of the cast that's in front of the camera, but you also have people from behind the camera, people from HBO."
He continued, "But the difference [with the podcast] is that you have the opportunity to go a little deeper with people. You get to hear how people really express themselves, how they process their thoughts, and everybody processes their thoughts in a different way."
Miller also found that presenting the podcast in this dual method allows him to be less constrained by the structural demands of the narrative. "With the books, I'm really trying just to stick to a narrative and create a story … it's very chronological," he said. But that sense of chronology gets thrown out the window in the interview process. Which is the fun part, of course. "I just think it's so funny when you're talking to smart, creative people, and they'd be talking about going down this interstate highway, and all of a sudden they decide to go off onto this dirt road and talk about how they met these gang of motorcycle riders and whatnot, and it's like… what? What happened to the interstate? It's really fun to follow that," Miller said.
The choice to begin with Curb Your Enthusiasm was, to some extent, driven by the hook. It is, after all, coming back this fall after a six-year hiatus. But Miller also happens to be a really big fan. "Listen, I happen to love it, I think it's truly inspired and totally wicked," he gushed. "And the fact that it's coming back this year — 17 years after it first started — I mean, I can't even think of another show in television history that's had quite this circuitous a route to distribution!"
That said, a lot has changed since Curb went on hiatus in 2011. Did Miller think that David & Co. would have any difficulty making its return? Not at all, based on the conversations he's been recording for the podcast. "Everybody I talked to, there seems to have been very few cobwebs," he said. "Also, the world is, and I'm not even talking politics here, a tad crazier than it was six years ago. It seems like that there is a lot more that people are struggling with, and there are a lot more things that, in Larry's terms, are quirkier. So there are more things to riff off on, a bigger playground for his fertile mind."
Miller wouldn't officially reveal what he's planning to tackle after Curb Your Enthusiasm, though he did emphasize that Origins won't just stick within the media and entertainment industries. The podcast, above all, will function as a vessel for his curiosity about a wide range of subjects and their beginnings. Miller said he's drawn to the domino effect associated with how things start out, which packs a ton of narrative electricity into the start of things. "Origin stories, to me, represent a lot of drama," he said. "In the beginning, stakes are very high. If you make a real blunder, it could be fatal. And also, the upside is tremendous. If you all of a sudden do something that's great, wow, you bought yourself a lot of wind on your back, and that gets you that much closer to fulfilling your dreams."
It certainly helps that Miller often finds compelling individuals at the heart of these stories. "I mean, the five guys who left William Morris and bought a bunch of card tables and started CAA, or the father and son that started ESPN. Everybody thought SNL might last just a few episodes," he said. "I love people who bet on themselves. I love dreamers."