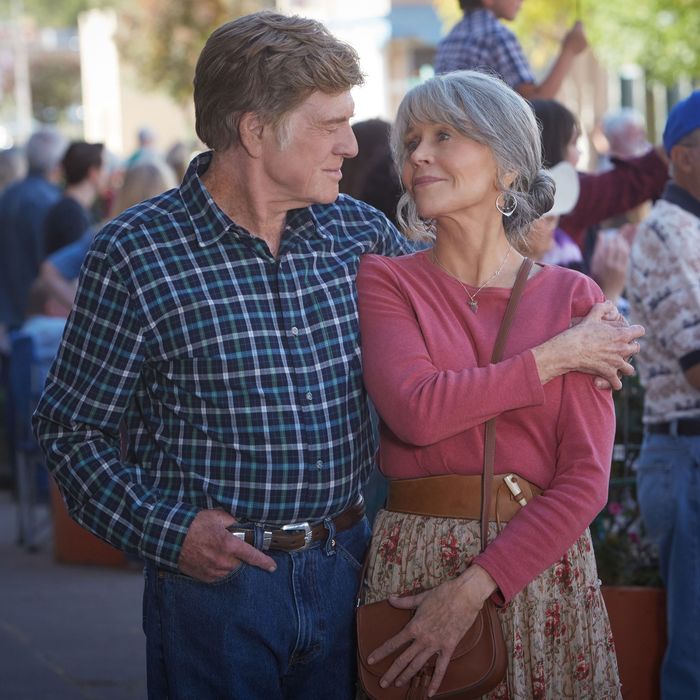 Photo: Kerry Brown/Netflix
In the first scene of Our Souls at Night, widow Addie Moore (Jane Fonda) rings the doorbell of neighboring widower Louis Waters (Robert Redford) and suggests that, seeing as how it's no fun being alone at night, they sleep together. This is strange, as they seem like only nodding acquaintances. Her bluntness takes him aback and he stammers that he needs to think about it and she hears that as a rejection, smiles tightly, and amscrays. But if he doesn't phone her, there's no movie, so he does and the result is a contrived but surprisingly enjoyable return visit with two frequent co-stars and a few other wonderful actors.
Much has been made of Redford and Fonda's performances as newlyweds exactly (exactly!) 50 years ago in Neil Simon's Barefoot in the Park. So we watch them differently together, waiting for echoes, overlaps. And we think all the time about time. They don't look their ages, really. I mean, they do when you go back and look at Barefoot, but see them side-by-side with the supporting actors — mere mortals — and the fact of stardom, bone structure, and other kinds of TLC is apparent.
Fonda is good for Redford, too. He's an excellent, underrated actor, but squirmy about going to dark places. He seems at ease with aloneness, which is why he was so interesting as the increasingly desperate sailor in All Is Lost but wasn't a great (or even very good) Gatsby. (He didn't need Daisy to complete him.) Redford can benefit from bluntness in his co-stars, which he got most excitingly from Barbra Streisand in The Way We Were and Fonda in Barefoot and maybe The Electric Horseman. In Our Souls at Night, she comes at him and he slowly but then fully responds. Redford shows Louis growing more and more comfortable and starts smiling to himself. Louis gradually realizes how incomplete his life had been. He and Addie sleep side-by-side, although sex … Well, that's where you need something more than formalities.
Director Ritesh Batra made the agreeable The Lunchbox and the much less effective adaptation of Julian Barnes's A Sense of an Ending. His touch is perfect here. Working from a brisk, unsentimental script by Scott Neustadter and Michael H. Weber (based on a good novel by the late Kent Haruf), he finds the right balance between dark and light, between gentle comedy and darker remembrances of things past. I could have done without the early revelation of the death of Addie's little girl, not because Fonda doesn't play it well but because dead kids are a common shortcut to pathos. Louis's shamefaced story of leaving his wife and daughter for another woman — and then leaving the other woman for his wife and daughter — seems fresher.
The movie cheats a bit by cutting the awkward quasi-courtship short and letting Addie and Lewis bond over the sudden responsibility of a child. He's Addie's little grandson, Jamie (Iain Armitage), who's deposited on her doorstep by her tortured son, Gene (Matthias Schoenaerts), after Gene's wife decamps. So Louis gets to show Addie how good he is with kids and Addie gets to show Louis how much she likes that he's good with kids and Louis gets to say, "The boy needs a dog," and take them all to the pound. The dog bonds them, too.
Fortunately, Armitage is the rare kid actor who's not a bit kid-actorish. He seems absolutely real. And Schoenaerts — in a familiar kind of part — is remarkable, as he often is. He's non-ingratiating, dangerous. Judy Greer has only one scene as Louis's mixed-up daughter, Hollie, but she registers — this might even be her most vivid performance. Screwing up her courage to tell her father what she plans to do with the rest of her life, Greer's Hollie turns into a scared little girl, desperate to know her own mind. A surprise bit of casting in the group of men whom Louis meets for lunch is Bruce Dern, settling into old age with his orneriness intact.
The last act of Our Souls at Night is rushed and the ending truncated. But the good vibes linger. Netflix is putting the film in a few theaters but it's online now to watch. You should. It's a nice little movie.