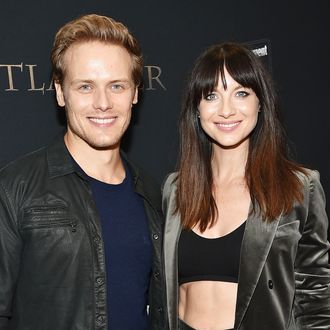 Heughan; Balfe.
Photo: Mike Coppola/Getty Images for Entertainment Weekly
The characters in Starz's romance-fantasy-drama Outlander hop between the 18th and 20th centuries. But where would series star Sam Heughan, who plays Jamie, go if he could?
"I'm a huge sci-fi fan so I'd want to go to the future," Heughan told Vulture last night at the season-three premiere of Outlander.
"I want to be alive when people go to Mars."
He actually estimates this could happen as early as 2030, and says he is fine with the possibility that he may never return to Earth. "I thought about this a great deal: not returning is fine, the problem is you don't have any choice over who you are going with," he explained. "What if you don't like that person or they snore?"
Meanwhile, co-star Caitriona Balfe would like to go back in time, but not as far back as Claire does: to the belle epoque or the "beautiful era" between 1871 and the outbreak of WWI in 1914. "If you could just put me as a fly on the wall of Gertrude Stein's salons that would be pretty amazing," she said. "I would just listen to what everyone says. And I would sit in a café and drink lots of good wine and talk to people … but wait, I do that all the time anyway."
Outlander returns Sunday, September 10, on Starz.