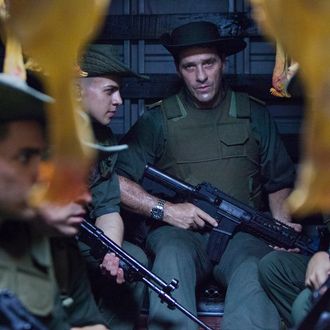 Photo: Juan Pablo Gutierrez/NETFLIX
Over the weekend, a man named Carlos Munoz Portal was killed outside of Mexico City while scouting shooting locations for the Netflix show Narcos. The exact circumstances of his death are unknown, but his body was found in his car with multiple gunshot wounds, and Netflix says that authorities are investigating the matter. Today, The Hollywood Reporter ran an interview with the brother of Pablo Escobar, Roberto De Jesus Escobar Gaviria, who was both Escobar's head accountant as well as the "chief of the hit men" for the Medellin cartel. In addition to asking Gaviria about his ongoing legal battle with Netflix — as the head of Escobar Inc., he asserts that he owns the rights to the Escobar name and brand, and as such the streaming service owes him $1 billion for unauthorized use of his family's name — THR also asked the 71-year-old about what he thinks Netflix should do to increase security around the show. The entire interview is worth reading, but here are some of the extremely chilling highlights.
• On what should be done to increase safety for cast and crew: "If you have the intellect, you don't need to use weapons. If not, you have to. In this case, Netflix should provide hitmen to their people as security."
• On whether or not Netflix should even film on location: "I don't want Netflix or any other film production company to film any movies in Medellin or Colombia that relates to me or my brother Pablo without authorization from Escobar Inc. It is very dangerous. Especially without our blessing. This is my country."
• On the legal battle between Escobar Gaviria and Netflix: "They don't know life and would never dare to survive in the jungle of Medellin or Colombia. I have done that. Their mothers should have left them in the womb. That is what we tell people like this if they come to Colombia."
All right. There has to be somewhere outside of Latin and South America that can serve as a substitute for Mexico and Colombia. Because Escobar Gaviria, who is partially blind and deaf thanks to a letter bomb he received when he was in jail, does not seem like a flexible man.