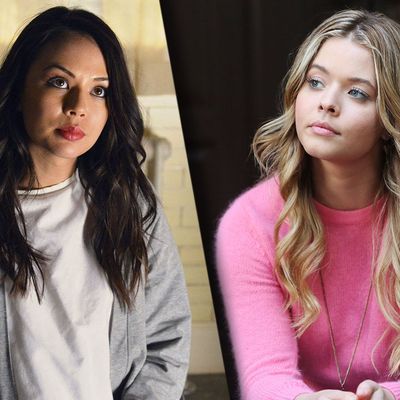 Sasha Pieterse; Janel Parrish.
Photo: Freeform
Very big, not-little-at-all news came from Freeform this week: The network has green-lit a pilot for a Pretty Little Liars spinoff focusing on Alison DiLaurentis (Sasha Pieterse) and Mona Vanderwaal (Janel Parrish). Officially, it's called Pretty Little Liars: The Perfectionists, and it's based on a novel of the same name written by the original PLL scribe Sara Shepard. Together with PLL showrunner I. Marlene King, Shepard will help develop the new series that focuses on a murder-mystery in the seemingly perfect town of Beacon Heights. The novel tells the story of five high-school girls who mocked up a murder plot to take vengeance on a boy who wronged them, but when he actually turns up dead, they become key suspects in the investigation and have to find out the truth to save themselves.
It's a very familiar narrative for PLL fans, but Freeform has been coy about providing any kind of the character details. Perhaps most importantly, the spinoff adds PLL vets Mona and Ali into a story where they didn't previously exist. That leaves us with a lot of questions about this Nancy Drew–meets–John Tucker Must Die teen drama, so here are our primary concerns and thoughts way ahead of time.
How exactly will Alison and Mona fit into The Perfectionists?
Although Shepard's novel shares a lot of similar themes with PLL — five female protagonists, their high-school enemy turning up dead under suspicious circumstances, the usual — it doesn't incorporate any characters from the PLL universe. How and why will Alison and Mona end up in this new setting? King, Shepard, and their writers room must have something up their sleeves.
Will there be cameos? And if not, to what extent will we hear mentions of other Liars?
While PLL is the most high-profile screen credit so far for Lucy Hale, Troian Bellisario, Ashley Benson, and Shay Mitchell, it feels unlikely that they would reprise their roles on a continuing basis. (They're all pretty busy right now!) Will The Perfectionists get a Ravenswood-style setup where we see the Liars helping Ali in her transition to Beacon Hill, or will we pick up right in the middle of her new life?
There's been mention of a "top-tier" college in Beacon Heights, so will The Perfectionists focus on college students instead of high-schoolers?
Starting with college kids would be a helpful long-game strategy, since it resolves the high-school graduation problem up-front. But would that mean actors who are the same age or older than Pieterse be cast to play people younger than her? Alison was a teacher the last time we saw her, and if she's now teaching college, will her students be older than her? The Perfectionists novel centers on another group of high-school students — Ava, Caitlin, Mackenzie, Julie, and Parker — and Alison taught high school. Being set at a college would be a clean transition.
What does this mean for Alison's relationship and children?
Although their relationship proved to be divisive in the PLL community — hello, getting impregnated against her will by the psychotic British "A" — Alison and Emily proved to have a stable, loving relationship in the finale, in which they choose to raise Ali's twin girls together in the DiLaurentis home. Since Ali is now a teacher, perhaps this can be best explained by getting a job she can't refuse at Beacon Hill's aforementioned "top-tier" college and dividing her time between the two towns. Frankly, a breakup and custody battle between the young lovers would be silly and a disservice to fans.
Does that mean Mona abandons her fabulous Parisian life?
Mona, the undisputed queen of the PLL franchise, won the game. She bested the final "A" and moved to Paris! She wants to wear berets, eat at the finest boulangeries, and screw around with her handsome international boy toy in the 9th arrondissement! She, too, better get a once in a lifetime opportunity if it means going back to playing banal mind games with lying suburban teenagers.
What will this mean for Alex and Mary Drake?
Running a pastel-covered torture chamber below a doll shop in a European capital seems kind of hard. We're going to go out on a limb and assume Mona won't bring Alex and Mary back with her to the good ol' USA, so she better find someone just as delightfully sadistic to hold down the fort while she's away. Is her boyfriend worthy? Maybe.
Will there be a time jump from the Liars finale to the start of The Perfectionists?
The five-year time jump was a smart move by the PLL team, aligning the ages of the characters more closely with the ages of the actresses playing them. You can only be between 17 and 19 for so long, after all! But how far removed will Ali and Mona be from their lives in Rosewood and the landmark "A" reveal? Pieterse is only 21, but will they age her up to something like 30?
Will all of these "pretty little perfectionists" be female?
PLL was wonderfully forward with its framing of Emily as a gay character from early on in the series, but a lot has changed since Liars debuted in 2010. How will diversity factor into this next-gen show? Freeform likes progressive characters and story lines, and assembling a new squad seems like an opportunity to adjust the story for a genderqueer hero.
Where the hell is Beacon Heights?
Are we still in Pennsylvania, or is The Perfectionists set somewhere else entirely? Shepard's novel is set in Washington state, but will King move Ali and Mona all the way to the Pacific Northwest? These women really should get the hell out of the Philly suburbs.
Can there be new wine moms?
Please?
Leave the supernatural elements out of this.
This isn't a question, just please do not shoehorn supernatural elements into this show. Thanks.