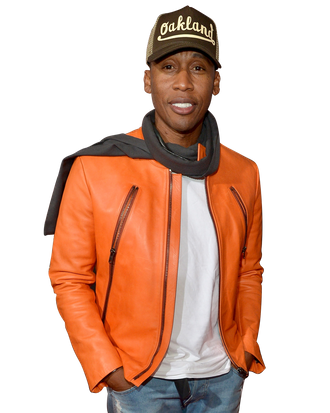 Saadiq.
Photo: Getty Images
If you're missing new music from Raphael Saadiq, it's because he's busy scoring your favorite show. Saadiq currently composes music for Issa Rae's Insecure, and worked on the score for Step, a documentary about a girls' step team in Baltimore. On Insecure, he leans into the laid-back, sunbaked vibes of Los Angeles, while Step's stars reminded him of his own musical upbringing in Oakland. He might currently be busy scoring movies and TV, but he's still finding time to work on his sixth album. Just don't ask him to tell you the title — it changes once a month.
Can you talk me through composing music for Insecure?
My process is listening to Issa and what the crew wants as far as needle drops and matching the personalities of the Molly character, the Issa character, and the Lawrence character. My job is to keep the flow of L.A. and each character. There's a lot of energy, lots of different personalities on the show. I watch the episodes like once or twice. I love the show, and I forget that I'm actually working. And then I'll go back and start dropping music in.
How often are you meeting with Issa or Melina, or the music supervisor, Kier Lehman?
We meet twice a week during the season. We'll have two spotting dates for music. I sit in on all the meetings about sound and budgeting. Everybody's there, the editors, directors, showrunner. We just sit there and feel it all out. It's different all the time. Sometimes it's a lot of needle drops, sometimes it's more scoring.
Who's your favorite Insecure character to compose for?
I like composing for Issa when she says something that's really out there. I love when she's talking in the mirror to this other version of herself, that character in her head. I like to come in and out of those scenes a lot. I like to score when Molly's in her office, like when she's walking somewhere. And their girls' nights, I like those.
In your post-episode Wine Down with Issa, you said Molly was your favorite character. What did you think of her arc this season? She's in and out of this open relationship with Dro while she's turning down nice guys that seem better for her.
Molly just gets it in. She's unpredictable: there are some things that you think could happen and you want to happen, but you don't know if it's gonna happen for her. She's super chocolate sexy. She's got the body type. She's smart, and an attorney, but she can turn on the switch any day and just play dominoes.
Did you score the show within a show, Due North?
I tried to get my hands on Due North, but no I didn't do that. I might've done one, but they used a library piece for those.
You also scored the documentary Step this year. How did you get involved with this doc about young girls dancing in Baltimore?
[The filmmakers] were fans, and they heard about me scoring a few other things. They just reached out to me and my partner Laura Karpman. That was before Fox Searchlight got involved. I loved the story. I sort of grew up in a place similar, and the girls in the movie reminded of the young ladies I grew up with. Very special and talented, but women that just needed a break.
Last year Pharrell told Vulture that scoring was about objectivity. Is that how it works for you?
Yeah, I think that's very true. Also, the dialogue is the voice. If you see it how you're writing a song, dialogue is the voice. You put things around that keep the flow. Not everything sounds good because you have to let the dialogue speak to you, and speak for itself musically. Sometimes it's not music that's needed. Sometimes it's just a breath.
You started working with Laura a few years ago on Black Nativity. What's the secret to your collaboration?
Laura is good. She's got huge ears. She can hear anything, she can play anything, she can do anything. It's easy to work with her because she's so fast and efficient. She's a professor! She can get it done. We just think about what kind of instrumentation we want to use. We like to keep things a little different when we work together, bringing her orchestral background and my background, which is different. I'm not a stranger to the orchestral world, though. I grew up playing piano lessons and [in] jazz band, I did a lot of Broadway stuff in school and I had great teachers there.
Black Nativity was the first thing we ever did together. It was a huge learning curve for me. Kasi Lemmons is a great director, and I'm a huge fan of her work. She sought me out. I was on the road, on tour, and she met me in Boston early in the morning. She said, "I want you to score this movie, Black Nativity." I was like Ohhhhh … that was a huge challenge.
What has scoring taught you about how you see music?
Anything I want to do, I know I can do it if it has something to do with music. Black Nativity used a lot of music I love: I'm a huge fan of Donny Hathaway, of Curtis Mayfield. There are a lot of great composers of soul music, but those guys were amazing composers. Donny Hathaway was an amazing string composer. Black Nativity, Step, Insecure, these are just the beginning. I've been fortunate to work with some great directors, and showrunners, and producers. That's been my whole journey with music — I've always had great teachers, so hopefully that keeps manifesting.
You worked with Solange on A Seat at the Table. That albums turns a year old this month. How does that feel?
The album just keeps getting better. It's a timeless piece. Solange did a lot of work on it before she even came to see me and asked me to be a part of it. There was so much work put into it, and lots of great subjects and instrumentation. People really need to have something that they can call theirs. It's great to watch people sing her songs, to see how listeners gravitate to something she worked so hard on.
What's the best memory about working with her on that album?
We'd just pull up different songs and talk about what we wanted, how we wanted it to feel, how much music we wanted in it. Sometimes we'd want it to knock, we'd want people to move to it, to feel something. It's never work. I've never felt like I worked with Solange, I don't remember working. I just remember it was done and one day we were in New York, playing it for Columbia, and I was looking at her like, Wow. To hear it all together was amazing. She's a producer too, so it [felt seamless]. In my studio I like to play some video games, like Madden football, and she'd walk in and say "Can I use your ears for a minute?" Then she'd play me something. It was that simple for the entire project.
You're working on a new album of your own now. How's that going?
It's going great, I'm close to completion. I've been working with other people for a long time. I was sort of going through a lot right before I started working with Solange. Just life changes, like, changing management, cleaning up people around me. Working on Solange's album allowed me to be creative in a space where I didn't have so much pressure to create for myself. Now that all that's done, I've been constantly working on my record, like every day. I have so many songs and ideas but I want it to be ten songs.
What's it like to narrow it all down?
I've been making records for so long, and when you started making records when we did, everybody was used to putting 16, 17 records on a disc. It was hard to let people hear everything. But really, I think, ten is good. I'm used to making a package deal where every song goes together. It's gonna fit — I'm going to make it ten — but narrowing it down is really hard. But that's my challenge: every day I'm trying different instrumentation. Some of the drums are old, and I'm replaying them. I'm re-singing a few songs. Every time I'm in this mode, it means the album is almost done.
I love a succinct album. Some artists, like Drake for example, keep their albums really long.
I guess I've never listened to a whole Drake album! I'm a totally a fan, though. A person like him is so lyrical. His penmanship is crazy, and he has a lot of music in his head. That's what happens. I've been coming up with a new title for my album every month for the last five years. I write them down. The title I have today is "God Willing."
Where did that come from?
I was talking to one of my British friends, and he was like "God willing, I'm gonna do this tomorrow." And I was like, hey, that's the title of my album! [Laughs.] I don't know if that's the final title. It could change tomorrow, trust me.