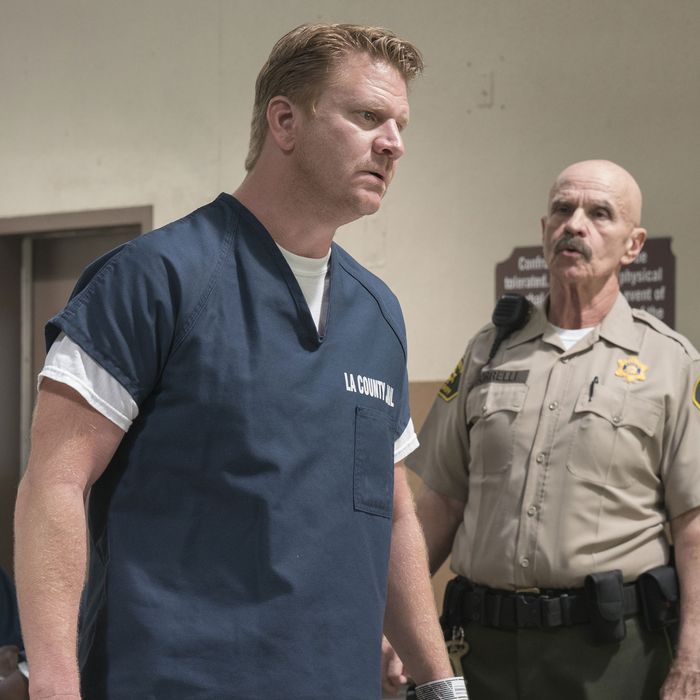 Photo: Michael Desmond/Showtime
A familiar problem is plaguing this season of Ray Donovan: The subplots don't intertwine thematically, leaving the show with a distinct lack of focus. This episode works to fix that a little bit, finally getting Ray involved in the Mickey-Frank-Avi subplot, and bringing Terry back into Ray's world in an emotional final scene. For the first time this season, we don't flashback to Abby Donovan's final days, although her ghost hangs in the air for much of the episode. She probably will for a long time.
While Mickey Donovan is still trapped in the trunk of a speeding car, Terry Donovan is drunkenly going to confession in New York City. He's worried about his soul. He has a secret about the death of Abby Donovan, his sister-in-law, who he knows has gone to heaven: Terry may have helped her go there early, and the fact that the experimental surgery worked for someone else weighs heavily on his conscience. "You always hurt the ones you love and the ones you love always hurt you," he says, and that really could be the theme for this entire arc of Ray Donovan.
As Terry heads back to the West Coast, Daryll Donovan gets his biggest episode of the season so far. He first meets with a new screenwriter who is polishing up Four Leaf for Jay White to star. Mickey's script is going from the story of a Southie bank robber to a story set in Harlem in the '70s. Mickey ain't gonna like it, but Jay promises Daryll a producer credit and the salary that goes with it. They also drink something called a "butter coffee," which sounds like just the worst thing ever. Can Daryll convince Mickey to radically alter his story?
Mickey has bigger things to worry about first. He finally goes to Ray with the news about crooked cop Frank wanting Avi dead, and how Mickey's failure to do the dirty deed has gotten Bunchy sent up the river for the murders in Primm, Nevada. Why didn't he do this earlier? Because he didn't want to disappoint Ray? It feels like a writer's contrivance, and it's when those things pop up that Ray Donovan can get frustrating. Anyway, Ray is involved now, and it results in an emotional, well-acted scene between Liev Schreiber and Jon Voight (which are always the best scenes in the show). "I wish it was me that was gone," Mickey says. "I wish I could trade myself for all of 'em, everyone I hurt." Ray seems to agree.
It turns out that going to prison for a few days may have been the best thing that could happen to Bunchy because that's where he runs into one of the robbers from Railhead Subs, a man who goes by the name Dimebag, but his real name is Duquesne. Dimebag seems confused by Bunchy's concern over the diaper bag, and realizes that his partner screwed him over. When Bunchy finally gets out at the end of the episode, he puts up bail for Dimebag. The two are gonna get what they're owed. This is a strong development in that Ray Donovan has always been about how people can work together if they have a common need: Bunchy realizes that Dimebag now wants to find the money as much as he does.
Meanwhile, Frank's arc comes to a boil. First, he goes to meet Ray in a diner. Ray lays down the terms: let Bunchy out of jail and Ray will kill Avi. Oh, and then arrest Mickey. Ray has finally had enough of his troublesome old man. Frank tells Ray that Avi killed a DEA agent, and that the heat will eventually bring the feds back to Frank and then on to the Donovans. It actually makes sense that Ray would feel that pressure to do something about Avi, given he could bring down the entire family and Ray has always been the protector of the Donovans. But, of course, Ray finds another way out.
Ray goes to Lena, who tells him where Avi is hiding. Then he goes to find him and the two struggle, leading us to believe that Ray may actually kill his former partner. He has something else in mind: In a thread that reminded me of the Hollywood-meets-crime aesthetic of Get Shorty, Ray gets a makeup and special-effects expert from Natalie's movie to stage Avi's murder. Avi gets "shot," and Lena records it on her phone. Only in Hollywood. Avi gets his good-bye scenes with Lena and Ray, heading off to Colombia, likely to never be seen again.
It is a little eyebrow-raising that an iPhone video and Ray's word that Avi is in the trunk would be enough for Frank, but it turns out he doesn't have time to question the scheme anyway. After Ray shows him the video, he goes to arrest Mickey, per the deal. But Daryll gets in the way, shooting Frank in the back of the head. Daryll Donovan just killed the head of the FBI. This won't end well.
After Ray hesitantly has sex with Natalie, he goes to the bar to meet with Terry. His brother tells him about Emily, and how her surgery seems to have worked. Then he tells her, "I gave Abby the drugs." He was with Abby when she died. Ray looks like he might puke, and then cry, and then he punches Terry so hard that he knocks him to the ground. The sky is blue, water is wet, and the Donovans are fighting again.
Other Notes
• It's important to take stock of who knows what in the Avi-Frank saga. Bunchy, Mickey and Daryll think that Ray killed Avi. Then Mickey and Daryll kill Frank, which they will likely keep secret from Ray.
• I can't believe how bad Natalie's movies look. They're almost in the realm of parody. A few weeks ago, we got that Divergent garbage and this week Bunchy watches what looks like a direct-to-video Inception ripoff.
• The fantastic "Pictures of Matchstick Men" by Camper Van Beethoven ends this episode. It's a perfect closing-credits choice for this show.
• It's a little surprising to consider there are only five episodes left given how little we've seen of Susan Sarandon, touted as this year's major guest star. I'm thinking she'll have a big arc in the final third of the season.
• Do you think we've seen the last of Avi? I think we have. It would almost feel like we've wasted our time this season if he just resurfaces later, although this show has made that kind of mistake before. Time will tell.
• Interesting trivia: The title of this week's episode was taken from the song that Terry and Bridget were singing last week, the great "If I Should Fall From Grace With God" by the Pogues.