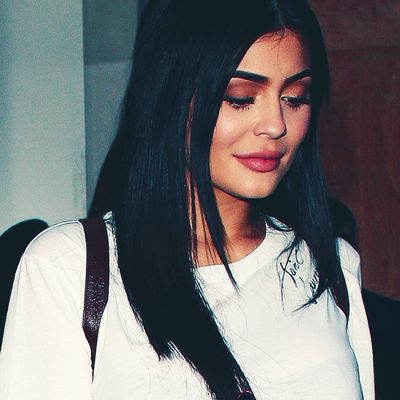 Kylie Jenner.
Photo: Ricky Vigil M/GC Images
Let's just say it: According to TMZ, Kylie Jenner is pregnant. The youngest Kardashian sister, who turned 20 in August, has apparently been telling her friends that she is expecting a baby with her boyfriend, Travis Scott. Here's what we know so far.
Per TMZ, Jenner and Scott have been telling friends that they are having a baby, and that it's a girl. A source tells People, "They started telling friends a few weeks ago. The family has known for quite some time. She is REALLY excited and so is Travis!" Meanwhile, "Page Six" has a source that claims Jenner "has been looking pregnant for about four months." (Jenner and Scott have been dating since April.) TMZ also notes that Jenner has been posting old photos of herself on her Instagram, but she just posted a photo on Snapchat in which she looks, well, possibly pregnant. (See here.)
"Page Six" says that the Kardashian family plans to confirm Jenner's pregnancy news today. We have reached out to a rep for Jenner and will update if we hear back.