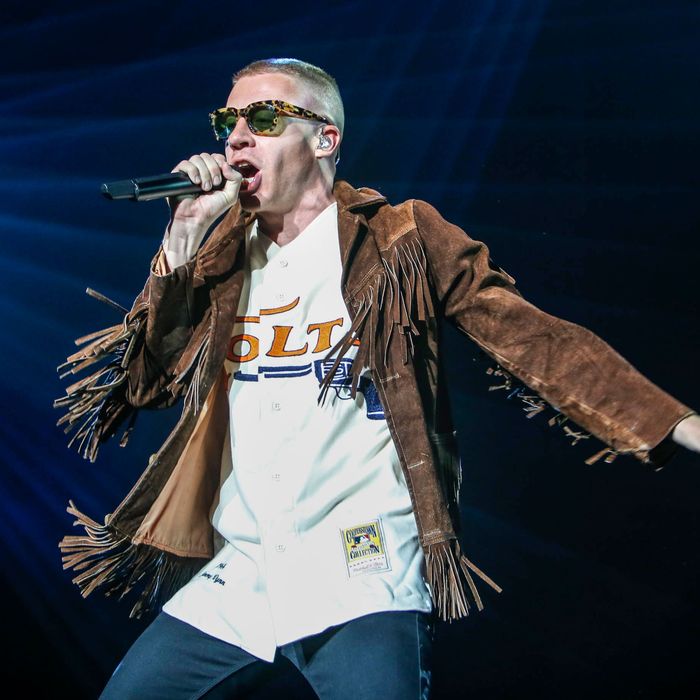 Photo: Glenn Hunt/Getty Images
Macklemore's mainstream moment arrived too loudly and precipitously, and he always seemed to be too pure of an underground rap guy to know exactly what to do about it. His breakthrough hit was a sneering, anti-commercial screed about things dumb people do wrong when they suddenly come into money and influence. I can't think of the last time a record as steeped in the recalcitrant individualism of indie rap as "Thrift Shop" was able to sell 7 million copies. The "Thrift Shop" tidal wave was crystalline 2010s irony: It's a party rap song whose message about the futility of flexing was lost on many of its fans. Over time it became an accidental commentary on casual rap listeners who don't comb the lyrics and white Americans mobilizing behind a rapper who looks like them. The backlash the song inspired, thanks to both the blatant hypocrisy of making a mint off a song about not valuing money and the sting of a white artist delivering a sharp critique of hip-hop culture, was equal parts conspicuous timing and unfortunate optics.
It'd be hard to imagine Macklemore as a lightning rod for controversy if it weren't for the concurrent rise of Iggy Azalea, the young, white Australian rapper whose sheer belief that she deserved to be famous in hip-hop gained her an audience with people who were able to help her pull it off. Iggy responded to suggestions that her race played a factor in her fame like the pharaoh in the Bible's book of Exodus; she listened a little less with each successive challenge, nudging the door shut on her own redemption in the process. Alongside Iggy's insouciance, Macklemore's grandstanding in cuts like "Thrift Shop" and "Same Love" went over poorly. His published apology to Kendrick Lamar for edging him out at the 2014 Grammys seemed like a guy coolly seeking attention for being woke.
It wasn't until Macklemore sunk the commercial viability of the follow-up album trying in earnest to address his critics that the public perception of him shifted. The rollout of last year's This Unruly Mess I've Made hinged on "White Privilege II," a nine-minute meditation on race and disenfranchisement that sparked a heated dialogue but never quite succeeded as enjoyable music. Unruly Mess carefully sought input from hip-hop community pillars like KRS-One and Melle Mel and flagged behind The Heist in sales because it was more concerned with social justice than spawning hits.
This week's Gemini attempts to recalibrate the balance between unassailable hooks and introspective thoughts that Unruly Mess seemed eager to break. There's no overarching sociopolitical framework, just a guy writing good-natured songs about everyday issues. It was recorded in the rapper's home studio, and the music feels rooted in the quirks and comforts of family life. "Intentions" is a yarn about meaning well but fumbling up and doing worse. "Good Old Days" warmly reminisces on the peaks and pitfalls of Macklemore's early-career in-between triumphant choruses from Kesha. "I don't want to make music … because I feel like I have to," he told New York rap radio show "The Breakfast Club" this week when asked why Gemini takes a lighter tone than Unruly Mess. Uplift, he says, is resistance, too, although he admits thinking the last album's politics cost him money. (Someone will likely argue that Macklemore getting to look away from the struggles of 2017 when rappers like Kendrick can't is a commentary on whiteness of its own. They won't be wrong.)
Gemini revamps more than just subject matter, though. There's no Ryan Lewis guiding the ship this time. The duo agreed to take a break after ten years of recording and touring together; the new album was borne out of writing exercises designed to keep the rapper busy without his creative partner. Lewis's absence here is a shame, since he is Macklemore's secret weapon. Without his go-to producer's plush, rousing arrangements, the Seattle rapper's music loses a measure of its individuality. "How to Play the Flute" mimics the flute sample in Future's "Mask Off." "Marmalade" matches a Lil Yachty verse with boisterous keys much like D.R.A.M.'s "Broccoli" and Kyle's "iSpy." "Corner Store" and "Church" turn in the same mix of trumpets and gospel vibes as Chance the Rapper's Social Experiment records. It's hard to say whether Macklemore's embrace of Chance's upbeat, melodic delivery across cuts like "Marmalade" and "Intentions" is shrewd market awareness or the function of two artists' shared affinity for singing the blues (or a bit of both?). But when he parrots Travis Scott's Auto-Tuned yelp on "Ten Million," it's clear he's trying to play catch-up.
Gemini is a corrective to a corrective. After torpedoing Unruly Mess's commercial prospects by pushing message ahead of music, Macklemore is back making songs that aim to sound good on the radio. The problem is that they're playing ball with mainstream rap by cribbing specific ideas from it. As such, this album is pleasant but rarely gripping, timely but never trendsetting. It's paint-by-numbers pop-rap, and it's a shame that a guy who's passionate enough to make "Can't Hold Us" and crazy enough to make "Downtown" should feel like genteel dad rap is the way forward. Macklemore and Ryan Lewis blew up because they brought lush pop sensibilities to underground hip-hop cadences and attitudes. Gemini, in dialing back some of the very qualities that made them household names, is bland. Macklemore without Ryan Lewis is like toast without jam: warm but sorta dry and lacking much-needed sweetness.