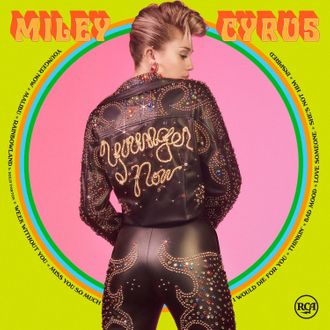 Younger Now might seem like a ludicrous title for a new album from a pop star just about to turn 25, but Miley Cyrus released her first album in 2006, so she must feel like a lifer by current industry standards. For Miley, this decade has been a trip, for reasons both good and bad. The five-year stint as Disney's Hannah Montana that introduced us to Cyrus set intriguing precedents that have informed the rest of her career. If you've watched five minutes of any piece of well-received Disney Channel programming, you know the gags run loud and obvious. Subtlety isn't one of Miley's gifts. Hannah's desire to disappear into a different persona when things got hairy for her also happens to be the story of the last eight years of Miley's pop career.
Life imitated art for the Tennessee singer. Hannah Montana slowly became a trap, a stringent set of rules for how she was expected to carry herself and what she was allowed to sing about. Upon turning 18, she embraced racier themes in a solo album appropriately titled Can't Be Tamed, which looked to the unrestrained dance pop of middle-aughts Britney Spears for inspiration but ultimately floundered on the charts, lacking focused songwriting and production. Then, 2013's Bangerz put Cyrus in league with hip-hop minds from Pharrell to Mike WiLL Made It, and singles "We Can't Stop" and "Wrecking Ball" succeeded in transforming the former child actor into a vibrant 20-something pop ingenue.
There are tracks on Bangerz like "4x4" that seemed hip to the growing conversation between modern country and rap music. (That same year, Nelly ended up on a Florida Georgia Line remix. By 2016, Pharrell was producing Little Big Town.) But the sense that Cyrus had come to hip-hop just for image reform would prove itself hard to shake. She caught flak as the host of the 2015 VMAs after a stray interview aside about Nicki Minaj being mean caused many to question how much she actually learned about hip-hop culture while partying with Juicy J and Future. (She'd later confess to swearing off rap almost entirely, complaining about the genre's raunchiness without taking ownership of her own role in introducing twerking to Middle America.) Later that night, she released the free album Miley Cyrus and Her Dead Petz, a Flaming Lips–assisted acid meltdown.
The Bangerz and Petz epochs were both real and true; Miley was just a confused kid trying to find herself out loud in public. But Younger Now takes the singer back to square one, using country-tinged pop-rock and subdued imaging, focusing on her voice, her writing, and the peace she's located since getting back with her fiancé Liam Hemsworth. The first verse in Younger Now's opening title track tries to reconcile the half-dozen Mileys we've been asked to accept in the past with yet another one: "Even though it's not who I am / I'm not afraid of who I used to be." The success of the record hinges on how well it presents what looks like creative retreat as an inspired new direction.
The more these songs toy with folk and country conventions, the better they get. "Miss You So Much" and "She's Not Him" recall some of the rustic, airy shoegaze of She Hangs Brightly–era Mazzy Star. "Bad Mood" plays woeful folk with a light Tejano twist. Sleepy Americana comes naturally to Miley — she's Billy Ray Cyrus's daughter and Dolly Parton's goddaughter, after all — and when she really goes for it, particularly on "I Would Die for You" and "Inspired," it's easy to see her enjoying a quirky outlaw-country stardom not unlike a Kacey Musgraves. Her voice is powerful and able to traverse between sweeping high notes and taut hip-hop cadences, and producer buddy Oren Yoel keeps it dressed in tasteful arrangements and pretty guitar textures. But I can't help wondering what they could've come up with if they pushed each other harder.
In an era where Beyoncé, Lady Gaga, and Kesha have succeeded in absorbing aspects of country into pop music, and country stars like Miranda Lambert and Sam Hunt continue to expand country's horizons from within, Younger Now feels a little safe. It's smart business for Miley, perhaps, to rein things in after torching her image making sketchy psych-trap records and dressing like a human splatter painting in the Petz era, but cuts like "Malibu," "Love Someone," and the title track settle for pleasant, generic mainstream pop-rock. They sound more interested in righting Cyrus's path than challenging her as a musician.
Another obstacle for Younger Now is hokey writing. Cyrus relies too heavily on colloquialisms and road-tested turns of phrase. She sells the emotions well but the wording isn't artful. The chorus to "I Would Die for You" ("Like the grass, I watched us grow / I heard you reap only what you'll sow") is even more folksy and cheesy than a Hallmark card. "Younger Now" makes a dry refrain out of "What goes up must come down," because "Change is a thing you can count on." Across her best records, and even her atrocious ones, Miley Cyrus has never before come off as a bore.
Younger Now aims to show growth but comes out more like a reassuring performance of maturity, like the lady who last greeted us with her face splattered with ice cream and glitter singing, "Yeah I smoke pot, yeah I love peace" suddenly insisting that we should know that she's totally laid-back when she's sober. It's not that settling down dulls a singer's intrigue or that torment is a better wellspring for music than joy — albums like Beyoncé's 4 made happy, responsible adulthood sound like heaven. Younger Now plays at an overhaul it doesn't fully commit to. It hedges its bets with a few too many filler tracks. Miley Cyrus has been nailing dramatic transformations since she was 13 years old. Now she's too obsessed with being normal to stick the landing.