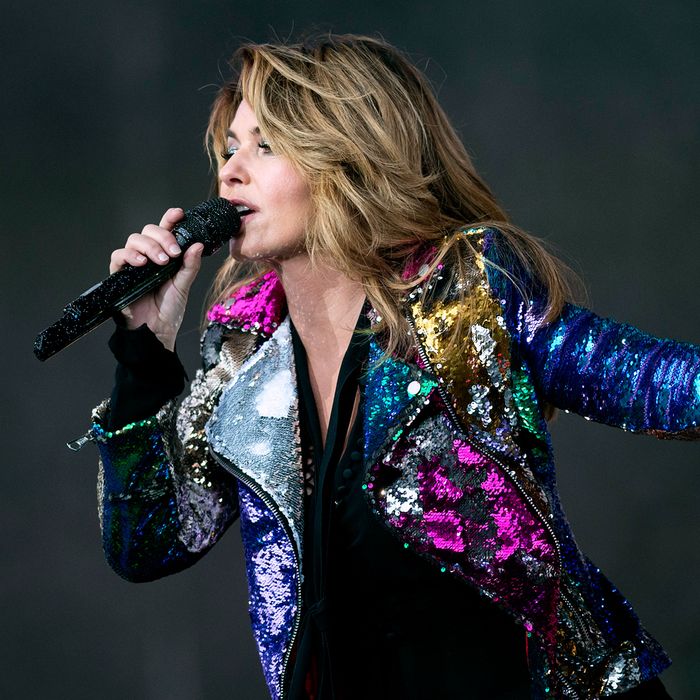 Twain.
Photo: Neil Lupin/Redferns
It feels like some kind of cosmic tragedy that Shania Twain hasn't recorded very much in the decade and a half since revolutionizing country-pop on her Come on Over and Up! albums, but personal trials are as much of a constant in Shania's story as music. She lost both parents in a car crash after watching them struggle to make ends meet in her youth in '80s Ontario, Canada. Her music took off in the early '90s after she met veteran rock producer Robert "Mutt" Lange, and the pair got to work on her breakthrough album The Woman in Me, but privately she lamented her parents never getting to see it happen. Fast collaborators became fast lovers; Lange and Twain married within months of meeting, and the union held until 2008, when Lange blindsided her with divorce papers and news that he was leaving her for her best friend. Twain's singing career nearly ended just a few years later, as complications from Lyme disease contracted during her Up! tour led to worrisome deterioration of her vocal cords.
This week's new Shania album, Now, is no less than a miracle of diligent rejuvenative therapy and deep personal reckoning. It's unfair to call it a divorce album; it's more like a travelogue of the singer's trek back to wellness from the brink of ruin. Mutt catches a stray shot here and there, as the source of the singer's well of heartbreak, but Now is really about reminding people that they're stronger than whatever's trying to tear them down and that recovery is good, hard work. "It hurts to heal," she sings on comeback single "Life's About to Get Good," but instead of miring the song in the specifics of her bad times, she focuses her attention on moving past them, like the Beatles in the deceptively peppy "Getting Better." Cuts like "Home Now" and "I'm Alright" both summon the nerve to get back up after a bit of misfortune.
The changes in Shania Twain's voice and circumstances have made Now a darker record by proxy. Her instrument is rich and expressive still, but it runs noticeably thinner and deeper than before. Earthier tones help with teasing out some of the album's more somber themes; the descending vocal runs that cascade over the heartbreaking drinking song "Poor Me" and the minor-key musings of "I'm Alright" make each song feel all the more downcast. Just the same, one wonders what the showstopping weekend warrior anthem "More Fun" might've sounded like with a bit more vocal range to play with.
Mutt Lange's absence from the proceedings makes Now a markedly different listening experience than Up! just in terms of sound architecture. Lange is a heavy-handed producer; his thick trademark gloss always made Shania records sound a little too precious, peppy, and crowded. Up! carried these tendencies to an extreme: They pressed up three different versions, and you picked which one you wanted according to whether you preferred the songs to be embellished with fiddles and acoustic guitars, sitars and tablas, or gobs of processed synths. Now is worlds more tastefully produced and arranged by contrast; it's dense and massive-sounding but rarely drippy, mannered though not without its quirks.
The team of gifted young rock, pop, and EDM minds tapped to produce Now keeps it unpredictable and varied. Opener "Swinging With My Eyes Closed" nails a hairpin turn from stomping country-rock to trippy dub inside of the first ten seconds. Later, "Roll Me on the River" slides from reggae to blues-rock on a chorus that clatters like a chain-gang march. The moody "I'm Alright" fans the singer's voice out into a makeshift gospel choir as her spirits lift in the coda. The slipperiness of Now's approach to genres and arrangements is best exemplified by the mid-album highlight "More Fun." It starts out as a wistful piano ballad about the tedium of the work week until the singer says "Friday night," and the track explodes into a passionate R&B blues romp that leads right back into Monday. In headphones, "More Fun" actually sounds like passing through those days on the calendar; it's straight-laced and orderly till the weekend hits, where we get a taste of carefree swing we know won't last.
Now doesn't just restore Shania's voice and offer up valuable space to work through her pain and catch us up to the latest details of her journey. It expands her pop-country sound into new territories and gives her last album — and frankly, quite a few modern-day country and pop stars' latest offerings — a run for its livelihood. Shania feels like a contemporary figure after the 15-year break between this and her last full-length album, and she pulled it off without relying on flashy big-name duets or kowtowing much to current dance-music trends. Sheer audacity makes Now one of the year's most daring releases on the pop spectrum. Warmth and perseverance make it one of the best.