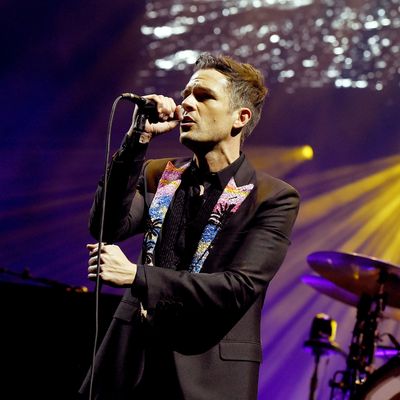 Photo: Kevin Winter/Getty Images for ABA
The Killers are a singles band, and a damn good one when they apply themselves, but front man Brandon Flowers has never been content to be only that. He's been pushing his band toward the rarefied precipice of rock greatness for over a decade now, releasing albums at a faster clip than their general quality suggests is wise, and crisscrossing the world on exhausting tours to back them up. When his mates tire of the road, he simply cooks up a solo album and heads back out on his own. The drive is admirable, but ever since the flawless A side of Hot Fuss, the returns have been diminishing. The heartland rock gambit of 2006's Sam's Town fell flat. 2008's Day and Age had moments — see: "Goodnight, Travel Well" — but its mash of glam rock, funk, and electronic genre experiments never quite settled. 2012's Battle Born revisited and revamped Sam's Town's Springsteen-lite methodology but failed to best its predecessor's strong singles.
The Killers' fatal flaw has always been conflating change with growth; they fixate on getting the choruses bigger, the ballads quieter, and the drum sounds more flexible while the writing seems content to linger in the shadows of their '80s-rock forbears. Like Flowers' adopted hometown of Las Vegas, the Killers' taste for affectations and artifice makes it hard to get a read on what they're really about. Hero worship and showmanship take center stage, but the writer's real life remains a mystery. The new album Wonderful Wonderful looks to fix this. It might be the most personal Killers album to date; the emotional touchstones are recent experiences in Flowers' family life.
Wonderful arrives after a period of tumult for the Killers. Guitarist Dave Keuning and bassist Mark Stoermer gave up touring in their own band; they write and record on the studio albums now, but Brandon takes his drummer and some hired guns to the stage in their place. The singer-songwriter suffered from a menacing bout of writer's block after his 2015 solo album The Desired Effect — "Have All the Songs Been Written?" refers to the subject line of an email Flowers sent to U2's Bono for guidance — and bowed out of touring behind it as his wife suffered from a grueling bout of depression. So instead of selling another 12 breezy dance-floor anthems and big-hearted guitar workouts this year, the band has chosen to address some of its frustrations in song.
The most illuminating tracks in the batch here are songs that touch on Flowers's real-life worries as a husband to a wife recently diagnosed with PTSD and depression and a father of three young sons. "Tyson vs. Douglas" recalls the artist's reaction to Buster Douglas's 1990 upset victory against Mike Tyson to express his fear of losing his children's respect. "Rut" documents the fight against depression starting with a heartbreaking chorus of children singing, "Don't give up on me." "Life to Come" begs his spouse's trust and promises undying love and support. Flowers uses his own quest for healing to soothe his audience in these moments, and a glimmer of the Killers' old radiant joy resurfaces.
Another major theme throughout the album is keeping up appearances. Lead single "The Man" is a heavy-handed rebuke of masculinity as performance art, the province of self-conscious people measuring their worth in comfort, wealth, and signifiers of personal status. ("I got gas in the tank, I got money in the bank / I got news for you, baby, you're lookin' at the man.") Later in the album, "Run for Cover" catches a public figure exposed by a scandal about his private indiscretions. ("He held a conference, and his wife was standing by his side / He did her dirty, but no one died.") Flowers pitting songs about famous men falling from grace alongside pledges to protect his own family suggests that true, noble manhood is a battle against nature. Like the prizefighters of "Tyson vs. Douglas" and the showboats of "The Man," we're striving for a perfection that seems out of reach. But self-improvement is about the climb, not the peak.
Wonderful Wonderful is the strongest Killers album in a while, but the urge to call it a comeback album seems absurd. The post-punk revival that helped the band explode in 2004 has long since fizzled. Not enough time has passed to warrant a reappraisal. I still catch a jarring whiff of crusty dive-bar counter smell when I hear "Mr. Brightside" out in public. There's no sense revisiting. (James Murphy called it: The kids who used to want guitars want turntables now.) The Killers haven't logged a huge single in a decade. They're big enough to crush a prime festival slot and send an album to a big first week, but they're not really pushing the dial on popular culture anymore.
The sound of the new album finds comfort in this space. It's less concerned with trying to push the band to new heights than it is with teasing fun sounds out of the Killers' constellation of influences and interests. The title track borrows a lick from Fleetwood Mac's "The Chain" and the pomp of '80s Jane's Addiction. "Tyson vs. Douglas" is cut from the same brand of synth-laced Americana as Bruce's "Dancing in the Dark." "Rut" could pass for the son of Phil Collins's "Take Me Home." Small wonder that these are all records about weary people pulling back from the edge of darkness by clinging to the concepts of home and family. Flowers knows his shit. They may not make it back to the upper reaches of the Hot 100 again, but the Killers are back to wearing their hearts and their influences on their sleeves. Fifteen years in, maybe that's as good as it gets.