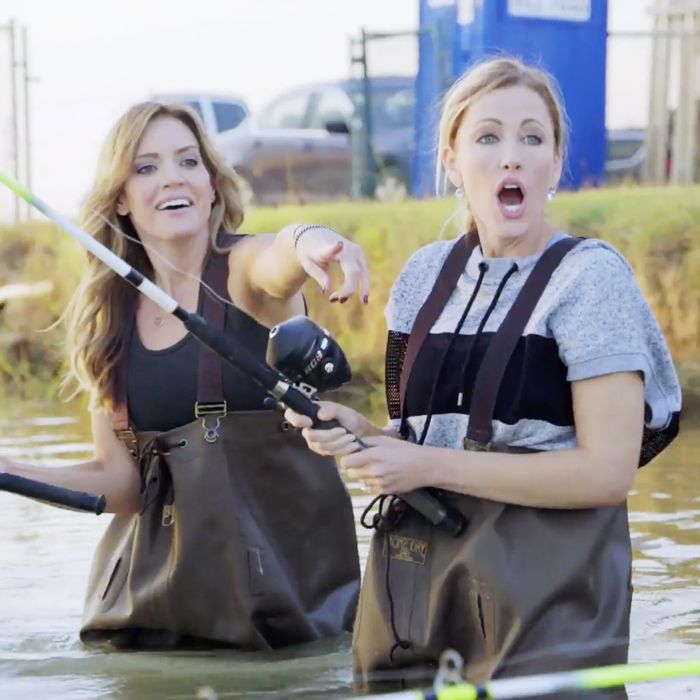 Photo: Bravo/NBCUniversal
Brandi, Cary, and Stephanie — not to mention Brandi's two daughters, mom, and part-time nanny (who, delightfully, is always identified as her part-time nanny) — are on their way to Memphis to visit Brandi's formerly estranged grandfather, a recent stroke survivor. The whole thing doesn't exactly scream Fun Sexy Girls' Trip, but I guess if Carole Radziwill could invite Dorinda as her plus-one to pick up her late husband's ashes in England, anything is possible.
RHOD keeps reminding us over and over again that Kameron is a smart blonde, not a dumb one, and I suppose we'll have to take their word for it. To convince her husband to invest in her dream of a pink dog-food line, she's decorated a poster along the lines of what you'd expect to encounter at an elementary-school science fair, with an important distinction being that those kids use boards with three panels, but Kameron needs only one. It's riddled like zits with a seemingly random collection of words, most of them pink, including Nutritionist, Chemist, Best Ingredients, and Woof. These words are surrounded by glittery paw prints. An artist's rendering of the hypothetical product bears a strong, disturbing resemblance to raw ground beef. The name is apparently Sparkle Dog (… in addition to being pink, does this stuff also sparkle?), but a large pink bow obscures the letter g, so it reads Sparkle Do, which sounds like an as-seen-on-TV hair gadget (cf. Hairdini, Hairagami) that I would have begged my mother to order for me circa 1997.
Meanwhile, Kameron's daughter Hilton makes a strong point against pink dog food: "Why do I want pink poop?" But Kameron is hardly deterred. "This is a $25 billion industry," she says in a confessional. "If I can just get a little sliver of it …" Kameron, have you never seen an episode of Shark Tank? That is what the dummies always say, and it always makes the sharks mad. Armed with her daughter's sparkly magic wand for emphasis, she presents her proposal ("proposal" is perhaps a strong word — she shows the poster) to Court at his office, requesting the insane sum of $100,000. He agrees to give her a still insane $10,000 to produce a viable proof of concept. Great businessing, everyone.
Meanwhile, Brandi & Co. enjoy a happy reunion with her grandfather and extended family, holding babies and wrangling miscellaneous small children. Stephanie and Brandi agree to give birth to sons at the same time, a decision they reach after about one quarter of the deliberation that a fourth grader would put into figuring out who to give the other half of her "best friends" necklace to. After a nightcrawler-hooking, flask-swigging day of catfishing, all three women get glammed out for a night out on Beale Street. Two simultaneous interstate gossip sessions are intercut like "Summer Nights" in Grease as 1) LeeAnne, D'Andra, and Kameron shit-talk Brandi back in Dallas, and 2) Brandi, Cary, and Stephanie shit-talk LeeAnne in Memphis. Can you believe we've made it through nearly half an episode without a peep from LeeAnne? Well, she's very displeased that her new friend Brandi didn't see fit to invite her along to Memphis, and extremely displeased when she hears via Kameron — who's eager to gossip about Brandi after last week's Giftgate — that she isn't technically allowed inside Brandi's home. I'm sorry, LeeAnne: You were a rebound. You must have known, deep down, that she'd always go back to Stephanie, her one true love, and a woman who has never attempted to murder anyone with sandpaper.
D'Andra's stepson Keatin has announced that, after less than two months living with her and Jeremy, he wants to leave. He feels like he doesn't fit in in Dallas. This infuriates D'Andra, who'd hoped to motivate Keatin by example while he takes an (indefinite) break from college. I mean, sure, he's kind of listless, but by the standards I'd normally apply to the children of Real Housewives cast members, he's doing fine. Call me when Keatin gets a DUI or rips out somebody's hair extensions. "When you get angry, you get angry," Jeremy tells his wife. "It scares me, seriously." This is a very different D'Andra from the scaredy cat we've seen in the scenes with her domineering mom. Assuming we don't have an Orphan Black scenario on our hands (just how many D'Andras are there?), it's almost like the complicated swirl of parent-child feelings she couldn't express are now bubbling up disproportionately and kind of inappropriately. When Keatin rolls his eyes, she threatens quite convincingly to pluck them out of his head. "It's not about you. You're being selfish!" she yells, accusing him of throwing his life down the drain. We have learned much more about D'Andra from this confrontation than we have about Keatin.
Things may have gone great with Brandi's grandfather, but all is not well with the rest of her family. Her grandmother hasn't spoken to Brandi or her mother in the year and a half since she reconnected with her grandfather. (The couple divorced before Brandi was born.) But Brandi is determined to make things right, so she and her mom drive out to Mississippi to see her. Grandma is definitely home — cars are in the driveway and dogs are barking inside — but she refuses to open the door. I have to wonder if the fact that a camera crew is on hand might further complicate the situation, but still, this is heart-wrenching. Brandi leaves the bouquet of flowers she brought for her grandma on the mat. She and her mother cry together and hold each other.