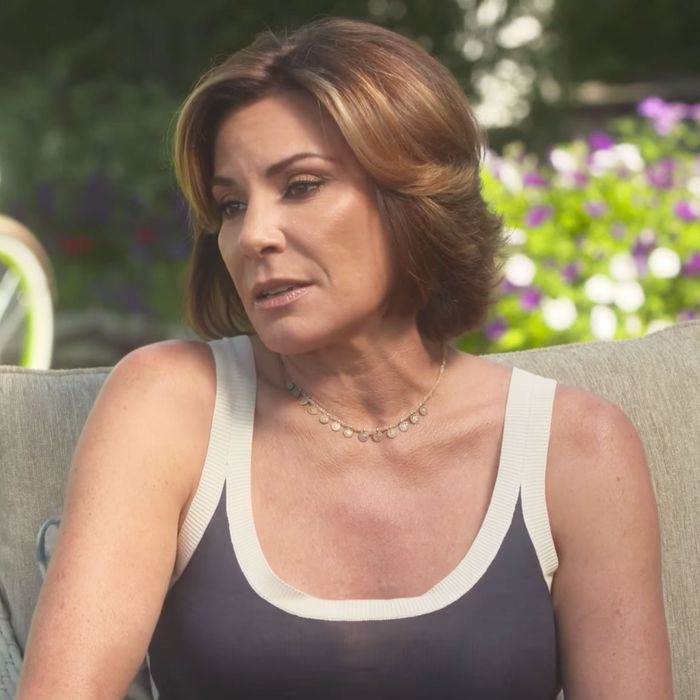 Photo: Bravo/NBCUniversal/YouTube
From the minute Andy Cohen bounded up the stairs of Luann de Lesseps's front porch holding a bottle of rosé like a Labrador with a dead duck in its mouth, I knew we weren't going to get what we wanted. The Real Housewives Über-producer traveled to Luann's Sag Harbor home to discuss the motivation behind her divorce from Tom D'Agostino after only seven months of marriage. The relationship had been a major part of The Real Housewives of New York City for the past two seasons, especially after castmate Bethenny Frankel provided evidence to Luann that Tom was making out with another woman in public behind her back. Luann famously pleaded for it not to be about Tom, but it was. It was always about Tom. And so was this interview.
The surface of it all seemed so very contrived, with the two of them sitting in her beautiful backyard that was art directed within an inch of its life, two bicycles meticulously placed behind Luann to simulate jauntiness. She wore little makeup and a simple tennis dress. Andy arrived with several days of stubble, manicured like the putting green at a Long Island country club. We were supposed to think this was two sisters gabbing about heartbreak, but that's not what it was. It was retribution.
It was retribution for Luann filing for divorce mere weeks after filming the reunion for RHONY's ninth season. During the reunion special, she admitted that there were some cracks in her relationship, but mostly defended it. She talked about how she and Tom were in love and that the state of their union was strong, even though everyone at home knew that they had already filed for divorce.
Viewers couldn't escape that news and some even relished it, mostly because Luann was so cocky about her relationship. She was always flaunting her marriage, saying she deserved a better room on a trip because she had just gotten married or repeatedly saying the best thing about her life was her husband. "We made it work," she said. "We did it." We all knew Tom was a cheater and snake and we all knew this would end badly. Is it any surprise we were more than a little happy when we were right?
But what we got from Luann wasn't exactly what we wanted. We did get all the facts, at least as she laid them out. She said that Tom had always been faithful to her, which I find a little bit hard to believe. While he might not have slept with another woman, the fact that he was always hanging out with ex-girlfriends and flirting with women at the Regency, his infamous favorite haunt, says that he was a little bit less than faithful.
Luann did reveal that they split because of all of little infidelities. She said there was no specific incident, but they began fighting when he called up an old girlfriend for a night on the town. This was indicative of his "bachelor lifestyle" that he didn't want to let go of. That's the thing Luann should have realized about a 50-year-old playboy: He wasn't going to drop all his old habits to suddenly shack up with one woman. This is a man with a Tommy's Cookies jar on his counter. You think he's gonna stop reaching into that cookie jar? I mean, duh. I could have told you that, just as easily as I could tell you that the sky is blue and that right now, wherever she is, Ramona Singer is treating an assistant shabbily.
Apparently, this all came together for Luann at the reunion when Bethenny said, "If I've been through everything you've been through with Tom, I'd be crying alone in the bathroom." That's when she realized that she was miserable and needed to get out. After that, she says they filed for divorce.
Speaking of the reunion, maybe that's what this talk is missing: the other women. We wanted Luann to talk about it with them, answer their questions, receive their condolences, and listen to Sonja Tremont Morgan of the Whispering Angel Morgans gloat about how she always knew that her ex-lover Tom wasn't the marrying kind. (One of the good bits of gossip was that Carole Radziwill was the only cast member not to reach out to Luann after the news broke, probably because Luann voted for Trump.) The viewers needed that Greek chorus to echo how we were feeling, to stick it to her a little bit, but also to offer her a bit of sympathy. Instead, we got Andy with his note cards, joking about what the Countess's next single was going to be. He asked the tough questions, sure, but he was still merciful.
That's not what we wanted. But what did we want? Did we want Luann crazy-eyed and rending her gowns, with mascara streaming down her face as she sobbed about how she was tricked? Did we want her to confess that she did this all for a story line so that she could stay relevant on the show? Did we want her red-faced in anger as she shouted about being duped? Did we want her to say that Tom was bothered by her fame and didn't like that she got more attention than he did? Did we want an admission that she waited until after the reunion to file for divorce so she wouldn't have to talk about it there? Did we want her to explain why she got married in the first place, why she went through with it, and how she fooled him to get up to the altar? Did we want her to admit that Bethenny, all the "girls," and the audience at home were right about Tom all along?
We got a bit of the last one, at least, as Luann said that she ignored all the red flags before the wedding and that she probably should have waited longer before marrying him. But we didn't get any of the other things. Instead, we got Luann calm and collected, staring out at the lake behind Andy's head and wishing it worked out better. The problem was always that the truth is not what we wanted to hear.
The truth is that Luann is a romantic who rushed into a marriage because she was in love and Tom was in love with her. He wasn't willing to make the sacrifices that he needed to make for the marriage to work, but it wasn't until after the reunion — and maybe because of the reunion — that she realized there was no hope of saving this thing. We love when our reality TV is stranger than fiction, when we can ascribe all sorts of Machiavellian manipulation to our stars. But we forget that, as much as the Countess is a character who we've followed for the better part of a decade, she's also a real human being. The only mistake she made was being caught in a very human and regrettable situation. The only mistake she made was living a life that was, for maybe the first time, bad TV.