Upstairs at the 40/40 club, Jay-Z's Flatiron District bar, the Bronx-born superstar Romeo Santos is curled up in a leather chair. Santos, who's become famous for infusing falsetto vocals and hip-hop rhythms into traditional bachata music, isn't here today to clink drinks and enjoy himself, even though he has a lot to celebrate. Earlier in the day, he unveiled his wax statue at the Madame Tussauds in Times Square. Soon, the Empire State Building would be lit up gold in honor of Golden, his third studio album. His previous album, Formula, Vol. 2, now holds the record for most weeks spent atop Billboard's "Latin Albums" chart (it's 125 and counting, beating out Selena's Amor Prohibido). Once you know a bit about his credentials, it's less surprising to learn that he sold out Yankee Stadium in 2014. Twice.
But tonight, Santos is here to analyze the response to a new song, "El Amigo," featuring Julio Iglesias, at a listening party a couple of days before Golden's official release. When the song is over, Santos, who is 36, turns and faces his chair toward the couch, where four journalists, including me, are seated. "Tell me what you think," he coaxes, while sitting back and folding his hands. We all go around and offer our best interpretations of "El Amigo." He smiles. "Y'all are all wrong. And I'll tell you this much. I feel … I'm trying to word this so it doesn't sound arrogant, but I'm just being transparent: To me, it's one of my most genius records. I'll tell you why. The fact that y'all are listening and you can't figure it out. If I tell you, or if you guess, and you listen to the record again, you realize that the reason why you don't get it is because it was put together in such a subliminal way that you're not supposed to get it right away."
It turns out — as the internet quickly deduced — that the song is an homage to a certain male appendage. ("Ardiente, hiperactivo, aventurero / Un compinche en mis deseos / Qué influyente es él," Iglesias sings, which translates as: "Ardent, hyperactive, adventurer / A buddy in my dreams / How influential is he.")
Santos, a self-proclaimed perfectionist, says he wanted to challenge himself to write a song about the male anatomy and have it "not be vulgar." While the topic is a first for him musically, it's a classic Romeo Santos move: lyrics about indecent proposals that brush up against braggadocio and hover between silly and sincere, complete with a perfectly placed wink to let you know he's in on the joke. Santos's albums are Pop Psychology 101, often probing the unexpected underpinnings of romantic trysts. Take "El Papel Part 1 (Versión Amante)" and "El Papel Part 2 (Versión Marido)," sister songs that address the same situation from diametrically opposed perspectives (that of a woman's lover and her husband, respectively). Yet, despite the fact that he sings almost exclusively about love, he famously keeps his personal life completely private. Still, he's the person his friends go to to unload their dramas and traumas.
"I always like to listen and learn from other people. Maybe I can advise you and help you, but I'm also being educated on how to become even a better writer. Because there's always a unique and original situation when it comes to love and relationships," he says. "You could be going through the same experience, hypothetically speaking, that she could be going through," he adds, nodding toward a member of his team sitting next to him. "But you're gonna feel something, you're gonna tell me the story from a whole different perspective. And as a writer, I'm going to be able to feed off that and create off that. These are not only my stories. These are just situations. People go through fucked-up, crazy shit in life."
Later on, Santos and I go for a leisurely drive around Times Square in his Bentley (which he calls "the truck") during rush hour, and the conversation turns to my own romantic woes. Being in the truck with Santos is not unlike lounging on a therapist's couch. "Is that because you've had bad experiences, or that's because it's your nature?" he asks me at one point.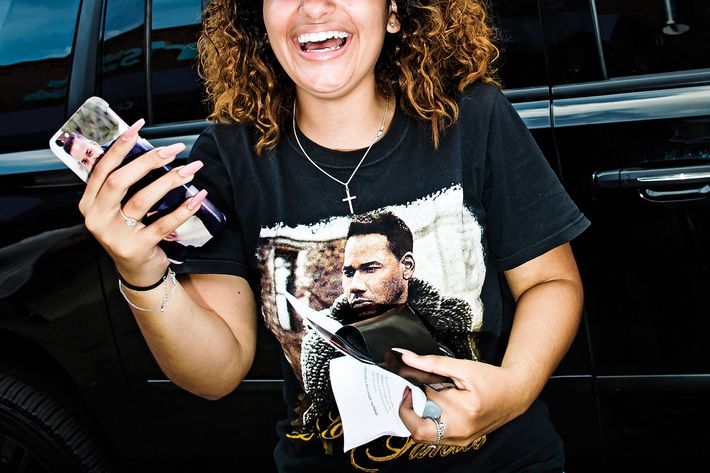 Born Anthony Santos to a Dominican father and a Puerto Rican mother in 1981, he was exposed to a mélange of musical traditions in his native Bronx, including, but not limited to, salsa, merengue, and hip-hop. He grew up studying the lyrics on the back of his mother's discos, written by such legendary crooners as Juan Luis Guerra (who's featured on Golden) and Manuel Alejandro. Yet he never had aspirations to become a performer. "I was very shy," he says. "So there was really no room for desire, just based on the fact that I didn't think I would be capable of really entertaining a crowd." When he and his cousin Henry would put on what he calls "small family events," he would hold back. "He was the type that you'd be like, 'Henry, dance!' And he'd dance, no matter how many people were in the room," Santos remembers. "I grabbed the mic and I would sing, but I would have my head down."
Santos discovered bachata, the guitar-based romantic music that originated in the Dominican Republic, when his father brought home a tape by a bachatero named Anthony Santos (yes, really). "It was just a joke, like, 'Holy shit, this guy has your same name,' " he says. "I played it and I was like, 'This is dope!' I just fell in love with the music." What grabbed him in particular, though, was that Santos's songs, as he puts it, "tenían como doble sentido" (they had double meanings). "But it was put together so creatively, I respect that," he says.
In 1995, when Santos was 13, he joined his cousin Henry and a pair of brothers named Lenny and Max in fronting the bachata boy band Aventura. Unlike the Backstreet Boys and *NSync, who put their careers in the hands of managers, the young men of Aventura took control of every creative decision. They also strove to expand what bachata could be about. "Bachata was typically: I love you, I need you back, I'm going to kill myself if you don't give me another chance," Santos says. "And even though we did some of that, too, I wanted to bring, lyrically, más contenido" (more meaning).
The alchemy worked, and Aventura went on to become a top-selling boy band in the early aughts. It's also with Aventura that Romeo — Santos's swaggery alter ego — was born. Early on, Santos says he knew he needed to step up his game onstage. "I knew that if I had been myself onstage — which is very conservative — that wasn't going to work," he says, unwrapping a plain turkey sandwich on whole-wheat bread (he eats every three hours). "I noticed that when I would talk to the crowd and I would, in a way, act a little arrogant and confident, it was giving me better results than being all shy and just singing. That was the beginning, the early stage, of this character Romeo."
He insists that, while Romeo is a character who says things he normally wouldn't, his alter ego and his true self aren't so different. "Romeo and Anthony are not, like, opposites," he explains. "I am a very romantic guy, but Romeo, I think, is more of a combination of romance, a little bit of arrogance. 'Cause I say things onstage that I would never say to anyone in my personal life or in a room. But that's something I've noticed: No matter how much of Romeo is on that stage, lo humano siempre va a salir" — what's human will always come out — "if I go through these experiences." Without that groundedness, Romeo would be a smarmy guy who might steal your girl. But that humanity is precisely what makes Santos's music so hard to shake and what has attracted a cult following of Romeistas, a.k.a. Romeo superfans, since Aventura broke up in 2011 and he went solo.
While the Romeistas exist worldwide, they often mobilize for causes in the best interest of their heartthrob. That's how Santos's wax statue at Madame Tussauds came into existence: Back in 2015, Santos fan Jennifer Nieves started an online petition to have the star represented in the wax museum, pleading that "from his beloved smile, dance moves, skills, and smooth voice that drives all his Romeistas crazy he truly deserves a place at the Madame Tussauds in New York City." It garnered more than 7,000 signatures, and Santos is now housed in wax at the museum alongside the likes of Selena. "When I seen that, it was the weirdest feeling," Santos says, shaking his head, as we pass by Madame Tussauds on our drive. "It was like, 'Whoa, this is super-creepy … It looks a lot like me.' "
That's not the only surreal love fans have shown him lately, either. "When you perform in places like Argentina, Chile, and Mexico, right away they want to let you know they love you," he says. "And I'm talking about even the men. Or, like, you see dudes who tattoo my face. And they're with their girlfriends, like, 'Yeah, I love you as much as my girlfriend.' And that's pretty … amazing." In spite of the heart-shaped hand sign he's always throwing, and the breezy kisses he blows at women who sneak into the press pen at his Empire State lighting ceremony, it's clear from the way Santos sheepishly speaks about his successes that Romeo hasn't completely subsumed Anthony yet.
"It doesn't satisfy me to hear people saying, 'Romeo, he sold out two Yankee Stadiums,' " he says. "That's the past. It means a lot to me if someone comes up to me and they tell me, 'Yo, that new record you just wrote? Psh. This line, this thing you did?' " Without changing the formula too much, he's bringing the likes of Drake, Nicki Minaj, and Usher into the studio to make Spanish records and crafting a body of work that he believes to be part of his "golden era." "I can tell you that you go to my studio, you will see no awards. No plaques. And I have plenty to put up. But I give them to my mother, because I want to walk into that studio every time and feel like I'm a new artist. I don't want any reminder that I've made it, that I've succeeded. I don't take for granted everything I've accomplished. And I'm grateful. It's what keeps me hungry." He flashes a grin and glances down at his half-eaten sandwich. "Like, I'm probably hungrier today — and I don't mean literally — than when I started this music."
*This article appears in the September 4, 2017, issue of New York Magazine.