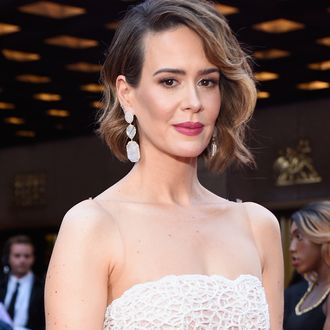 Photo: Jenny Anderson/Getty Images for Tony Awards Productions
It's getting less and less likely that Ryan Murphy is one actual man instead of a title worn by several people who can't stop producing new TV shows. According to Deadline, Netflix has won a bidding war for a prequel series to One Flew Over the Cuckoo's Nest that will focus on the early days of Nurse Ratched. And who will star in this Murphy joint as one of the greatest villains in cinema history? We don't even have to tell you, but we will anyway: It's Sarah Paulson! Netflix beat out competitors like Hulu and Apple for rights to the show — probably because they will pay any amount of money if they want something badly enough — and Ratched has already secured a two-season, 18-episode straight-to-series order.
The show will focus on Ratched's early days, beginning in 1947, and track her journey through the mental-health-care system as she transforms "from nurse to full-fledged monster," and it's being written by a newcomer named Evan Romansky. Ever the fairy godfather, Deadline reports that Murphy got the recent film school graduate's spec script from an agent and then "took it in, attached one of his muses … to play the title character and spent a year securing the rights to the character." Michael Douglas was actually a producer on the original film, and he will serve in that same capacity alongside Murphy for the show.
The super-showrunner has six series either currently airing or in development, but this will be his first for Netflix. The man doesn't need to sleep, so the only limits are on the hand cramps of the guys signing the checks.