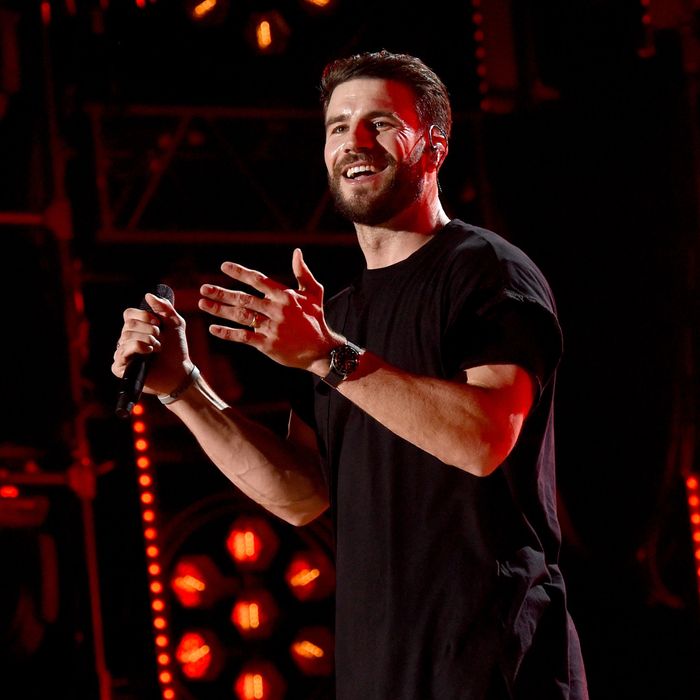 Sam Hunt.
Photo: Rick Diamond/Getty Images
Unless you're a country fan or a chart nerd, there's a fair chance Sam Hunt is the biggest star you're not listening to. His 2014 debut album Montevallo was a perfect slice of crossover country-pop that ruffled traditional fans' feathers in its embrace of hip-hop values and pop production without falling prey to the rote tailgate and truck talk purists that normally dominate "bro country."
Hunt is a clever writer; he cut his teeth penning hits for Kenny Chesney and Keith Urban after quitting football to pursue his dream of making music, and came up with quirky, autobiographical songs like "Cop Car," where two young lovers link up, promptly get arrested, and mull over the prospects of dashing when the officer looks away. Montevallo arrived fully formed and insatiable with a mix of country sensibilities, rap wordplay, and R&B melodicism so natural that it made neighboring country/R&B experiments from guys like Florida Georgia Line look labored by comparison.
Hunt's breezy, playful non-album single "Body Like a Back Road" didn't top any song-of-summer lists, but it snuck into everyone's year one way or another. It's a triple-platinum-certified top 10 smash, one of the most successful country crossover records of the last few years. Hunt's 15 in a 30 Tour takes its title both from a lyric in the single about cruising side streets with a significant other and, to hear him tell the story, from his desire to stretch out in a longer set after years of short opening gigs. Touring big venues around a three-year-old breakout debut album is a peculiar enterprise, but from the formidable spread of opening acts at last night's packed Madison Square Garden gig — Hunt tapped the Country Music Association's 2016 Best New Artist Maren Morris and rising star Chris Janson for support — to the headlining set itself, the Georgia-born star proved his mettle.
Throughout the night, Sam Hunt juggled two opposing roles: the country-boy singer-songwriter and the Nashville disrupter who dares to sprinkle a little urban radio pizzazz into songs about small-town relationship drama. Less careful stars have attempted the same feat in the last five years and come across like they're cross-pollinating styles for their own gain, but when Hunt briefly sat down alone to tell his story with just a mic, an acoustic guitar, and a medley of old country and R&B faves, he sounded like someone who simply doesn't believe in boundaries between genres. He spelled the point out deliberately at the end of the solo mini-set in a sly political speech that praised the next generation of music fans for being more integrated than the last and promised that they have the power to "tear down the walls" that divide us.
The rest of the gig was a volley of Montevallo cuts and highlights from the singer's pre-fame acoustic mixtape, Between the Pines, aided by a four-piece band comprising two guitars, a bass, drums and the occasional splash of keys. The band is sharp from touring the material for three years, and Hunt has perfected a stage presence that's one part Drake — all fleet, bounding steps and hip-hop haughtiness — and one part coffeehouse troubadour. It worked perfectly in an arena chock-full of fans who howl at a tight guitar solo but also know all the words to the "Ignition" remix. They also knew every word of Hunt's oeuvre; there were moments in the night where you could barely hear the singer over his fans, and he just let them sing the chorus by themselves. He was received like a king during hits like "House Party," which dropped to a full audience shriek, and enjoyed hushed reverence in quieter cuts like "Make You Miss Me," which he opened alone on piano in the middle of the audience during the show's encore.
The value of a slower, more traditional build for an artist like Sam Hunt, as opposed to the hasty cycle of new albums and singles your average country heavyweight is drawn toward is that it gives the songs time to grow on people. Hunt seems to favor a more relaxed kind of stardom. He doesn't do many interviews, and, as Montevallo co-writer and co-producer Shane McAnally told country singer/comic Wheeler Walker Jr. in an appearance on his podcast this week, he doesn't much bother with social media either. Hunt might get his dance moves from Drake, but his business moves are more quiet and patient than most stars in his purview.
The roaring reception at Madison Square Garden rendered his rather low profile around a number of publications dedicated to the business of covering noteworthy new music extremely remiss. Country isn't a niche genre. People are losing their minds for it in a market that only got a dedicated radio station four years ago. Montevallo's light critical response was an oversight. (It only got ten votes in the Village Voice's 2014 Pazz and Jop critic survey. bless them all.) The next LP is almost guaranteed to hit like a neutron bomb. Let's do it justice.