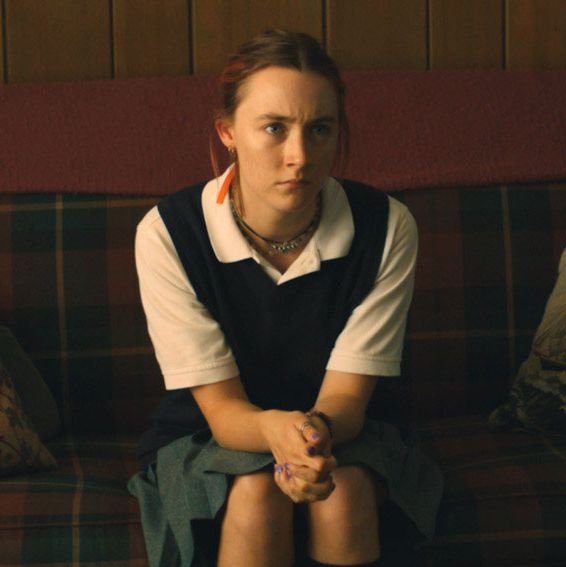 This year's Best Actress race is stacked with laureled veterans and exciting newcomers, and it promises to be a real contest. Many of those leading-lady contenders will be appearing at this week's Toronto Film Festival, and Vulture is on the ground in Canada to help you sort through their Oscar odds. Which of these talented women will make the final five?
The Actress: Saoirse Ronan, 23
The Awards History: Ronan's first Oscar nomination ten years ago for Atonement made her one of the youngest actors to ever be so recognized. She was also nominated for 2015's Brooklyn and received Golden Globe nominations for both films.
The Role: In Lady Bird, written and directed by actress Greta Gerwig, Ronan plays restless high-school senior Christine McPherson. "I wish I could live through something," Christine mutters to her mother, dreaming of heady adventures in New York or artistic fulfillment at a prestigious college. Instead, Christine is stuck in banal Sacramento, going to a Catholic school she's sick of, and coming of age in an era where just about everything seems unremarkable. "The only interesting thing about 2002," she says, "is that it's a palindrome."
Even her name dissatisfies Christine, so she rechristens herself "Lady Bird," which alternately amuses and vexes her parents (a terrific Laurie Metcalf and Tracy Letts). That name change is the first step toward the more dramatic life Christine feels entitled to, one with the sort of grandeur that her financially struggling family can't afford. But though Christine seems absolutely certain in her sensibility, she is still a teenager, which affords her the ability to try on different identities, experiment with different social circles and boyfriends (played by Lucas Hedges and Timothée Chalamet), and push away her mother in one moment, and then, in the next, collapse in her arms. These are smaller moments than Christine would like, but they add up to something incalculable. Christine is so anxious to grow up that she can't realize that's exactly what she's doing.
The film is lovely, well-observed, and wiser than you might expect. You could, and will, say the same about Ronan in it. The Irish actress is best known for playing European roles in handsome period pieces, but Lady Bird fits her as snugly as the cast Christine is forced to wear once she heaves herself out of her mother's moving car to end an argument. (I told you she was dramatic.) Not only will you buy Ronan in this role, you will give her character leeway when she's being a brat, and you will feel her heartbreak as though it just happened to you. That's the gift of an actress blessed with an empathetic connection to the camera: She's not just Gerwig's avatar, but the audience's, too.
In Her Favor: Repeat after me: Oscar loves an ingenue. Men under 25 are almost never nominated for Best Actor, but Best Actress boasts women that young on a regular basis. For Ronan to enter this derby with two Oscar nominations already tucked away will only help Lady Bird's cause: A film others might dismiss as lightweight has heft because Ronan is in it. Those nominations were earned for very different roles, too, and I suspect Oscar voters will be more inclined to see Lady Bird as a similar act of transformation by Ronan, more than they might if a familiar American actress had been cast in the part. Ronan will also be competing in a category that Lady Bird's distributor, A24, recently triumphed in: Brie Larson took home Best Actress just two years ago for the studio's Room.
Working Against Her: The male-skewing Academy is not always friendly to female-fronted stories, which is why there is often a major disconnect between the films that score a Best Actress nod and those nominated for Best Picture. It helps that Ronan recently starred in a movie, Brooklyn, that managed both of those key nominations, but you can never be sure. (It should also help that the Academy has been working recently to address its membership's pronounced gender gap.) It's possible that in this year's super-powered Best Actress derby, Lady Bird's stakes might seem low compared to what some of the other contenders have to offer. Still, to see the film is to know this to be true: Christine's struggles may seem miniature to the uncaring world, but Ronan has the ability to make them major.