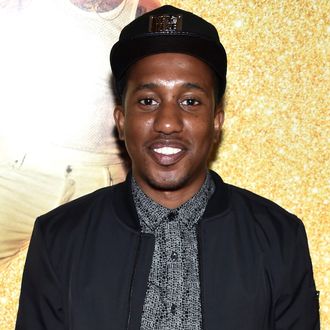 Chris Redd
Photo: Dimitrios Kambouris/Getty Images
Live from New York, it's one person you might've heard of, one you probably haven't, and one you definitely haven't! However, you will hear their names soon enough, when Darrell Hammond says them after the word "featuring" on the season premiere of Saturday Night Live this weekend. This year, the show hired three new cast members to replace the three that departed at the end of last season — Bobby Moynihan, Vanessa Bayer, and Sasheer Zamata. (All other cast members are coming back for this season.) SNL has confirmed their names: Chris Redd, Heidi Gardner, and Luke Null. Joining the writing staff are Sam Jay, Gary Richardson, Erik Marino, Andrew Dismukes, Steven Castillo, Claire Friedman, and Nimesh Patel.
St. Louis–born and Chicago-trained, Chris Redd is pretty well-known as new SNL cast members go. Beyond the fact that he was heavily rumored to be joining the cast last year, Redd is best known for stealing a few scenes (and hearts) as Hunter the Hungry in Popstar: Never Stop Never Stopping. Including this one, which is easily one of funniest in the film:
Redd was at Second City (where he was a member of the touring company and co-wrote the acclaimed The Art of Falling, an improv-sketch-dance hybrid show, in collaboration with Hubbard Street Dance Chicago), until, as the story goes, Judd Apatow told him it was time he moved to L.A. There he has been working fairly consistently, with roles in Love, Wet Hot American Summer: 10 Years Later, and Disjointed. And he has performed a lot of stand-up, with his Comedy Central half-hour special premiering early this month:
Heidi Gardner is also from Missouri (Kansas City) and is also making the move to SNL from L.A. Currently, Gardner is writing and performing on the Crackle animated show Supermansion:
Gardner is now the newest in a very long line of performers cast straight from the Groundlings' Main Company, at which she writes and performs sketch and improv. She will be appearing in Life of the Party, starring another former Groundling Melissa McCarthy, in 2018. Here is a sketch she co-wrote and co-stars in:
She's also funny in this:
The Ohio-raised Luke Null makes it three for the Midwest. He is what they call in the industry a real unknown, which is fun! While Redd was getting meaty roles in film and TV, Null, according to his LinkedIn, was a client-service specialist at a Chicago commercial real-estate company. To be fair, he was also improvising and writing and performing in sketches at the iO Theater:
But his main thing is guitar-strummy funny songs! Like these:
Who do you think will be Donald Trump's favorite? Yeah, probably the white guy.