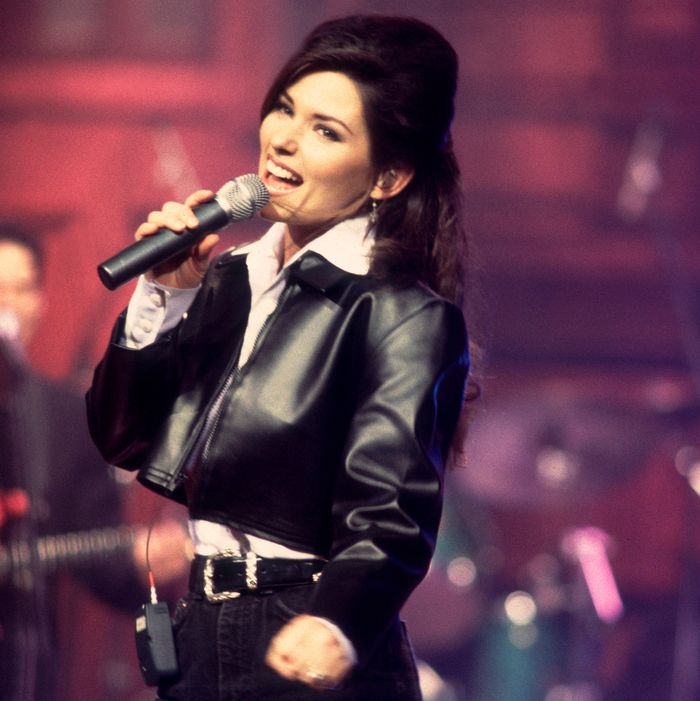 Photo: Paul Natkin/Getty Images
After a long hiatus, Shania Twain, Canada's queen of country music, is releasing a new album on Friday. It's called Now, and it will be her first all-new release in 15 years. This is big news coming from an artist whose last three studio albums, taken together, sold upward of 30 million copies in the U.S. At her peak in the 1990s, she became one of the most successful pop-crossover singers ever to come from country music — long before there was Taylor, there was Shania.
Picking up from where Loretta Lynn left off with "Don't Come Home a-Drinkin' (With Lovin' on Your Mind)" and "The Pill," Twain often sings songs whose defining message is "don't mess with me" — and she sings them with plenty of attitude. Her combination of theatricality, pride, and sass makes many of her hits perfect for sing-alongs, particularly in a karaoke setting.
The best karaoke songs have several qualities in common: a manageable vocal range, a catchy melody, easy-to-understand lyrics, a potential for crowd participation, and most importantly, a sense of drama. There should be peaks, valleys, and heartfelt crescendos that allow the karaoke artist to truly perform.
Twain's hits excel in most, if not all, of these categories, so in honor of her return to music, we've compiled a definitive ranking of the best Shania Twain songs to sing at karaoke. If you're going out tonight, and feeling all right, let this list be your guide.
The lead single from Twain's breakthrough second album, The Woman in Me, maintains a traditional Nashville sound (complete with fiddle, pedal steel, and a hint of Western swing), but it has pop appeal, too, and it marked her first appearance on the Billboard Hot 100 chart.
Vocal Range: Beginner. The only challenge in this song is hitting the notes while keeping up with its fast pace.
Lyrics: Totally manageable. Funny and full of sass, this is one of the earliest examples of Shania's trademark no-bullshit perspective. "Next time you're lonely, try the operator — maybe she'll be free," she tells her no-good, two-timing man.
Drama Level: Mild. The tone of this track is pretty consistent from start to finish, so it doesn't lend itself to a dramatic buildup. However, the rollicking tempo could inspire some boot-scooting dance moves, and the lyrics require playful delivery. Successful performance of this song is all in the attitude.
Crowd Participation: Unnecessary. This is not an ideal song for crowd collaboration, partly because it isn't as well-known as some of Twain's later singles. That said, with enough chutzpah, a performer could definitely win an audience over.
On "Don't Be Stupid," Twain turns the stereotype of the jealous, nagging woman on its head. "I don't appreciate it / When I talk to other guys, you think they're on my tail," she complains to a possessive lover.
Though it's not one of the most popular singles from Come on Over (not quite a deep cut, but not a hit), the kick drum, cowbells, and driving fiddle melody make it a reasonable karaoke option.
Warning: There is a "Dance Mix Single" version of this song, which sounds like Riverdance at a rave, and should be avoided at all costs.
Vocal Range: Intermediate. Most of the song is in a manageable mid-range, until the finale, when Twain sustains a long, high note on the words "don't be ridiculous."
Lyrics: Easy, but on the bland side. While the words to this song are pretty straightforward, replicating Twain's unique pronunciation is the key to getting it right — "frustrated" is pronounced "fer-rus-ter-ated," "appreciate it" is pronounced "ah-pre-cia-tit," and so on.
Drama Level: Medium. The sultry, pedal-steel-backed bridge gives this song a nice sense of light and shade. The best opportunity for a real showboat moment, though, is the sustained high note at the finale.
Crowd Participation: Optional. It's possible that not everyone in your audience will know the words to this song, but the chorus is so simple that they should catch on within moments.
A precursor to her smash hit "That Don't Impress Me Much," "If You're Not in It for Love" is a slap in the face to anybody who has ever tried a slimy pickup line. The song begins with a list of such lines ("Mind if I sit down?" "Can I buy you a round?" "Haven't seen your face before, are you new in town?"), followed by Twain's condescending retort: "Let me make it clear to you, my dear / If you're not in it for love, I'm outta here!"
Released as the fourth single from The Woman in Me, it topped Billboard's country singles chart and gave Twain her first big hit in Australia, where it peaked at No. 5 on the ARIA charts (which might explain why this particular writer has an affinity for it).
Vocal Range: Beginner to intermediate. The verses require a low register, while the chorus is much higher pitched.
Lyrics: Easy enough, and dripping with attitude. The lyrics to "If You're Not in It for Love" are some of Twain's most biting; as the song goes on, the pickup lines she imitates become more and more extreme, and therefore more fun to perform.
Drama Level: Medium. Twain's delivery begins quietly — sarcastic and snarling — before moving into a loud, triumphant chorus. The best opportunity for a dramatic performance, though, comes in the pause between "If you're not in it for love …" and "I'm outta here." The latter should be almost spoken, and can be embellished with an eye roll.
Crowd Participation: Helpful. The pause mentioned above also opens a window to audience involvement, in the form of a little call and response — if the performer takes the first half of the line, the audience can chime in with "I'm outta here."
One of the romantic ballads from Twain's record-breaking third album, Come on Over, "You're Still the One" is all about the slow build, with a rousing chorus and an air-guitar-worthy solo at the end. Twain co-wrote this song with her then-husband and producer, Robert John "Mutt" Lange, and it is thought to reference their unconventional relationship — they married six months after meeting, and Lange is 17 years Twain's senior. "They said, 'I bet they'll never make it' / But just look at us holding on," Twain sings in the pre-chorus.
Sadly, Lange stopped being "the one" for Twain in 2008, when they separated after he allegedly cheated with her friend, but for optimal performance, try to put this knowledge out of your mind.
Vocal Range: Beginner to intermediate. The pre-chorus and chorus do require some high notes, but the slow pace makes reaching them relatively easy.
Lyrics: Cheesy in the best way. The words to "You're Still the One" are straightforward and accessible, but they still pack a campy, sentimental punch.
Drama Level: Hot. From the seductive spoken word intro ("When I first saw you, I saw love … And the first time you touched me, I felt love …") to the impassioned chorus, there are plenty of opportunities here for a performer to put on a show.
Crowd Participation: Optional. "You're Still the One" is best performed solo, but does offer opportunities for heartfelt appeals to specific audience members, particularly in the chorus.
Outside of the realm of karaoke, "From This Moment On" is arguably one of Shania Twain's most unnecessarily saccharine songs. It relies heavily on an overbearing string section, and lyrically, it contradicts her "independent woman" brand. However, if one approaches this track in a melodramatic, slightly ironic fashion — and that's kind of the point of karaoke, right? — the performance can be transcendent.
There is also a duet version featuring Bryan White, which is perfect for a collaborative karaoke experience or for someone who is nervous about taking to the stage alone.
Vocal Range: Advanced. Serious falsetto abilities are required to perform this song successfully.
Lyrics: Easy to follow, if slightly nauseating. The lyrics, like the instrumentation, are obvious, sickly sweet, and without a speck of humor. "From this moment, I have been blessed / I live only for your happiness," she sings in the song's second verse.
Drama Level: Telenovela. "From This Moment On" is nothing but drama — from the soft, a cappella intro to the string-backed guitar solo through to the climactic chorus. This could be a serious karaoke artist's American Idol moment.
Crowd Participation: Ideal. As mentioned above, this song works nicely as a duet, if that's something you're open to.
As she has stated on multiple occasions, Shania Twain has no time for men who can't meet her needs. She makes that abundantly clear on "Any Man of Mine," the second single from The Woman in Me. "Any man of mine better be proud of me / Even when I'm ugly, he'd still better love me," she sings over a kick-drum beat reminiscent of "We Will Rock You."
Vocal Range: Intermediate. While the verses are easy to sing, you need to be able to hit and sustain high notes in the chorus.
Lyrics: Somewhat difficult. This one's fun to sing, but hard to keep up with: The lyrics make heavy use of rhymes, which provide some tongue-twisting challenges. "Better show me a pleasin', squeezin', teasin', kinda time," she sings in the chorus.
Drama Level: Medium. The tempos of the verse and the chorus are markedly different, so to perform this with style, you must keep up with the transitions.
Crowd Participation: Encouraged. The kick drum–clap combination in the verses invites audience members to get involved by replicating the beat.
"That Don't Impress Me Much" takes the sarcastic tone of the earlier "If You're Not in It for Love" and builds on it to a truly sublime degree. Instead of calling out specific sleazy advances, "That Don't Impress Me Much" pokes fun more broadly at certain men's self-importance, vanity, entitlement, and ideas of success — maybe the same guys who tried those pickup lines two years earlier in 1995.
Musically, "That Don't Impress Me Much,"  also takes a step up from its earlier southern-rock infused counterpart. It is a tight, sparkling pop song,  with just a hint of country instrumentation. It reached the top ten on the singles charts in more than 15 countries, and cemented Twain's place as an international pop star. The song's music video also inspired a million Halloween costumes.
If you need more inspiration (for vocal delivery and facial expressions), check out Haim's cover version from earlier this year.
Vocal Range: Intermediate to advanced. Some falsetto is required in the chorus.
Lyrics: Sometimes a little hard to decipher, but very satisfying to sing. The lyrics to this song communicate just the right amount of silly and mean. Highlights include the guy who kisses his car goodnight, and a wry reference to Brad Pitt, the hunk du jour of the 1990s.
Drama Level: Hot. Twain's patronizing questions require a stinging sense of scorn and amusement in their delivery. And if you are able to hit the high notes in line, "Don't get me wrong, yeah I think you're alright," you'll really blow it out of the water.
Crowd Participation: Optional. This one is best performed solo, but there's room for the audience to contribute some "Oh, oh, oh"s in the chorus.
This may be Shania Twain's finest moment as a singles artist — and it's definitely her best karaoke song. It is the ultimate birthday and  bachelorette party anthem, and for good reason. From the opening guitar riff and her cheekily spoken, "Let's go girls" onwards, it is a loud and proud tribute to the female experience. Instead of focusing on her problems with men, "Man! I Feel Like a Woman" celebrates what Twain sees as empowered womanhood in all its glory. "We don't need romance/ We only wanna dance/ We're gonna let our hair hang down," she sings in the second verse.
Vocal Range: Beginner. This is one of the easiest of Twain's songs to replicate. Most of it is set in a mid-to-low range. The highest notes you'll have to hit are in the chorus, which is so rowdy that no one will notice if you miss the mark.
Lyrics: Joyful, brash, and a little bit trashy. The phrasing in this song is fast-paced, but if you are above the age of 15, you probably know the words already — so it's perfect for karaoke.
Drama level: Medium to hot. This song is raucous from the start, but like the best of Shania Twain's songs, the drama here is all in the delivery. Your success at karaoke will hinge on the enthusiasm with which you attack the "oh uh oh"s, and the intention with which you pause in the key refrain.
Crowd Participation: Ideal. Even if crowd members don't know the lyrics (which, again, won't happen), it's hard to resist yelling out "I feel like a woman!" at the end of each chorus. Just watch this clip from a 2003 live show in Chicago if you need convincing.